National accounts are an integrated accounting framework based on the concepts and definitions set out in the European System of Accounts (ESA 2010). This framework describes in the structured way economic events of all units of the economy, grouped within sectors according to their characteristics. As such it is the reference point for all macroeconomic statistics.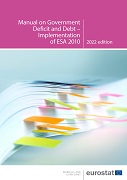 Manual on Government Deficit and Debt – Implementation of ESA 2010 – 2022 edition
This new 2022 edition of the Manual is an updated version of the edition published in August 2019. In the current edition, at least one chapter or section of all parts has been amended in substance (see full list of amendments in the preface of the Manual), except Part 5 Sale of assets. In addition, the following new texts were introduced: section 2.6.4 Statistical recording of the EU Recovery and Resilience Facility (RRF) associated flows; chapter 3.5 Capital injections into foreign direct investment; chapter 4.6 Securitisation of non-performing loans with government guarantees; chapter 4.8 Recording of loans not expected to be fully repaid; sub-section 6.3.1.6 Energy Performance Contracts; chapter 8.5 On-lending from supranational entities. As usual, this edition is the result of a collective work under the supervision of Eurostat, in cooperation with experts representing EU Member States and other international institutions.
Other methodological manuals and papers
The following manuals provide additional conceptual guidelines as well as descriptions on actual sources and methods used in practice by EU Member States for the compilation of the data.