Actualité
22/06/2017
The European Commission published its sixth monitoring report in which it reviewed 18 projects in the fields of social protection and inclusion, employment, working conditions and European job mobility. These were funded under the EU Programme for Employment and Social Innovation (EaSI) and its predecessor programmes PROGRESS and EURES.
21/06/2017
The European Commission has proposed to provide Finland with €3.5 million from the European Globalisation Adjustment Fund (EGF) to help 1,000 former Microsoft Mobile Oy workers to find new jobs.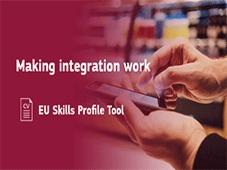 20/06/2017
The EU Skills Profile Tool for Third Country Nationals has been launched by the European Commission.
16/06/2017
Three new Flash Reports prepared by the European Social policy Network (ESPN) are now available and provide information on recent social policy developments in Croatia, the FYR of Macedonia and Turkey:
13/06/2017
The award ceremony of the first European Vocational Skills Week 2016 was one of the major highlights of the Week and showcased examples of excellence in vocational education and training (VET).
07/06/2017
Today, the Commission published a report on the European Network of Public Employment Services (PES), set up three years ago.
02/06/2017
Labour and employment ministers of G20 economies have met in Bad Neuenahr on 18-19 May to draw up recommendations for making labour markets future-proof, productive and fair. The EU was represented by Commissioner Marianne Thyssen.
02/06/2017
La Commission européenne a proposé que le Fonds européen d'ajustement à la mondialisation (FEM) alloue 1 million d'EUR à l'Espagne afin d'aider les mineurs de charbon licenciés, ainsi que les jeunes ne travaillant pas ou ne suivant pas d'études ou de formation, à trouver un emploi dans la région espagnole de Castille-et-Léon.

30/05/2017
La Commission a doté ce jour le corps européen de solidarité d'une assise solide en proposant un budget pour les trois prochaines années et une base juridique propre.
23/05/2017
This 'Evidence in focus' on the 2017 Joint Employment Report, adopted on 3 March 2017 by the EPSCO Council, and its Scoreboard of Key Employment and Social Indicators looks at policy efforts to address challenges for young people, including unemployment and inactivity.
Archive des dernières nouvelles