News
17/07/2018
Updated information (up to January 2018) on social protection systems in all EU countries, Iceland, Liechtenstein, Norway and Switzerland – including brief descriptions of their organisation and information on the social protection of the self-employed – is now available on the MISSOC website.
16/07/2018
The 2019 edition of the Access City Award is now receiving applications. This year also includes special culture heritage awards.
13/07/2018
Today, the Commission has published the 2018 edition of its yearly Employment and Social Developments in Europe (ESDE) review.
04/07/2018
The European Alliance for Apprenticeships (EAfA) Awards are open for nominations until 17 August 2018
27/06/2018
The Commission is publishing today a report on digital platform workers in Europe. The report provides evidence on this emerging phenomenon based on a survey of over 32 000 people across 14 Member States.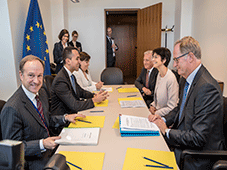 26/06/2018
Last week EU Member States reached an agreement on three legislative files which are a cornerstone of building a stronger social Europe.
19/06/2018
With the new directive, crew members will be able to work in a cross-border environment more easily as Union certificates of qualification will be valid on all EU inland waterways.

14/06/2018
More than 300 people from employment, education and training, civil society organisations, and social partners joined the first day of the European Validation Festival - Unlocking talents in Europe, on 14 June in Brussels.
13/06/2018
The EU Skills Profile Tool for Third Country Nationals is providing a new module to users, offering the opportunity to select online courses, like massive open online courses (MOOCS).
12/06/2018
The 11th FEAD Network meeting will take place on 19 June 2018 in Brussels. The meeting will focus on building partnerships to improve FEAD support.