To prevent the spread of the COVID-19 pandemic, EU Member States have taken a wide variety of restrictive measures. These imposed measures had in general a negative effect on demand and thus on industrial production in many areas.
In March 2020, industrial production in the EU fell by 10.9% compared with February 2020 and by 12.2% compared with March 2019. The fall continued in April 2020, when EU industrial production fell by 17.3% compared with March 2020 and by 27.2% compared with April 2019.
Looking at the different industries, the one with the largest decline in production in March and April 2020 was motor vehicles (-33.5 % in March and -68.5 in April compared with the previous months), followed by manufacturing of leather products (-40.4% and -60.2%) and wearing apparel (-32.8% and -30.4%).
Pharmaceutical products had an increase of 16.9% in March, which turned to a decrease of -11.9% in April.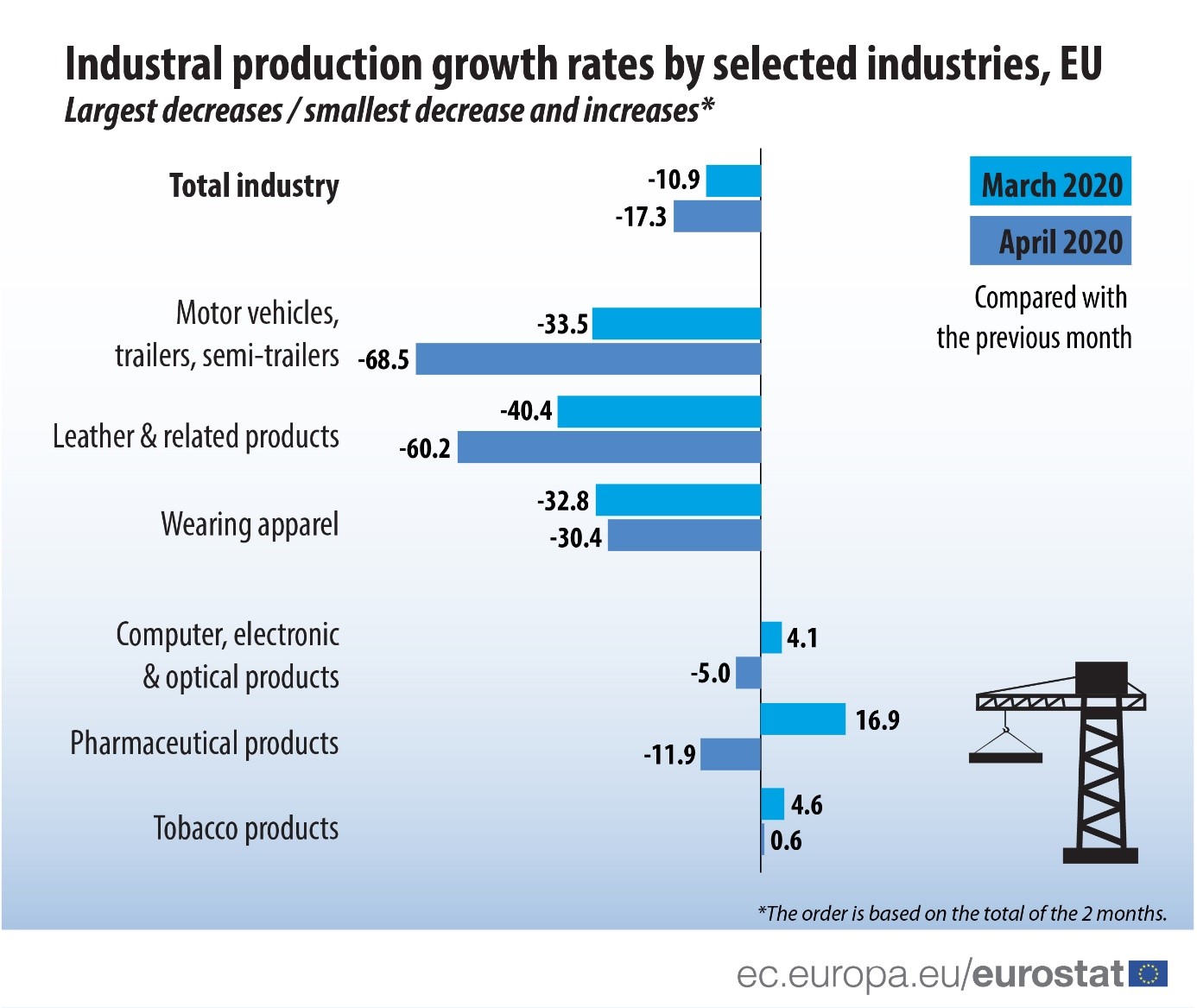 Industrial production in the Member States
In March compared with February 2020 the largest decreases were recorded in Italy (-28.4%), Slovakia (-20.3%) and Luxembourg (-19.8%). In March, industrial production still increased in four Member States, in Ireland (15.3%), Finland (2.2%), Greece (1.9%) and Lithuania (1.7%).
In April compared with March 2020 the industrial production fell in all Member States, with the largest decreases in Hungary (-30.5%), Romania (-27.7%) and Slovakia (-26.7%).
For more information, see the Statistics Explained article on the impact of Covid-19 on industrial production.
Note:
April 2020 data are not yet available for Cyprus and Austria.
The European Union (EU) includes 27 EU Member States. The United Kingdom left the European Union on 31 January 2020. Further information is published here.
To contact us, please visit our User Support page.
For press queries, please contact our Media Support.