In 2020, the total government budget allocations for R&D (GBARD) across the EU stood at €100 786 million, equivalent to 0.8% of GDP. This information comes from data on government budget allocations for R&D published by Eurostat today.
In 2020, government budget allocations for R&D at an EU level stood at €225 per person, a 22% increase compared with 2010 (€184 per person). The highest allocations were recorded in Luxembourg (€648 per person), followed at a distance by Denmark (€519) and Germany (€443).
On the other hand, EU countries with the lowest R&D budget allocations per person were Romania (€15 per person), Bulgaria (€21), Hungary (€39) and Latvia (€42).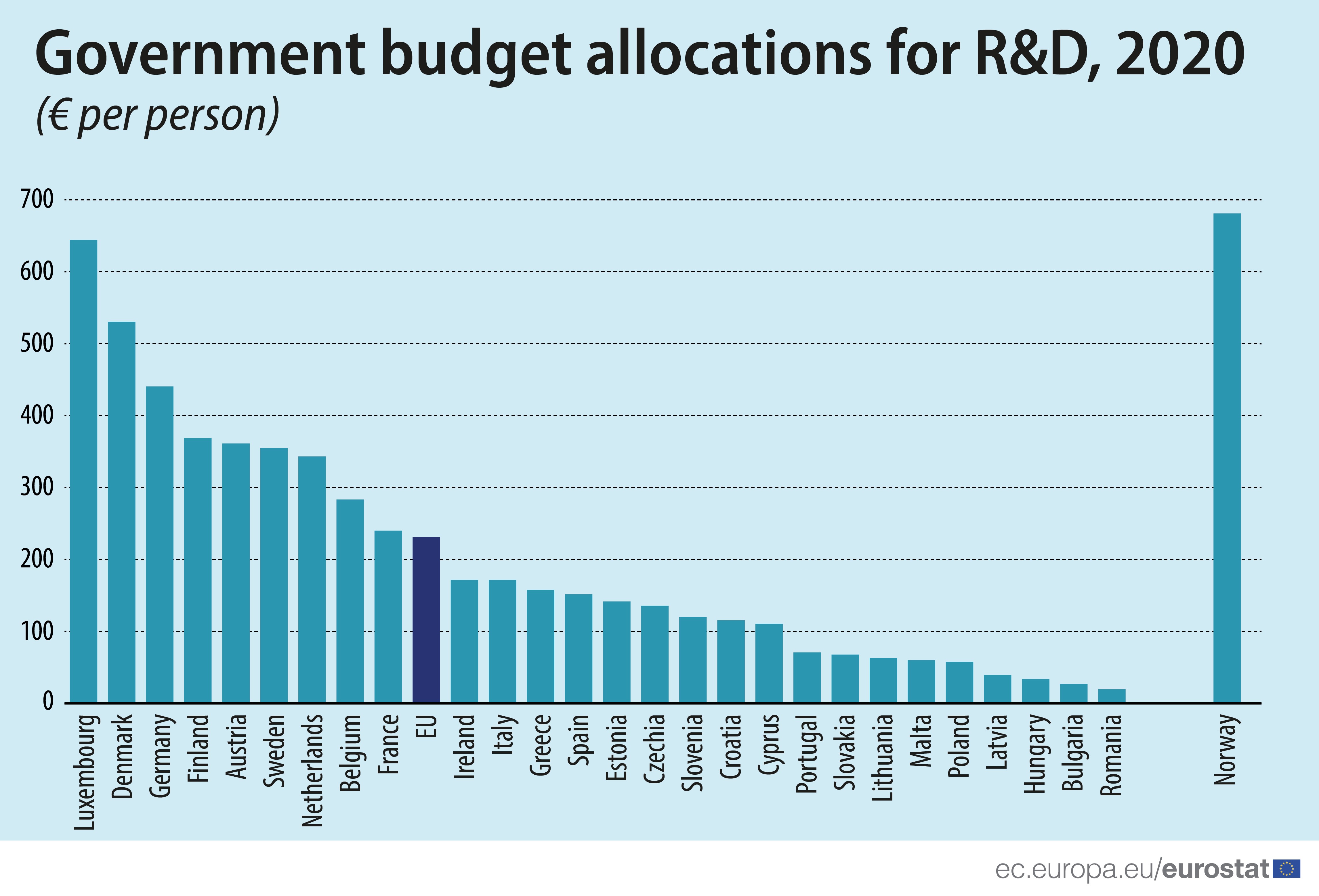 Source dataset: gba_nabsfin07
Over the last decade, the largest percentage increases in government budget allocations for R&D at € per person were recorded in Latvia (from €14 in 2010 to €42 in 2020), Greece (from €62 to €148) and Estonia (from €77 to €141).
In contrast, these allocations decreased in Portugal (from €92 in 2010 to €71 in 2020), Spain (from €179 to €144), Romania (from €17 to €15), France (from €253 to €235), Ireland (from €181 to €175) and Finland (from €387 to €373).
For more information:
2020 data on government budget allocations for R&D presented in this article are preliminary and might therefore be revised. Following the calendar for the transmission of data, updated figures will be published in January 2022.
Government budget allocations for R&D are all allocations assigned to R&D in central (federal) government, regional (state) and local (municipal) government. They therefore refer to budget provisions, not to actual expenditure. Local government budget funds may not be included if their contribution is not significant or if the data cannot be collected.
Eurostat website section dedicated to science, technology and innovation
Eurostat database section dedicated to government budget allocations
To contact us, please visit our User Support page.
For press queries, please contact our Media Support.