Regions and cities — Overview
What do statistics on regions and cities tell me?
National figures alone cannot reveal the full and sometimes complex picture of what is happening at a more detailed level within the European Union (EU). In this respect, statistical information at a subnational level is an important tool for highlighting specific regional and territorial aspects. It helps in analysing changing patterns and the impact that policy decisions can have on our daily life.
What kind of information is available?
In order to provide a detailed picture of the diverse EU territories and to monitor EU regional policy targets, Eurostat has developed a range of statistics based on different classifications and typologies. These include data for:
regions,
cities and greater cities,
metropolitan regions,
rural areas and regions.
Specific geographies such as coastal regions, mountain regions, border regions or island regions are also covered.
But do you know how Eurostat collects data on regions and cities? Which countries are included? What is the policy background for regional and urban statistics? Answers are given in this video:
What tools does Eurostat provide to visualise these data?
Alongside datasets, publications and Statistics Explained articles, Eurostat offers interactive applications for visualising and analysing sub-national data, such as the interactive data visualisations 'Regions & cities Illustrated' and 'Statistical Atlas', or the mobile app 'My Region'. Learn more about these tools in this video:
> Read more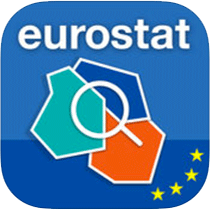 This screen resolution is not supported by the desktop version of My Region. You can use the My Region mobile app instead, please click the icon on the left selecting your system (iOS/Android).
Please select a region to see key statistics on regional indicators. For feedback, please contact ESTAT-REGIO@ec.europa.eu.
Are you looking for data on...