Back Illustrated Glossary for Transport Statistics - 4th edition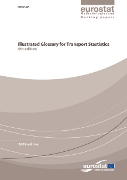 The present fourth edition is the result of continuing valuable cooperation between three organisations (Eurostat, UNECE and ITF), that - through the action of the Intersecretariat Working Group (IWG Trans.) - have put a sustained effort into meeting the need to harmonise transport statistics at the international level. The Glossary now comprises 735 definitions and represents a point of reference for all those involved in transport statistics. By following the guidance contained within these definitions, a considerable contribution will be given to the improvement in both the quality and comparability of the data.
Other languages are available here.
Additional information
Product code: KS-RA-10-028
ISBN: 978-92-79-17082-9
ISSN: 1977-0375
Digital Object Identifier (DOI): 10.2785/58454
Theme: Transport
Collection: Manuals and guidelines