According to the results of a big data pilot project, Paris - Banks of the Seine (almost 7 million views) and Historic Centre of Rome (almost 6 million views) are the most popular out of more than a thousand UNESCO World Heritage Sites being consulted on Wikipedia. Half of the 20 most popular sites on Wikipedia were located in the European Union.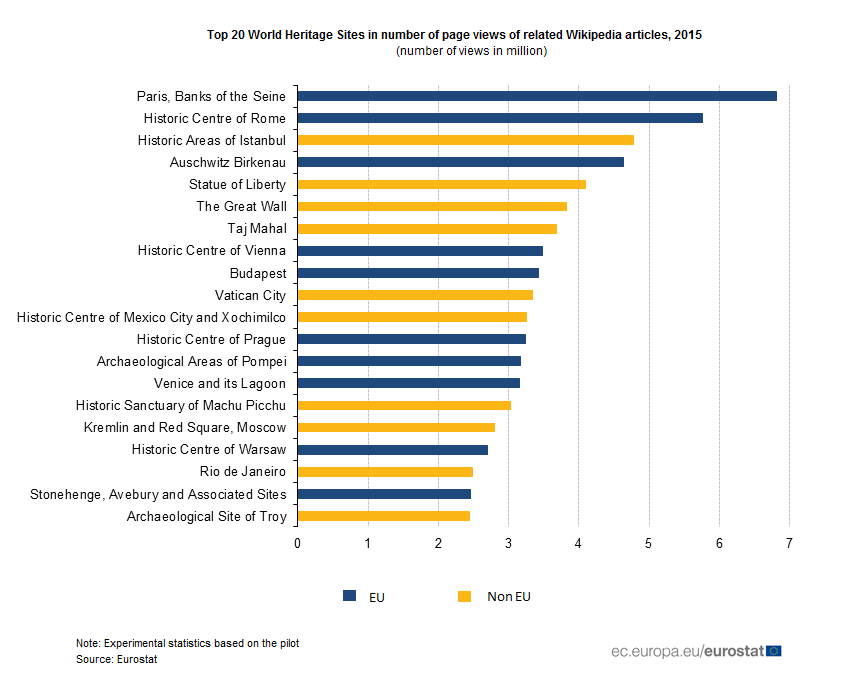 These are experimental statistics resulting from a big data pilot project on using people's behaviour online, in particular on the use of Wikipedia, as a data source. Page views of Wikipedia articles focusing on around 1000 UNESCO World Heritage Sites have been analysed. One or more Wikipedia articles (in 31 language versions of the Wikipedia) were associated to each heritage site and the total number of page views was taken as a measure of the popularity of the sites.
In 2018 we celebrate the European Year of Cultural Heritage, to raise awareness of the social and economic importance of cultural heritage.
More information in Eurostat website section on World Heritage Sites