Back Manual on Government Deficit and Debt – Implementation of ESA 2010 – 2016 edition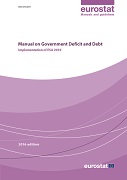 Eighth edition
This new 2016 edition of the Manual is an updated version of the edition published in August 2014. In the current edition, in particular, the following parts were revised:
Part I (Delimitation of the general government sector): section I.2.3 'Concept of a government-controlled institutional unit' and sub-section I.2.4.3 'The quantitative market/non-market test' were amended. Three new sub-sections were included: I.2.4.4 'Public units in liquidation', I.2.4.5 'Rearranged transactions' and I.2.4.7 'Specific case of public TV and radio broadcasting', while chapter I.6 'Specific public entities' was rearranged and a new section I.6.7 'Central Stock-holding entities' added.
Part II (Time of recording): sub-section II.5.2. 'Treatment in national accounts' on military expenditure was revised. Moreover, chapter II.6 'Grants from and contributions to the EU budget' was reorganised and a new subsection II.6.2 'Contributions of EU Member States to the EU budget' was added.
Part III (Relations between government and the financial sector): chapter III.3 'Capital injections into public quasi-corporations' was revised and a new chapter III.7 'Impact on government accounts of transfer of decommissioning costs' was included.
Part VI (Leases, licences and concessions): two chapters VI.3 'Contracts with non-government units related to fixed assets' and VI.5 'Emission trading allowances' were revised, while chapter VI.4 'Public-Private-Partnerships' was revised, reorganised and a new sub-section VI.4.3.6 'Force majeure' included.
Part VII (Debt related transactions and guarantees): chapter VII.4. 'Government guarantees' (sections VII.4.1 'Background' and VII.4.2 'One-off guarantees') were reviewed. Part VIII (Measurement of general government debt): chapter VIII.3 'Recording of swap' was revised.
As usual, this edition results from a collective work under the supervision of Eurostat, in cooperation with experts representing EU Member States and other international institutions.
Additional information
Product code: KS-GQ-16-001
ISBN: 978-92-79-55319-6
ISSN: 2315-0815
Digital Object Identifier (DOI): 10.2785/83458
Theme: Economy and finance
Collection: Manuals and guidelines