FIGARO stands for 'Full International and Global Accounts for Research in input-Output analysis' and it is the result of a co-operation project between Eurostat and the Joint Research Centre of the European Commission. The project is also known as EU inter-country Supply, Use and Input-Output tables.
This new unique tool will allow economic modellers, policymakers, and other interested stakeholders across the EU to analyse the socio-economic and environmental effects of globalisation.
Annual time series are available from 2010 to 2019 for the European Union of 27 Member States, the United Kingdom, the United States and 17 main EU partners. For more information, please see FIGARO's dedicated page.
To accompany the launch of FIGARO database, an online event will take place today from 15:00 to 16:30 CET. Live streaming will be available here. How FIGARO tables, produced on a regular basis, could be used for different analyses at national level, or how FIGARO data helps us understand the links between jobs, income and trade, are only some of the questions to be discussed during the event.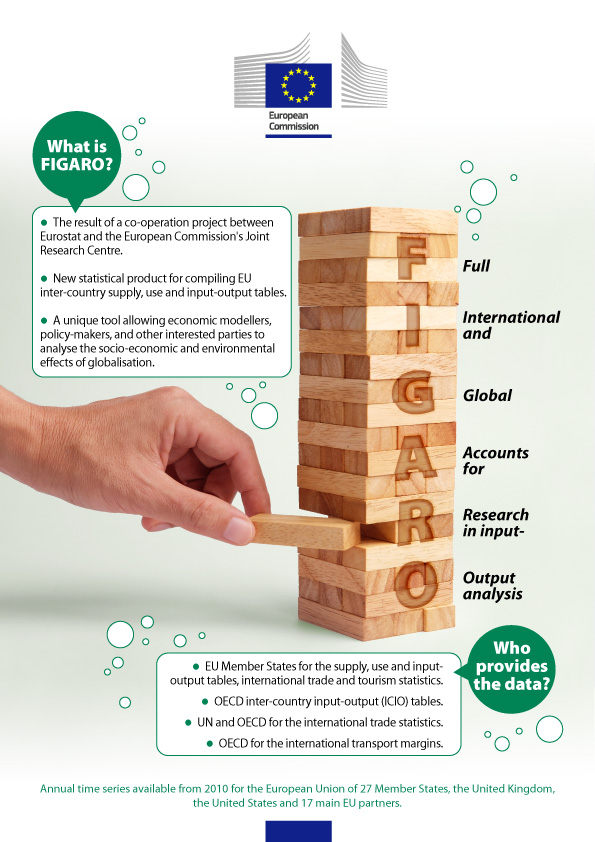 For more information:
Eurostat database on Supply, use and Input-output tables
To contact us, please visit our User Support page.
For press queries, please contact our Media Support.