In 2020, among the 192 million employed people aged 15-64 years in the EU, over 12 million people (6% of all employed) commuted to work from one region to another within their country of residence, slightly up compared to 2019.
The highest rate of regional commuting in 2020 was recorded in Belgium, where 21% of the employed crossed a regional boundary to go to work. Commuting was also relatively common in the Netherlands (13%), as well as in Lithuania, Germany, Austria (11%) and Denmark (10%).
The highest share of regional commuting was found in the Belgian province Brabant Wallon (49%), followed by another Belgian province, Vlaams-Brabant, and Pest in Hungary (both 40%), Burgenland in Austria (38%), Flevoland in the Netherlands (36%) and Namur in Belgium (34%).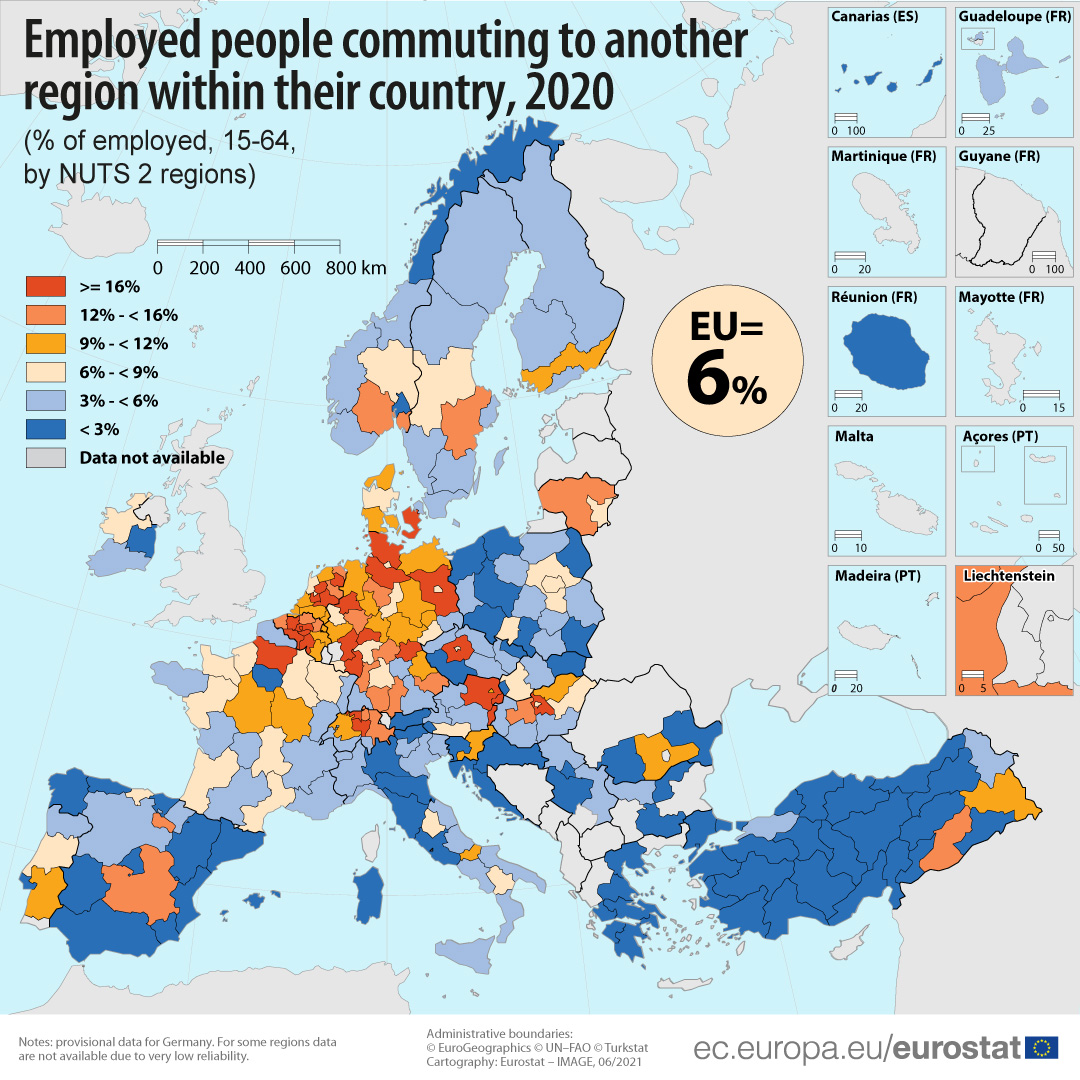 Source dataset: lfst_r_lfe2ecomm
People also commute for work to other countries. In 2020, 2 million employed people aged 15-64 years, (1% of all employed), commuted from their region of residence to a different country, slightly down compared to 2019.
The highest rate of cross-border commuting for work at national level in 2020 was recorded in Slovakia, where 5% of employed people commuted for work to a different country, followed by Estonia, Luxembourg and Croatia (3% each).
At regional level, the highest shares of commuting to different countries were observed in Luxembourg province in Belgium (32%), followed by Trier in Germany (15%) and Lorraine in France (13%).
Notes:
Commuters are defined for the purpose of this article as those people who travel — at least once a week — from the region where they have their usual residence to a different region in order to be at their place of work.
Data on regional commuting are compiled on the basis of the EU Labour Force Survey (EU-LFS).
Data are based on the 2016 version of the Nomenclature of Territorial Units for Statistics (NUTS). The names of the regions are presented in original language.
Data not available: for regional commuting – Estonia, Cyprus, Latvia, Luxembourg, Malta (single regions at this level of detail); for cross-border commuting – Greece and Cyprus.
Germany: Changes in the survey methodology have been introduced in 2020. In addition, data collection during 2020 was impacted by technical issues and COVID-19 measures, resulting in low response rates and a biased sample. The German data published therefore show a low reliability in some regions; they are preliminary and may be revised in the future. For more information, see here.
To contact us, please visit our User Support page.
For press queries, please contact our Media Support.