In 2018, there were 5.2 million teachers employed in primary, lower secondary and upper secondary education. Women accounted for the majority of this workforce (72%, 3.7 million teachers).
In terms of their age structure, 0.4 million (7% of the total) were under 30 years old, while 2 million (39%) were aged 50 years or above.
Every year on 5 October, World Teachers' Day is celebrated. To mark this day, Eurostat has provided a brief overview of the main demographic characteristics of the EU's teaching workforce.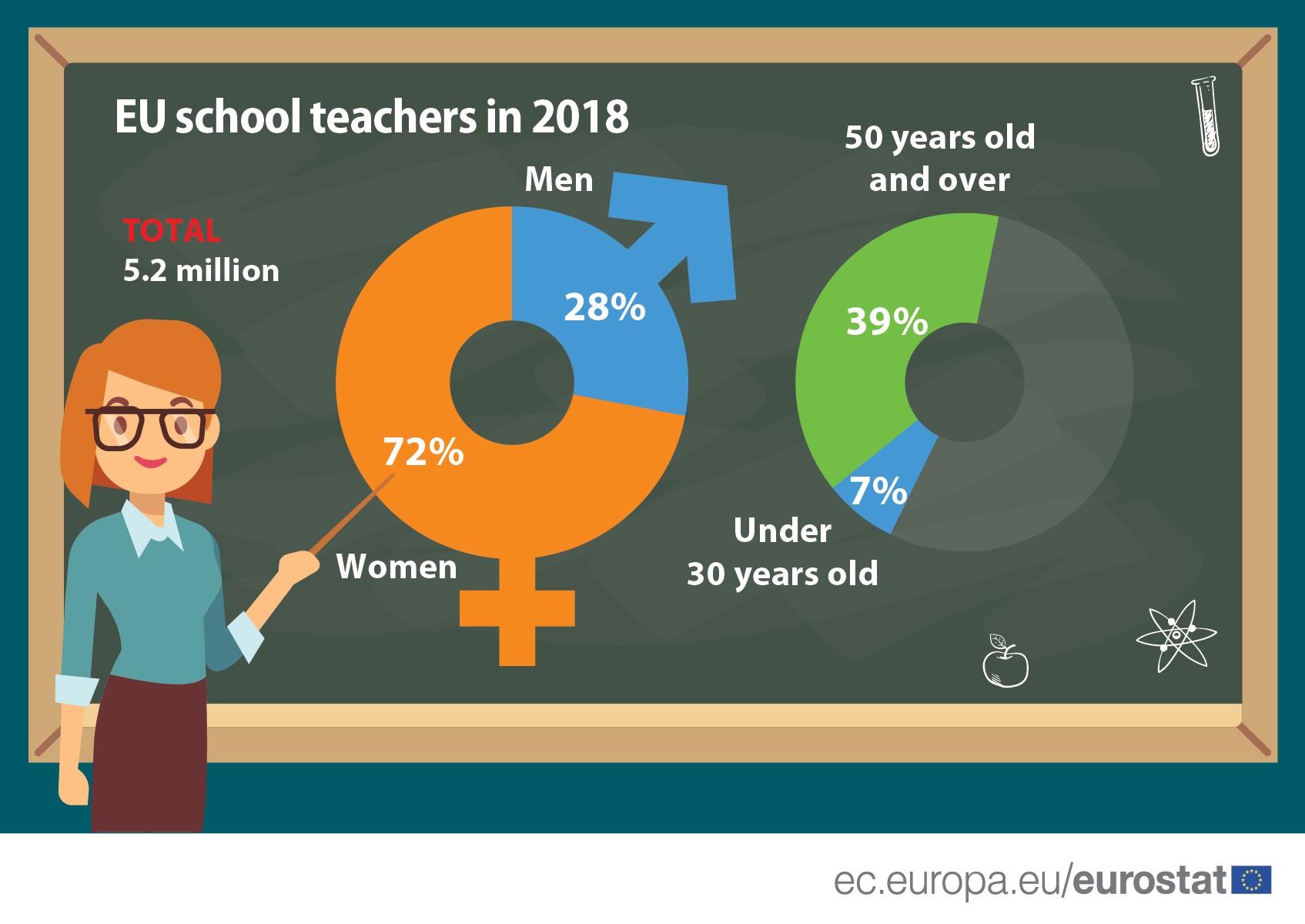 Source dataset: educ_uoe_perp01
More than 85% of teachers are women in Latvia
In all EU Member States, school teachers in 2018 were predominantly female. However, the share of female teachers was the highest in Latvia (87%) and Lithuania (85%), followed by Bulgaria, Estonia and Slovenia (all 83%).
By contrast, the share of male teachers was the highest in Denmark (38%) and Luxembourg (36%), followed by Greece and Spain (both 34%) as well as France (32%).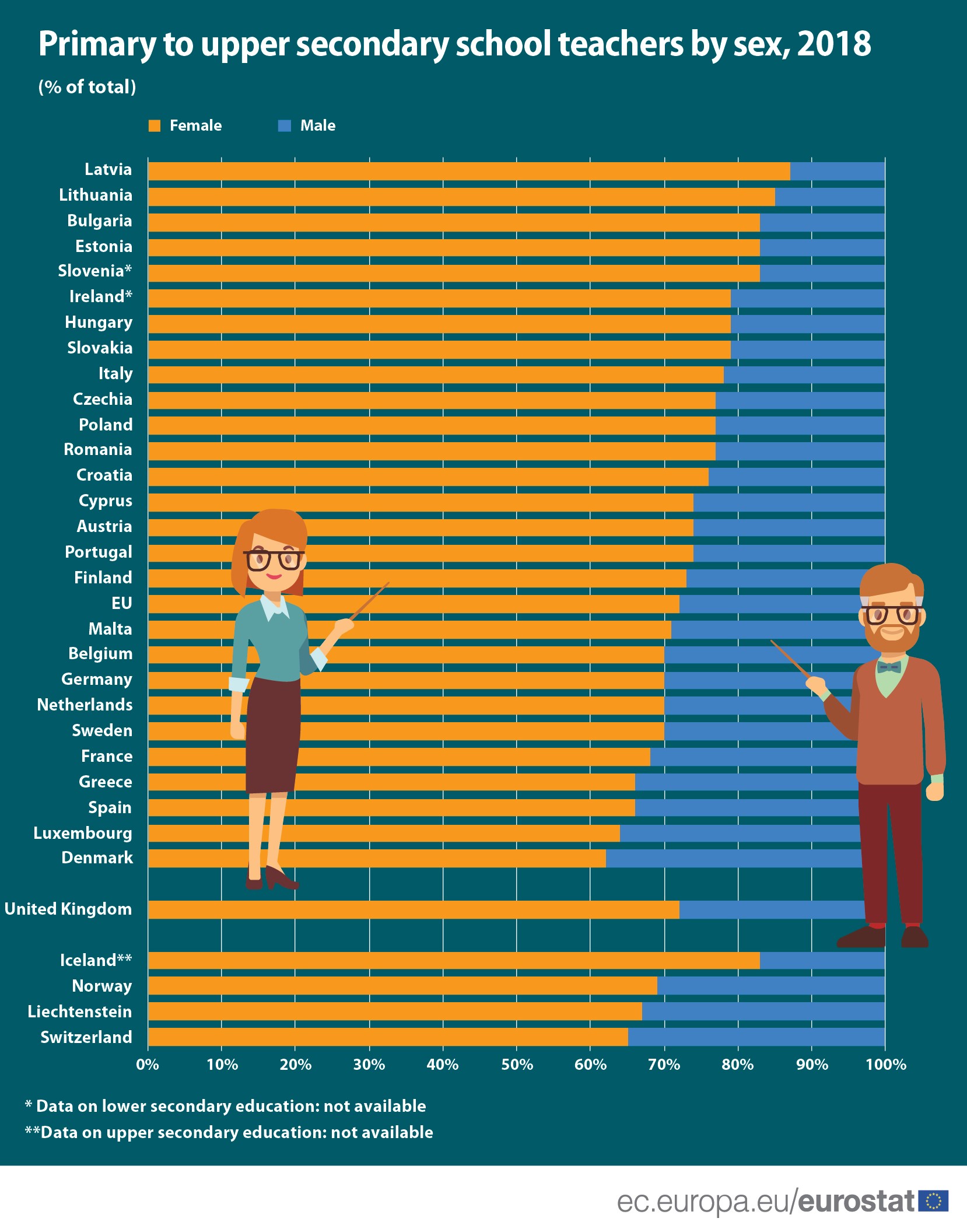 Source dataset: educ_uoe_perp01
More than half of teachers aged 50 years or above in Italy and Lithuania
39% teachers in the EU primary and secondary schools were 50 or more years old in 2018. In Italy, more than half (54%) of teachers were in this age group, as well as in Lithuania (52%). A large number of teachers also fell into this age group in Estonia, Greece and Bulgaria (all 49%).
Meanwhile, 1% of teachers in the EU were over 65 years old in 2018. The highest share of teachers in this age group were reported in Estonia (8%), Latvia (5%), Sweden and Denmark (both 4%).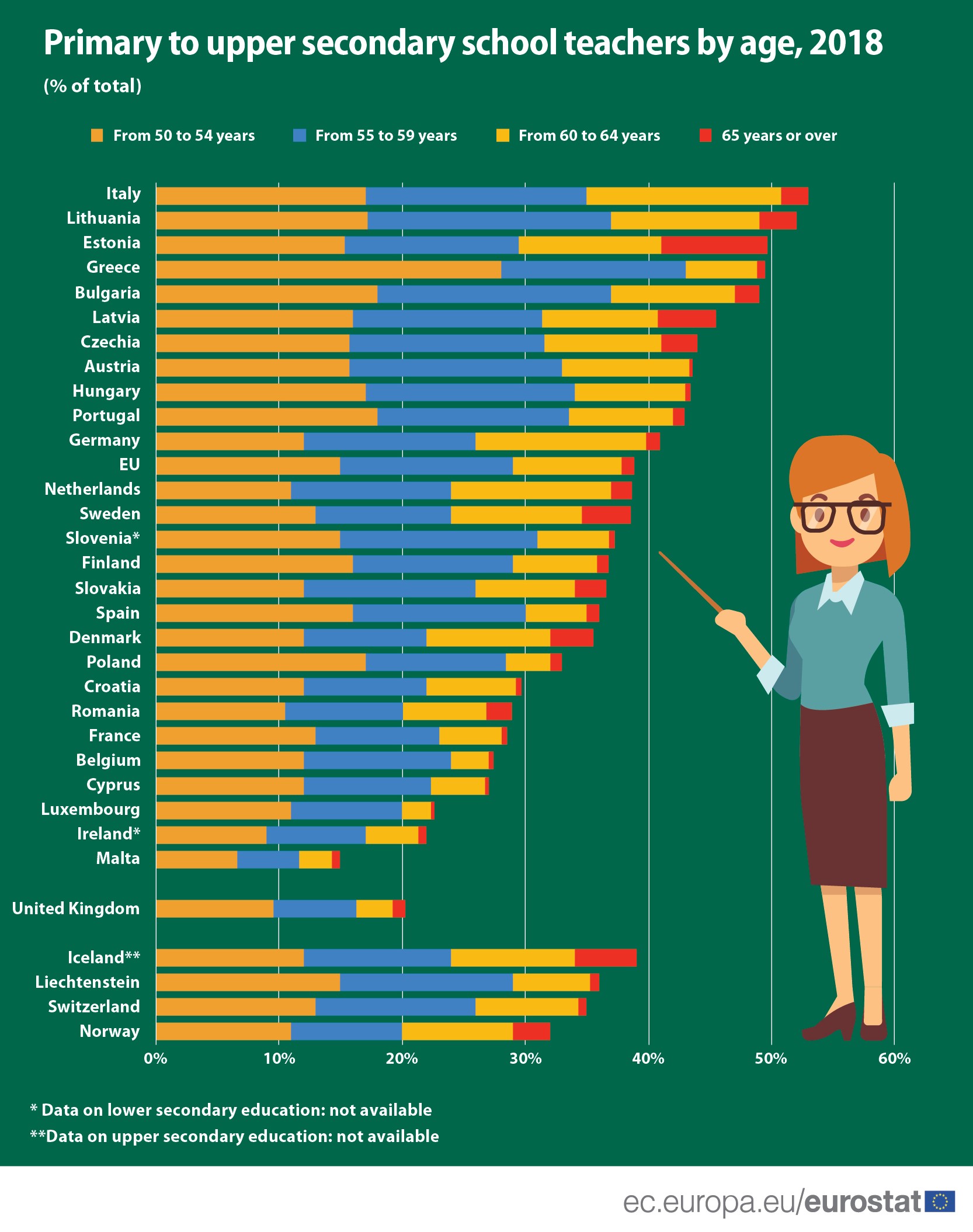 Source dataset: educ_uoe_perp01
Notes:
Data are taken from the Eurostat administrative statistics data base which provides harmonized information on teachers by education level, covering EU Member States, UK, and EFTA countries.
The European Union (EU) includes 27 EU Member States. The United Kingdom left the European Union on 31 January 2020. Further information is published here.
For more information:
To contact us, please visit our User Support page.
For press queries, please contact our Media Support.