A live weight of almost 435 000 tonnes of tuna (including bonitos and billfishes) was caught by the European Union (EU) Member States in 2017 in the seven fishing regions covered by EU statistics. This represented about 10 % of all catches of marine fish by EU Member States in that year.
The most common tuna species caught was skipjack tuna, followed by yellowfin tuna. Atlantic bluefin tuna is a threatened fish species but with agreed quotas in place, stocks are recovering. Catches by the EU Member States of Atlantic bluefin tuna were around 13 000 tonnes in live weight terms in 2017.
Together, Spain and France accounted for almost all of the tuna catch in 2017. Spain caught almost 277 000 tonnes of tuna, bonitos and billfishes in live weight terms (64 % of the EU total) and France about 122 000 tonnes (28 % of the EU total). Half of these fish were caught in the Western Indian Ocean (230 000 tonnes live weight), the other major catch area being the Eastern Central Atlantic (129 000 tonnes live weight).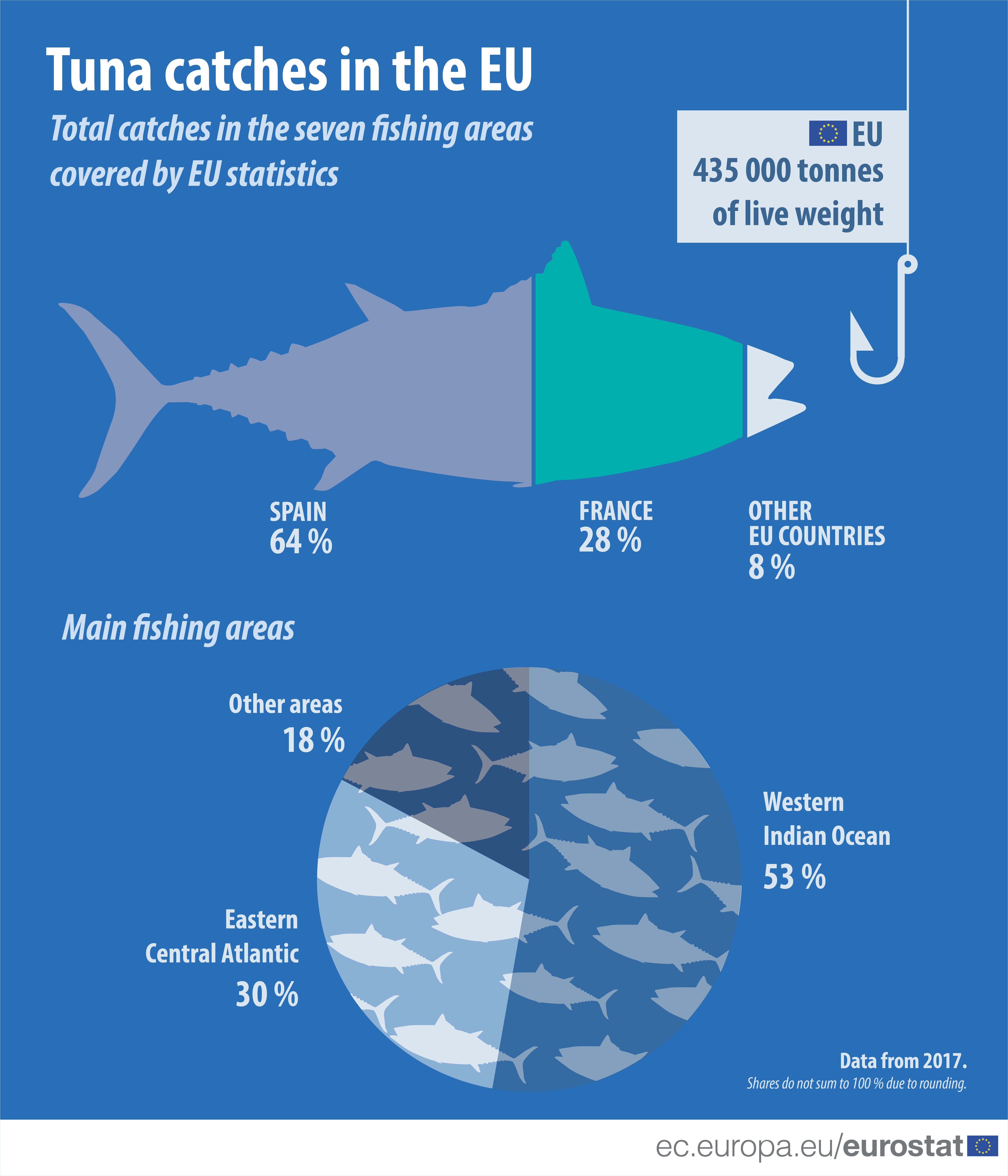 The source dataset is here.
Note:
In addition to the tuna catches, an estimated 20 tonnes of live weight of bluefin tuna was produced through aquaculture in 2017 in the EU.
The seven fishing areas covered by European statistics are: North East Atlantic; Eastern Central Atlantic; South West Atlantic; South East Atlantic; North West Atlantic; Mediterranean and Black Sea; and Western Indian Ocean.
This news item marks World Tuna Day which takes place on 2 May each year. For more information on fisheries statistics, take a look at the 2018 edition of Agriculture, Forestry and Fisheries Statistics.
To contact us: estat-user-support@ec.europa.eu