In 2020, the year of the COVID-19 outbreak, the median employment income of the working age population (18-64) in the EU decreased by 7% compared with 2019. However, the median disposable household income as well as the at-risk-of-poverty rate remained stable, with varying trends across countries.
This information comes from the early estimates on income inequality in 2020 published by Eurostat today. This article presents a handful of findings from the more detailed Statistics Explained article.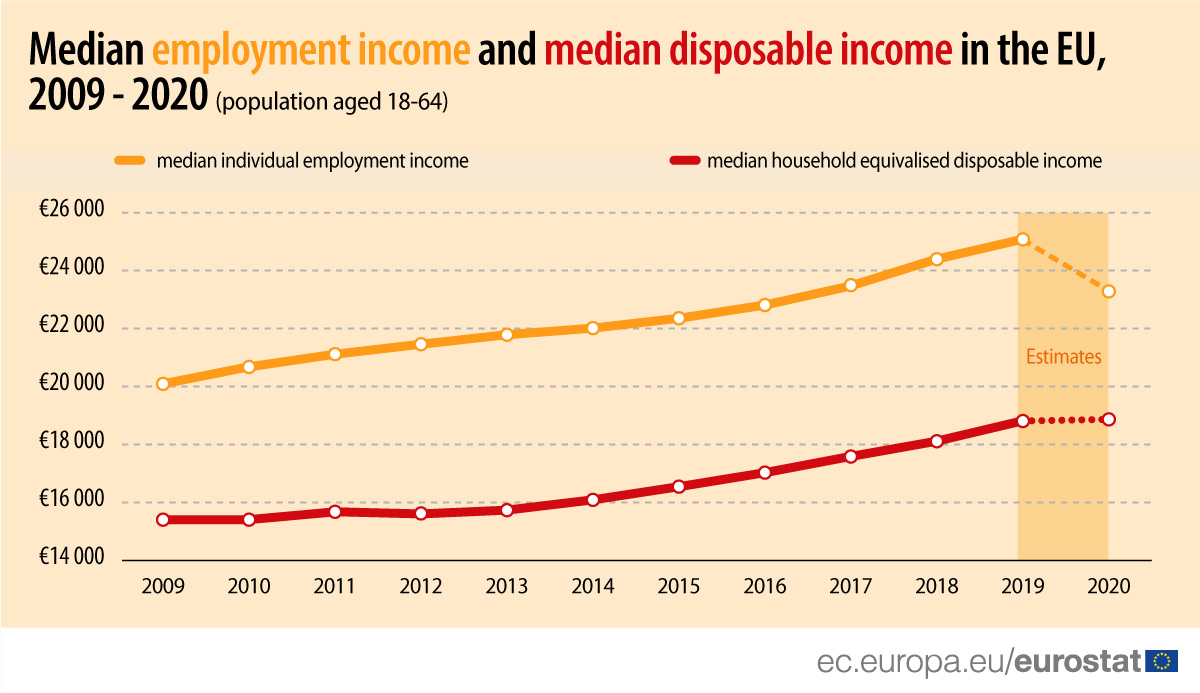 The losses in employment income were largely due to the unprecedented rise in the number of workers absent from work or working reduced hours. However, the usual government transfers and taxes as well as temporary policies helped to offset the impact of the COVID-19 crisis on disposable household income.
These temporary schemes played an important role in the stabilization of wages and household income, in particular for those with lower income. Although people in lower income quintiles were more affected by the COVID-19 crisis, these temporary schemes helped to compensate for their income losses. The compensation benefits follow a progressive distribution, being higher for those with lower incomes.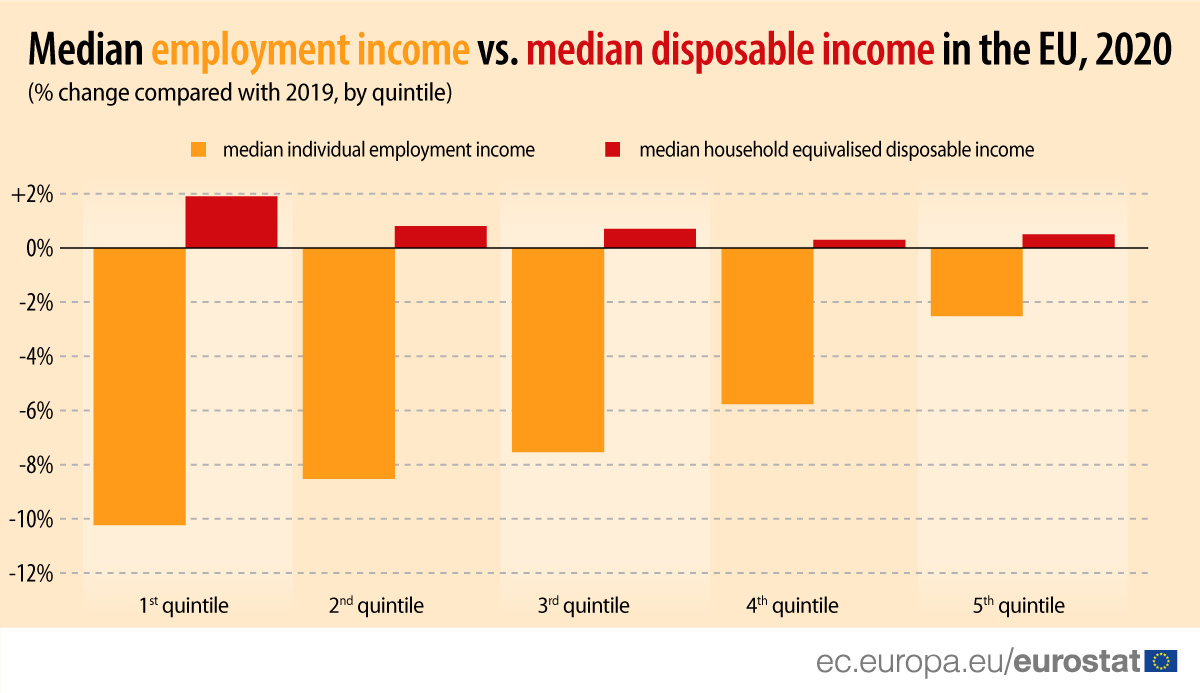 At the EU level, the disposable household income as well as the at-risk-of-poverty rate remained stable in 2020, yet the situation varied across the EU Member States.
Compared with 2019, among the Member States with statistically significant data (orange and blue in the map), increases in at-risk-of-poverty rate of the working age population were observed in Portugal, Greece, Spain, Italy, Ireland, Slovenia, Bulgaria, Austria and Sweden. In around half of the Member States, the at-risk-of-poverty rate remained stable in 2020, while it decreased in Estonia.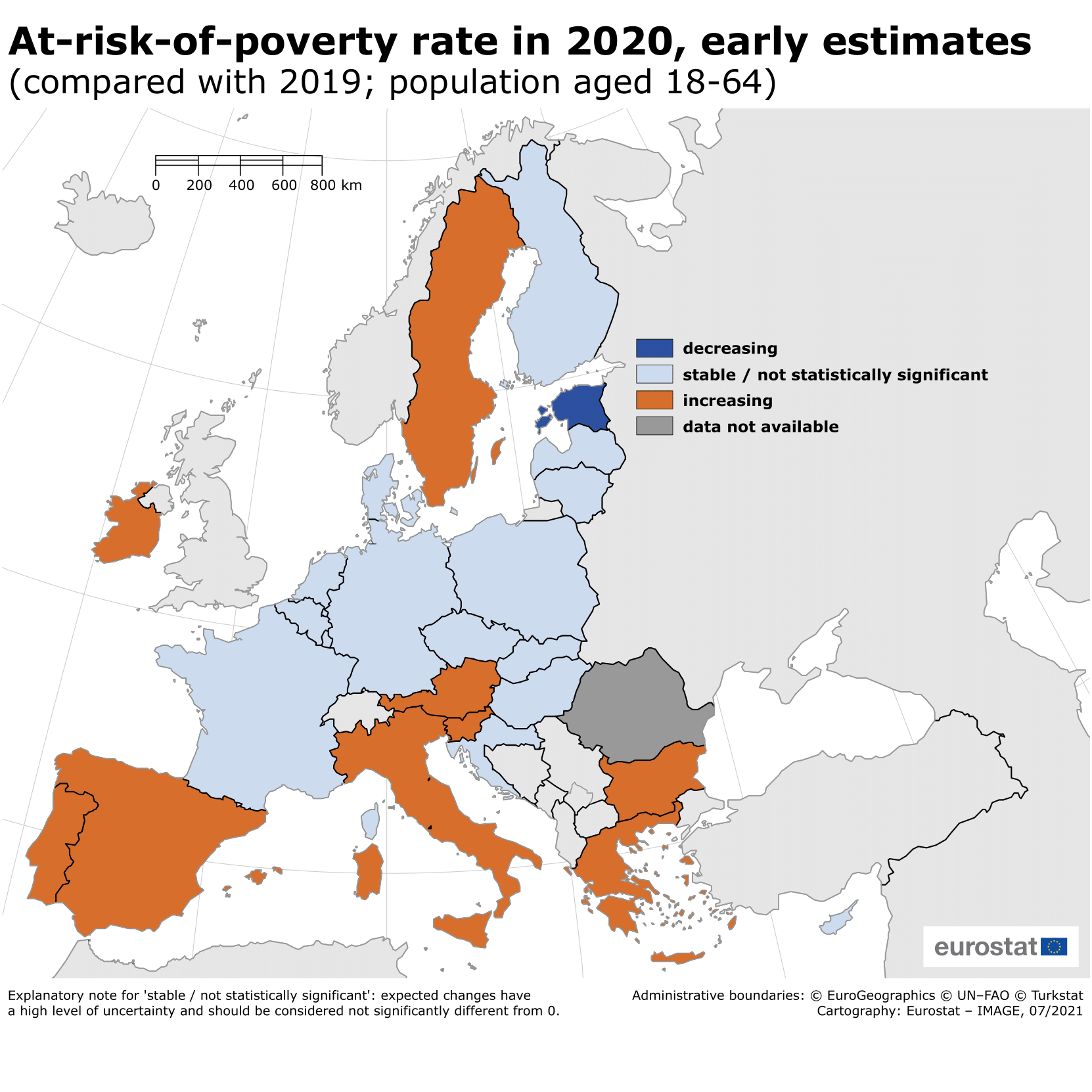 For more information:
This article presents early estimates on the evolution of income inequalities and poverty in 2020. Results are based on modelling taking into account both the impact of the labour market evolution on employment income and the effect of social protection schemes put in place by national governments. The latter are simulated via a EU level tax-benefit model. It is important to highlight that the current unprecedented context imposed new methodological choices with a higher degree of uncertainty in the final results.
Eurostat Statistics Explained article on early estimates of income inequalities during the 2020 pandemic
Eurostat Experimental statistics section dedicated to income and poverty indicators
To contact us, please visit our User Support page.
For press queries, please contact our Media Support.