Notikumi
Additional tools
Ņemiet vērā, ka jaunumi, raksti un notikumu apraksti var būt pieejami tikai angļu, franču un/vai vācu valodā.
27/09/2018 - 28/09/2018
The European Commission, UNECE, the University of the Basque Country, the Oxford Institute of Population Ageing, with the support of the Government of Biscay (Spain), are organising a Second International Seminar on the Active Ageing Index (AAI) in Bilbao in September 2018.
01/06/2018 - 02/06/2018
The European Youth Event (EYE2018), organised by the European Parliament in Strasbourg, is an opportunity for young people aged 16-30 to take part in a programme of workshops and events with policymakers and propose ideas for the future of Europe.
27/04/2018
Now in its third edition, the Annual Convention for Inclusive Growth (ACIG) is an action-oriented platform bringing together civil society organisations and policymakers to discuss how to achieve truly inclusive growth.
11/04/2018 - 12/04/2018
Euclid Summit is a 2-day gathering of people and organisations from across Europe who want to learn from, encourage and inspire each other to drive positive change.
22/03/2018 - 23/03/2018
The European Commission is organising a seminar on "Quality of Public Administration: What have we learned, what can we do better" on 22-23 March 2018 in Brussels.
21/03/2018
The conference, hosted by the European Committee of the Regions in Brussels, will present policymakers with findings from a pan-European study and series of workshops with young Europeans about the issues which matter to them.
21/03/2018 - 22/03/2018
An international conference on "The Future of Work" will take place on 21-22 March in Sofia.
21/03/2018 - 22/03/2018
The next meeting of the Union for the Mediterranean (UfM) High-Level Working Group on Employment and Labour takes place on 21-22 March 2018 in Brussels.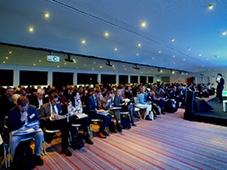 15/03/2018 - 16/03/2018
The European Commission is organising a conference on 15-16 March in Brussels to celebrate 10 years of existence of the European Qualifications Framework (EQF).
08/03/2018 - 09/03/2018
The second fi-compass ESF Conference 'Financial instruments funded by the European Social Fund – boosting social impact' is taking place on 8 and 9 March in Brussels.