SOLVIT

and the United Kingdom

The United Kingdom left the SOLVIT network on 31 December 2020. As a result, SOLVIT can no longer assist with UK-related problems.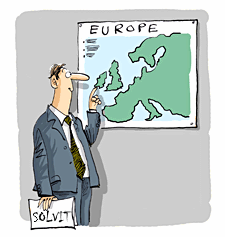 EU and UK nationals do continue to enjoy rights under EU law, notably the Withdrawal Agreement. You may be able to find help via the following websites:
UK citizens' EU rights in the EU
 → you can report a breach of your rights to the European Commission.
Norwegian, Icelandic or Liechtenstein nationals (EEA citizens) residing in the UK, and UK nationals residing in these countries before 31 December 2020, continue to enjoy rights under the Separation Agreement. You may be able to find help via the following websites: