SOLVIT facilitates trailer import to Bulgaria
A Dutch national was prevented from importing a trailer into Bulgaria.
As trailers lighter than 750 kg do not have to be registered in the Netherlands, the importer had no registration document – so the Bulgarian authorities refused to register the trailer.
SOLVIT helped the importer pass the Bulgarian roadworthiness test he needed to get the trailer registered there.
Solved within 13 weeks.
More on: Vehicle registration
---
Green light for Estonian car in Finland
An Estonian national living and working in Finland for over 2 years leased a car from an Estonian leasing company for personal use in Finland.
Finnish customs seized the Estonian car claiming that, according to national taxation laws, the car could only be released after the payment of certain car registration taxes, a large part of which had already been paid in Estonia.
After the intervention of SOLVIT Finland, it was established that the Finnish car registration tax acted as an obstacle to the free provision of cross-border services for leasing companies in the EU.
The Finnish tax authorities revised the case and applied the appropriate tax rate.
Solved within 10 weeks.
More on: Vehicle registration
---
Spanish trucker gets Belgian documentation exchanged for Spanish
A Spanish national who had lived in Belgium wanted to work in Spain as a professional haulier. To do so, he needed to exchange his certificate of professional competence and driving licence which were issued in Belgium.
But he encountered many difficulties and spent more than 8 months trying to get all the papers in order.
This was jeopardising his chances of finding a job.
After SOLVIT's intervention, he received the necessary documents.
Solved within 2 weeks.
More on: Driving licences
---
Belgian trucker received unrestricted driving licence in Spain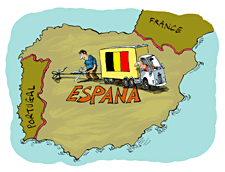 When a Belgian trucker living in Spain exchanged his Belgian driving licence for a Spanish one, he was surprised to see that the new one barred him for a year from making trips of more than 50 km.
Thanks to SOLVIT's intervention, the Spanish authorities soon realised they had made a mistake and removed the restriction from his licence.
Solved within 8 weeks.
More on: Driving licences
Go to »