IMAPS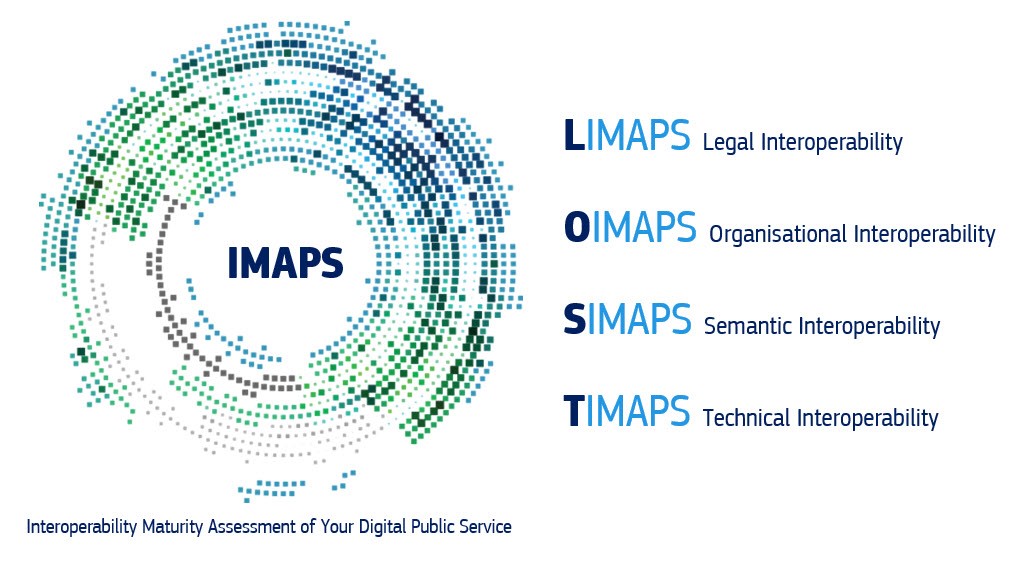 Interoperability Maturity Assessment of a Public Service
When is this solution for you? 
You are involved in the design, development, management or delivery of a digital public service? IMAPS gives you a tool to evaluate the interoperability maturity of your digital public service and to identify improvement opportunities towards seamless interoperability.
What can we offer you? 
IMAPS is an online survey that helps public service owners evaluate, consider and improve all key behavioural interoperability aspects of their digital public service (legal, semantic, organisational or technical). Ultimately, they can view and monitor the compliance of the service requirements with the New European Interoperability Framework (EIF).
Not only can IMAPS be used to assess the interoperability of any public service – from open data portals, and e-voting platforms, to public procurement services, and much more – it is applicable to services at all levels of government (international, European, national, regional and local).

IMAPS looks at key interoperability enablers in three different service areas: service delivery, service consumption  and service management.
IMAPS provides you with:
A compact, highly user-friendly and free-of-charge online survey questionnaire, which can be completed in 30 minutes;
An interoperability maturity score which captures the current maturity level of your digital public service (from ad hoc to seamless);
A set of recommendations tailored to your digital public service for improving its interoperability maturity;
A set of interoperability good practices and standards;
A confirmation of conformance of your digital public service with the European Interoperability Framework (EIF).
Furthermore, the IMAPS action has developed specialised versions of IMAPS, which enable public service owners to assess their digital public services in terms of their:
The IMAPS specialisations can be used complementarily with the IMAPS assessment.



Finally, our team of IMAPS experts offers knowledge transfer sessions with public administrations across Europe to support them in their IMAPS assessments and their uptake of IMAPS and its specialisations. If you are interested in participating in an IMAPS knowledge transfer, please contact us via e-mail: DIGIT-IMAPS@ec.europa.eu. 
Get started 
LIMAPS 
For more information, visit LIMAPS on Joinup.
OIMAPS 
For more information, visit OIMAPS on Joinup.
TIMAPS
For more information, visit TIMAPS on Joinup.
SIMAPS 
For more information, visit SIMAPS on Joinup.
Is this solution open source? 
More detailed information 
Who is already using this solution? 
More than 120 IMAPS assessments of digital public services provided by public administrations across Europe were carried out between 2018 and 2021.
In 2018, public administrations from 19 Member States participated in the IMAPS benchmark leading to 51 assessments of digital public services. On average, the services assessed score at 'essential' maturity level (see Report on IMAPS Results 2018 Edition).
Discover the experience of our IMAPS users in the Czech Republic, Belgium, and Slovenia and get inspired!
The predecessor of the IMAPS, the Interoperability Maturity Model (IMM), has been used by 17 Trans European Systems (TES) to assess the interoperability maturity of their public services, including: