ISA²
Interoperability solutions for public administrations, businesses and citizens
Improving semantic interoperability in European eGovernment systems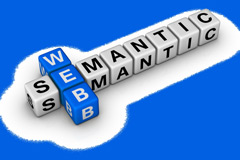 2016.07 SEMIC: Promoting Semantic Interoperability amongst the EU Member States                                
When is this action of interest to you?
You work in the area of government metadata management and want to check upon and possibly reuse semantic assets (metadata and/or reference data), understand semantic interoperability requirements, approaches, tools, lessons learnt and case studies. You want to share your own semantic assets.
Which solutions can ISA² offer to you?
The ISA programme has developed a number of semantic specifications and solutions which are available to Public administrations in Europe free of charge. 
I. Core Vocabularies
These are simplified, reusable, and extensible data models that capture the fundamental characteristics of an entity in a context-neutral way. Public administrations can use and extend the Core Vocabularies in the following contexts:
Information exchange between systems: the Core Vocabularies can become the basis of a context-specific data model used to exchange data among existing information systems.
Data integration: the Core Vocabularies can be used to integrate data that comes from disparate data sources and create a data mashup.
Open data publishing: the Core Vocabularies can be used as the foundation of a common export format for data in base registries like cadastres, business registers and service portals. 
Development of new systems: the Core Vocabularies can be used as a default starting point for designing the conceptual and logical data models in newly developed information systems.
The following four Core Vocabularies have been developed under ISA² so far: 
The Core Business Vocabulary has been formally published on the W3C standards track. It has been revised and renamed as the Registered Organisation Vocabulary (RegOrg). 
Pilots were carried out in collaboration with public administrations in several EU Member States. The pilots were intended as a proof-of-concept to demonstrate the applicability of the Core Vocabularies. Implementations include:
Flemish Government: The Flemish Government is piloting the Core Public Service Vocabulary (the OSLO vocabulary) to publish its intergovernmental product and service catalogue as Linked Data.
e-CODEX: The Core Person Vocabulary is partly used in the e-Document formats that implement the European Payment Order procedure developed by the e-Justice Communication via the Online Data Exchange (e-CODEX) large-scale pilot.
OpenCorporates.com: A Registered Organisation Vocabulary-compliant RDF description.

OSLO project: The standards of the Flemish Open Standards for Local Administrations in Flanders (OSLO) project are local extensions of the Registered Organisation, Core Person, Core Location and Core Public Service vocabularies created at European level.
II. The DCAT Application Profile for data portals (DCAT-AP), which provides a common specification for describing public sector datasets in Europe to enable the exchange of descriptions of datasets among data portals. DCAT-AP makes the following possible:
Data catalogues can describe their dataset collections using a standardised description, while keeping their own system for documenting and storing them.
Content aggregators, such as the pan-European data portal, can aggregate such descriptions into a single point of access.
Data consumers can more easily find datasets from a single point of access.
III. The Asset Description Metadata Schema (ADMS), is a simple specification used to describe interoperability solutions, making it possible for everyone to search and discover them. ADMS allows:
Solution providers, such as standardisation organisations and public administrations, to describe their interoperability solutions using the standardised descriptive metadata terms of ADMS, while keeping their own system for documenting and storing them;
Content aggregators, such as Joinup, to aggregate such descriptions into a single point of access;
ICT developers to more easily explore, find, identify, select and obtain interoperability solutions from a single point of access.
W3C has published the ADMS specification as a Working Group Note.
Implemenations of ADMS are:
XRepository: a semantic asset repository owned by KOSIT, the German federal IT standards coordination office, which has implemented an ADMS export feature. 
Joinup: a single-access point to more than 4000 interoperability solutions included in the collections of more than 40 standardisation bodies, public administrations and open source software repositories. The interoperability solutions are described using ADMS, and all import, export, content management and search features are also based on ADMS. The owner of Joinup is the European Commission.
Metadata Registry (MDR): supports an ADMS-compliant RDF export for MDR Named Authority Lists. It is owned by the Publications Office of the EU
What is this action about?
The environment in which data exchange takes place amongst Member States is very complex, creating many barriers and challenges to the exchange of data during the execution of European Public Services. These barriers include divergent interpretations of the data, lack of commonly agreed and widely used metadata, absence of universal reference data (e.g. code lists, taxonomies), the multilingual challenge, etc. Due to these pressures, semantic interoperability becomes an important element in many eGovernment and interoperability national agendas and interesting experience and lessons-learnt can already be shared at a European level. This action tries to reduce the consequences of semantic interoperability conflicts. 
The action relies on Joinup ( funded  by ISA²) as a platform to support the collaborative development of Core Concepts and Vocabularies, the search and re-use of interoperability assets with the use of enhanced indexing and browsing functionalities, and its promotional activities.
What are the objectives?
The main objectives include:
What are the benefits?
Access to a European repository of reusable semantic interoperability assets (via the Joinup platform).
Forum to identify opportunities for alignment at European level.
Reduced development costs due to reuse during the initial development phase and due to less interoperability conflicts while integrating systems or providing cross-agency/domain/country services.
A platform and central point of reference for collecting, organizing, storing and making available semantic interoperability assets which have been created by various EU entities.
An infrastructure that allows the Member States and the Commission services to identify conflicts, overlaps, duplication of work and possibilities for metadata and semantic assets.
What are the next steps?
In 2018, the action will continue investing in innovative approaches towards achieving application and data integration by applying semantic technologies and linked data. This will take the form of pilots involving the active participation of EU countries and Commission departments. The new version of Vocbench will also be released with new functionalities, including semantic data modelling capabilities.
The annual SEMIC conference will be organised in Bulgaria.