Nyheter
Observera att nyheter, artiklar och evenemang ibland bara finns på engelska, franska och tyska.
07/12/2016
Today, the Commission launches its initiative Investing in Europe's Youth, outlining measures to boost youth employment, improve and modernise education, increase investment in skills of young people, and to enhance better opportunities to learn and study abroad.

28/10/2016
Elvis Skripunas has always been ambitious. While other children dreamed of being firefighters, doctors or astronauts when they grew up, Elvis was imagining himself with a suit and briefcase.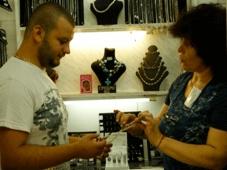 21/10/2016
The area where Nikolay Krastev grew up in Bulgaria is dominated by the agriculture and service industries. Having studied music at school, and with his only work experience being at a petrol station, he struggled to find a permanent job and soon found himself unemployed.

12/10/2016
When Tina Fonovic left university with both a Bachelor of Law and a Masters in Marketing Communications, she was full of confidence and certain she'd find a job easily. Two years later and that confidence had faded.

04/10/2016
After leaving school, Aristea Zachari was unemployed for three months and increasingly dependent on her parents. A visit to the local career office introduced her to the Youth Guarantee scheme and the opportunities it offers unemployed young people in Greece.

04/10/2016
Today, the European Commission adopted a Communication that highlights the main achievements of the Youth Guarantee and Youth Employment Initiative (YEI) since their launch in 2013 and draws lessons on how to improve the EU and national efforts on deploying national Youth Guarantee schemes.