Participation of young people in education and the labour market
Data extracted in August 2022
Planned article update: August 2023.
Significant structural differences among Member States in young people's participation in the labour force exist due to institutional factors, cultural determinants, job market for students, etc.
In 2021, more than half of the Dutch and Danish students and apprentices aged between 15 and 29 were part of the labour force (either employed or unemployed).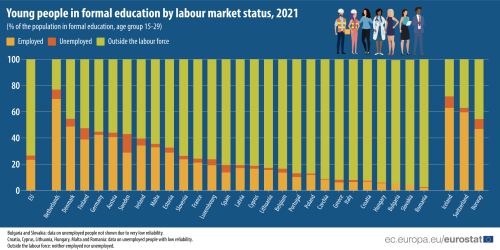 This article focuses on the complex interplay between participation in formal education and in the labour market in the European Union (EU), supplementing a companion article on youth unemployment.
In the case of young people, participation in formal education and in the labour market interact in complex ways going beyond a straightforward one-way transition from school to work. A share of young people start working, e.g. in the form of part-time, weekend or student jobs, while still participating in formal education. It is indeed possible to be in formal education and on the labour market at the same time, leading to an overlap. It is important to be aware of these possibilities when interpreting and assessing youth unemployment rates.
Young people, according to the United Nations definition, refer for statistical purposes to the age group 15-24. However, the age category 15-29 also deserves attention as it is considered the reference in the Year of Youth context. For this reason, the current article presents information specifically for young people aged 15-29. However, some figures relate to people aged 15 to 34 to cover more extensively the transition from formal education to labour market.
The article presents the results for the EU as a whole and also compares results across all EU Member States, three EFTA countries (Iceland, Norway and Switzerland) and one candidate country (Serbia).
Notes
↑ For the purpose of this article, the definition of people neither in education nor in employment is different from the one for NEET where people both in formal and/or in non-formal education and training are considered as being in education or training (for more information on this category of young people, refer to the article 'Statistics on young people neither in employment nor in education or training')
↑

International Standard Classification of Education 2011, paragraph 36, page 11.