Natural gas market indicators
Data extracted in March 2021.
Planned article update: March 2022
The market share of the largest natural gas import and production companies in the EU was 100 % in Estonia, Finland and Sweden in 2019.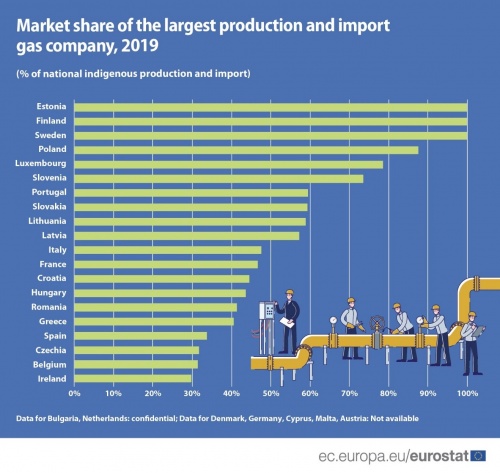 This article takes a look at the natural gas markets in the European Union (EU) (excluding Malta and Cyprus) presenting recent statistical data on the number and activities of companies that either bring natural gas into the country by importing it or by national production (IMport and PROduction  = IMPRO) and retail companies across EU Member States, Serbia, Turkey, Bosnia and Herzegovina, North Macedonia, Moldova and Georgia.
In 2019 the estimated number of main natural gas IMPRO companies (companies with a market share of 5 % or more) increased from 63 companies in 2018, to 70. The estimated total number of natural gas IMPRO companies in the European Union, however, increased by 43 compared with 2018.
Database
Energy statistics - market structure indicators - natural gas and electricity (nrg_market)

Market share of the largest generator in the electricity market - annual data (nrg_ind_331a)

Energy Statistics - quantities (nrg_quant)

Energy Statistics - quantities, annual data (nrg_quanta)

Supply, transformation and consumption - commodity balances (nrg_cb)

Supply, transformation and consumption of gas (nrg_cb_gas)

Energy Statistics - quantities, monthly data (nrg_quantm)

Energy statistics - supply, transformation, consumption (nrg_10m)

Supply of gas - monthly data (nrg_103m)

Energy statistics - prices of natural gas and electricity (nrg_price)

Energy statistics - natural gas and electricity prices (from 2007 onwards) (nrg_pc)

Gas prices for household consumers - bi-annual data (from 2007 onwards) (nrg_pc_202)
Gas prices for non-household consumers - bi-annual data (from 2007 onwards) (nrg_pc_203)
Gas prices components for household consumers - annual data (nrg_pc_202_c)
Gas prices components for non-household consumers - annual data (nrg_pc_203_c)
Legislation
Directive 2009/73/EC of 13 July 2009 concerning common rules for the internal market in natural gas and repealing Directive 2003/55/EC
Regulation (EC) No 715/2009 of 13 July 2009 on conditions for access to the natural gas transmission networks and repealing Regulation (EC) No 1775/2005