Energy Efficiency and Micro Generation – enhancing the sustainability of public buildings
A new cross-border project aims to improve the energy efficiency of public buildings. By applying various energy saving methods and new green technologies, the partners have been able to reduce CO2 emissions and make considerable savings.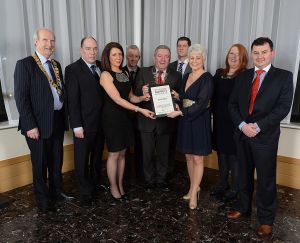 Ten local Councils joined forces to improve the energy efficiency of public buildings in Ireland and Northern Ireland ©John McCandless
" The project has given local authorities the opportunity to demonstrate our commitment to climate change strategies and lead the way for local organisations, businesses and citizens. We fully believe that the 20:20:20 Directive (EU Renewable Energy Directive) is achievable. The directive suggests that local authority organisations can achieve a figure of 20 % of their energy consumption from renewable sources by the year 2020. These 'exemplar' buildings will not only showcase the latest technologies in this field but also act as a benchmark for others to follow to create a more sustainable future. "
Councils, as public authorities, have a great responsibility in adopting environmentally friendly measures and contributing to the transition towards a green economy. However, publically owned property is often old, and hence both energy- and cost inefficient. Bringing together 10 local Councils on both sides of the border, as well as the Dundalk Institute of Technology (DKIT), this project saw considerable and tangible achievements.
As a first step, 51 Simplified Energy Model (SBEM) audits were carried out for public buildings with high energy consumption. Each Council then submitted a report, outlining the efficiency of their main buildings, suggesting improvements and related cost-benefit analyses.
Nine example projects with Visitor Experiences
Based on these reports, nine buildings were chosen as example projects, demonstrating various energy saving methods and green technologies. These included (non-exhaustive list): window- and boiler upgrades, fuel conversions, roof insulation and draught-proofing, as well as installation of bio-mass boilers, heat pumps and LED lighting. The project also saw the deployment of the so called "Micro-generation" – small-scale generation of heat and electricity power to meet own needs.
Each site was documented in a video case study, and equipped with a Visitor Experience – providing real-time information on CO2 output and estimated cost savings.
Additional activities included two conferences for local businesses, leaflets on energy-saving measures and more than 140 public relation items published in the course of the project period.
The participating Councils have benefitted tremendously from the project, making significant financial and energy savings (an estimated EUR 118 607 and 365 tonnes of CO2/year). Not only did they meet the EU Energy Performance of Buildings Directive criteria, they're in a position to promote best practice in energy management. The partners are now working on similar projects to submit under the forthcoming Interreg V and Horizon 2020 programmes.
Total investment and EU funding
Total investment for the project "Energy Efficiency and Micro Generation" is EUR 1 147 688, of which the EU's European Regional Development Fund is contributing EUR 996 881 from the Operational Programme "United Kingdom - Ireland" for the 2007 to 2013 programming period.