ICT specialists in employment
Data extracted in April 2022.
Planned article update: May 2023.
The number of ICT specialists in the EU grew by 50.5 % from 2012 to 2021, almost 8 times as high as the increase (6.3 %) for total employment.
In 2021, 80.9 % of men were employed as ICT specialists in the EU against 19.1 % of women.
In 2021, about two thirds (64.5 %) of ICT specialists in the EU had completed a tertiary level of education.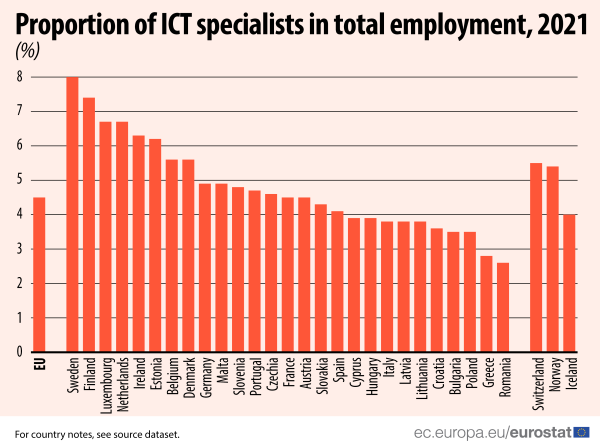 This article provides an overview of recent developments in the demand for information and communication technology (ICT) specialists in Europe using data on employment as a proxy. ICT specialists are defined as persons who have the ability to develop, operate and maintain ICT systems and for whom ICTs constitute the main part of their job (OECD, 2004).
The introduction of new technologies and digitalisation — often referred to as the 'fourth industrial revolution' — is having an impact on society through changes to the way that people live, work and interact with one another. ICTs have already been the cause of significant changes to methods of production and patterns of employment within the European Union (EU). Policymakers and researchers therefore have an interest in tracking employment developments for ICT specialists, as these influence a country's comparative advantage in the development, installation and servicing of ICTs.
Digital skills (isoc_sk)

ICT specialists (isoc_sks)

ICT specialists in employment (isoc_skslf)

Employed ICT specialists - total (isoc_sks_itspt)
Employed ICT specialists by sex (isoc_sks_itsps)
Employed ICT specialists by educational attainment level (isoc_sks_itspe)
Employed ICT specialists by age (isoc_sks_itspa)