Alcohol consumption statistics
Data extracted in July 2021
Planned article update: March 2024
In 2019, one in twelve people in the EU consumed alcohol on a daily basis.
In 2019, among the EU population, almost one in five of those who drink alcohol had an episode of heavy drinking at least once a month.
In 2019, slightly more than one quarter of the EU population did not drink any alcohol.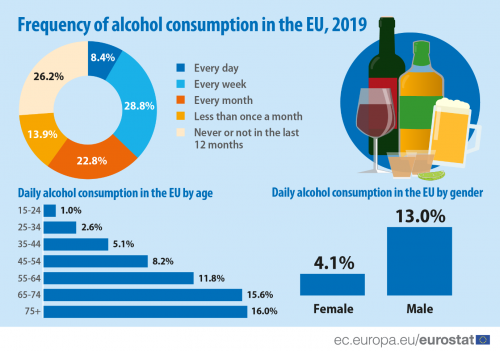 This article presents an overview of alcohol consumption among the population of the European Union (EU). The harmful use of alcohol is determined not only by the volume but also the frequency of drinking. The volume of alcohol consumption and the pattern of drinking affect both health and social outcomes. In particular, binge drinking on a single occasion is a major public health concern, since it has adverse consequences on an individual's well-being, as well as social and mental behaviour.
This article is one of a set of statistical articles concerning health determinants in the EU which forms part of an online publication on health statistics.

Online publications
Methodology
General health statistics articles
Alcohol consumption (hlth_alc)