International Product Safety Week
14-11-2016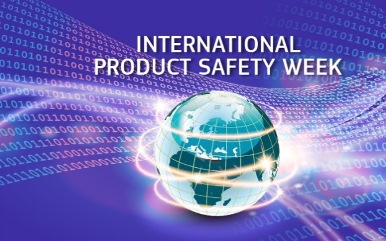 14-18 November 2016
The European Commission's Directorate-General for Justice and Consumers is hosting the 2016 edition of the International Product Safety Week (IPSW) from 14 to 18 November in Brussels.
Note: This page has been archived. It will no longer be updated.
The event page has moved here. => http://ec.europa.eu/newsroom/just/item-detail.cfm?item_id=31687 => Please follow this link to receive the latest information and updates.
Safety of products sold to consumers, both through traditional trade channels as well as on-line, is fundamental for consumers. The Commission works closely with a broad range of stakeholders, including main trading partners, towards product safety online and "offline", no matter where the products are manufactured.
During the IPSW 2016 the European Commission calls again for participation from product safety professionals from around the world to debate and foster international cooperation on policy development and on enforcement in the area of (non-food) consumer product safety. The IPSW 2016 will be once more an opportunity to participate in a series of conferences and meetings and to network with international regulators, industry, consumer organisations, standard-makers, test laboratories, academics and other product safety experts.

KINDLY NOTE all meetings and events require prior online registration (also a Product Safety networking dinner hosted by the European Commission on Monday 14 November)
Hotels providing specially negotiated group rates
For general enquiries, please contact: IPSW@newstravel.eu
Agenda of the week
14-15/11

(all day)

Symposium of the International Consumer Product Health and Safety Organisation (ICPHSO)

Please note that this is a fee-paying conference. For further details and registration, please consult www.icphso.org

Draft agenda

Open to all stakeholders

16/11
(am)

Conference on the safety of products sold online

The conference will explore issues relating to the safety of non-food consumer products sold online from the authorities', businesses' and consumers' perspective. It will also serve to exchange information and best practices.

Open to all stakeholders

(pm)

Event on boosting the impact of the Rapid Alert System (RAPEX)

The event aims to engage stakeholders in discussing how to achieve an optimal use by both businesses and consumers of the large amount of public information available on product safety alerts and recalls.

Open to all stakeholders

17/11
(am)

Product safety enforcement, lessons learned and ways forward (in cooperation with PROSAFE)

This session will focus on the results of coordinated market surveillance enforcement efforts. Consumer organisations, authorities and businesses will have the opportunity to discuss about their expectations and exchange views on the goals ahead.

Open to all stakeholders

(pm)

Consumer Safety Network (CSN) meeting

This will be a meeting of the expert group Consumer Safety Network for its regular members and observers only.

Restricted access

18/11
(am)

RAPEX-China Working Group meeting between the EU and China

This meeting is restricted to participants from the European Commission, EU/EEA Member States' regulatory authorities and China AQSIQ.

Restricted access
More information about the specific meetings and events will appear here later.