Other actions - Content Online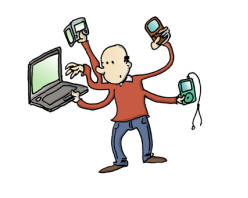 Creative Content Online
Opportunities for TV and film in the online age
Digital technology and the internet are rapidly changing the way in which audiovisual works are produced, marketed, and distributed. Consumers increasingly expect to be able to watch anything, anywhere, any time and via any one of a number of devices (TV, personal computer, games console, mobile media device). Business models have to evolve rapidly to keep pace with the ever faster pace of technological change which offers new opportunities for creators and distributors and also new consumer expectations and ultimately more growth and jobs.

To gather views on how Europe can seize these opportunities and move towards a digital single market, the European Commission has published a Green Paper on the initiative of Internal Market Commissioner Michel Barnier, in agreement with Vice-President for the Digital Agenda Neelie Kroes and Androulla Vassilliou, Commissioner for Education, Culture, Multilingualism and Youth. The Green Paper serves as the basis for a debate on whether and how the regulatory framework needs to be adapted to allow European industry to develop new business models, creators to find new distribution channels and European consumers to have better access to content throughout Europe. The views of all interested parties are sought on various aspects of online distribution of audiovisual works such as films, documentaries, TV dramas, cartoons etc.
The Green Paper looks at a broad range of issues:
It assesses the pace of change that the audiovisual sector is undergoing as part of the internet revolution and how to best tackle the challenges this poses as well as how best to seize the opportunities a digital single market will offer creators, industry and consumers, such as new business models, more online services and better remuneration for right holders.

It discusses rights clearance for the online distribution of audiovisual media services. An assessment is needed of the extent to which there are problems in this area, the precise nature of such problems and the policy options that could be considered.

It asks if additional measures should be taken at EU level to ensure the adequate remuneration of authors and performers in relation to online use of works and performances for which they hold rights.

It also deals with certain special uses of audiovisual works such as the public policy missions of film heritage institutions and access by persons with disabilities to cultural material.
The European TV market is the second largest regional market in the world, after the US. It grew by 12% between 2006 and 2010, with over half of that growth occurring between 2009 and 2010 to reach an annual turnover of €84.4 billion in 2010. The European share of the global TV market remained stable at around 29% in 2010.
However, these developments have not yet created a true Digital Single Market for audiovisual content. One of the objectives of the Digital Single Market should be to facilitate the development of European global players in the audiovisual sector. EU providers risk staying small, lacking critical mass which a potential audience of half a billion potential consumers across the single market should normally provide.


Green Paper on the online distribution of audiovisual works in the European Union: opportunities and challenges towards a digital single market



Press release (IP/11/868)



The consultation and the contributions are available here
Public consultation on "Content Online" 2009-2010

The digital "dematerialisation" of content presents great opportunities for Europe, but also a number of challenges. First of all, obstacles still stand in the way of digital distribution of cultural products and services. In addition, illegal downloads on a large scale can jeopardize the development of an economically viable single market for digital content. Finally, there needs to be much more encouragement for legal cross-border offers. The consultation paper outlines the existing challenges for three groups of stakeholders – rightholders, consumers and commercial users – in order to start a reflection on possible European responses.
With this public consultation the Commission's services wish to launch a wide-ranging debate on how to develop vibrant online markets for goods and services protected by intellectual property rights. The consultation addresses the role of legal online markets and explores a variety of copyright management models that may induce a more rapid development of such markets.

The submissions received are published here. The Commission services are currently analysing the contributions.

Creative Content in a European Digital Single Market: Challenges for the Future



A Reflection Document of DG INFSO and DG MARKT - October 2009

Press release:
"European Commission launches reflection on a Digital Single Market for Creative Content Online" (22/10/2009)


Strategy for "Creative Content Online"
In 2008, the Commission adopted a policy paper on creative content online - building on a 2006 consultation process and launching further measures to support the cross-border delivery of online content. The Communication launched the 2008 consultation process and identified 4 main areas requiring EU action:
availability of creative content – if online content services are to develop, more good content is needed, actively licensed and accurately priced for use via the new platforms.

multi-territory licensing of creative content - the lack of multi-country copyright licences makes it difficult for online content to fully benefit from potential access to the entire EU market.

digital rights management systems (DRMs) – these technologies, often used to restrict access to high-value content (e.g. sports and movies), need to be made more interoperable, i.e. designed to work with all types of hard- and software.

piracy / unauthorized file-sharing - cooperation is needed between service providers, producers and consumers, to:

- ensure an adequate online supply of easily available and attractive content

- adequately protect copyrighted works

- raise awareness that copyright secures a legitimate reward for producers.
The Communication also proposed a stakeholder discussion group - the "Content online platform" – to look at forthcoming challenges. The final report on the Content Online Platform has been published in May 2009.