Mentoring Spanish entrepreneurs across borders
As the EU emerges from the financial crisis, unemployment remains high in countries such as Spain. To create jobs and foster successful entrepreneurship there, the EU-funded European Coworkings EOI Programme is funding the education and training of Spanish entrepreneurs in other Member States. Once the course is over, the qualified entrepreneurs will return home to put their new skills into practice, thereby creating jobs and growth locally.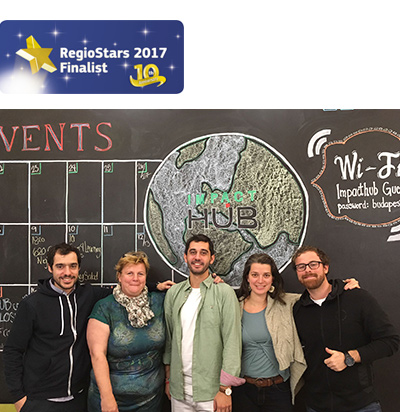 Mentors and entrepreneurs in Budapest, Hungary ©uropean Coworkings COI
" So far the programme has helped to boost more than 100 entrepreneurial projects from all around Spain. The experience of getting mentorship abroad from European experts was in some cases so revealing that many entrepreneurs had to completely deconstruct their business ideas and make a fresh start! "
About 100 Spanish entrepreneurs applied to the project's pilot programme in 2016 and 45 of these were selected to receive tailored free training and ad-hoc mentoring relevant to their particular innovative idea in leading business centres located in 13 other EU Member States. The second edition, launched in April 2017, trained 57 entrepreneurs.
This international business acceleration programme targets entrepreneurs who have projects which are already running (for a maximum of two years) or are at least under way and in their first stage.
At the end of the process, each entrepreneur is given the opportunity to pitch their business to all other participants — both entrepreneurs and mentors – at a final wrap-up event, before going on to establish their business ideas in earnest back home.
Empowering entrepreneurs with transnational training
In 2016, 17 women and 28 men — 4 of which were under the age of 25 — were provided with 90 hours of mentoring and training each in 17 entrepreneurship centres, located in 13 EU countries. The aim of European Coworkings EOI is to promote entrepreneurship and self-employment by boosting business ideas with an innovative and international dimension.
All the pilot participants obtained a qualification at the end of the three month process, and all were able to contribute to the ultimate aim of the project by returning to Spain to either improve or launch their innovative and international entrepreneurial idea.
The project keeps a close eye on its entrepreneurs, with virtual supervision throughout the process, but also ensures a comprehensive and holistic mentoring programme with a structured timeline. Once entrepreneurs are matched with the centre which is most relevant to their idea, they are put in direct contact online. This allows the two actors to get to know each other, but also to discuss and evaluate the entrepreneur's needs prior to their visit to the country in person.
This is followed by the entrepreneur spending four or five weeks in the assigned EU centre, where they will receive a minimum of 40 mentoring hours but also get the opportunity to meet other entrepreneurs with different ideas, in different contexts, and even make potential contacts for future business opportunities. Finally, the placement is followed by an extra four online hours once entrepreneurs are back in Spain, in order to wrap-up the mentoring process and prepare the final pitch for the end-event.
Inspiration for start-ups and mentors alike
According to entrepreneurs, what makes the European Coworkings EOI Programme such a triumph is the opportunity for mutual learning between entrepreneurs and mentors and the chance to meet local entrepreneurs at the European city where they are hosted.
The project fosters collaboration and experience-sharing across borders as an effective way of accessing innovative ideas, alternative approaches to business and brand new skills. According to the assessment panel, this is particularly noticeable in the obvious improvements of the business ideas between the application videos originally created by the entrepreneurs and their final business pitches.
Mutual learning between mentors and entrepreneurs has clearly been enriching for both, but there has also been a rewarding exchange of best practices between mentors from different European centres who meet each other at the final wrap-up event. This has led to the creation of a European Network of Mentors.
The project is also working on plans to extend the programme so that entrepreneurs from other countries – such as Belgium, Portugal, Italy and Poland – are able to receive mentoring from business centres in Spain. This should create a multiplier effect in the future, eventually transcending the entirety of the EU-28. In fact an ESF Transnational Cooperation Agreement has already been signed with Creative Cities VZW, a partner in Antwerp, boosting entrepreneurship in suburban districts and social inclusion.
Considering the success of the 2016 pilot project, the 2017 follow-up edition was already launched in March of this year, with 10 specific places reserved for 'green ideas'.
Total investment and EU funding
Total investment for the project "European Coworkings EOI" is EUR 4 500 000, with the EU's European Social Fund contributing EUR 4 500 000 through the "Employment, Training and Education" Operational Programme for the 2014-2020 programming period.
Draft date
01/08/2017
Social media
Related themes
Technical information
Fund
European Social Fund (ESF)
Thematic Objective
Investing in education, skills & lifelong learning
Programming period
2014-2020
Project duration
07/2016 - 07/2020
Total Investment
4 500 000 EUR
EU Investment
4 500 000 EUR
Contact
Beneficiary
Fundación EOI
Avenida Gregorio del Amo, 6
28040
, Madrid
España
Web