Energy@School: guardians of 'smart energy' schools
Youth will play a crucial role in Europe's transition to a carbon neutral continent. Energy@School trained pupils to become 'junior energy guardians'. This awareness-raising approach resulted in significant energy efficiency improvements for the participating schools and can easily be rolled out in other regions. The project has shown that giving youth greater responsibility can be as effective as expensive renovation measures.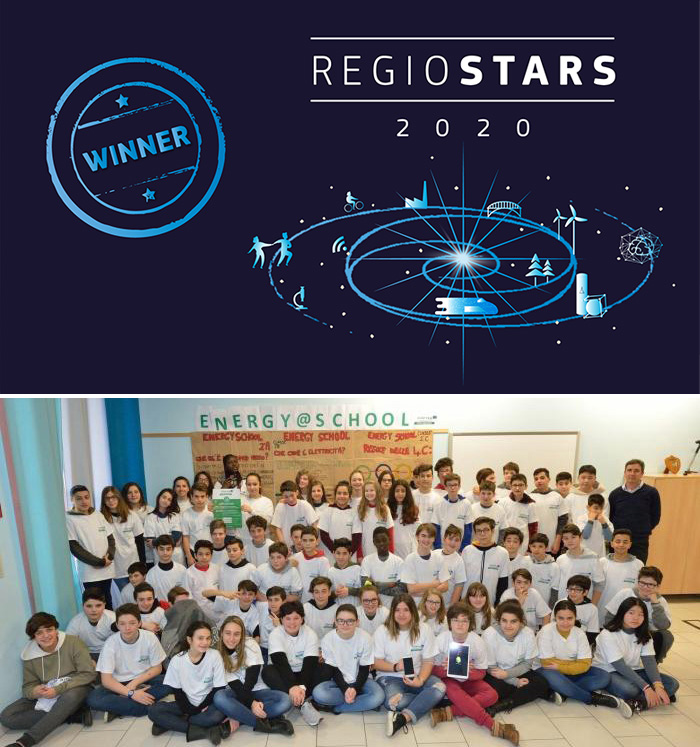 Pupils and teachers of the Istituto Comprensivo L. Battaglia in Fusignano, Italy. Awareness-raising and behaviour change helped ensure the success of the Energy ©Energy@School
" The innovative and key idea is to improve energy efficiency in schools by creating energy guardians to get students, teachers, staff and experts involved in creating "energy smart" schools. Energy@School's approach guarantees the engagement of all stakeholders, from families and students to schools and municipalities. "
Forty-one primary and secondary schools in seven countries – Italy, Poland, Croatia, Slovenia, Germany, Austria and Hungary – took part in the three-year project. Pupils and teachers were appointed as junior and senior energy guardians, respectively, and given the responsibility of reducing their schools' energy consumption.
Pupils were charged with tasks such as switching off lights or closing windows when the heating was on. Teachers explained the importance of saving energy, caring for the environment, and renewable energy. Games, role play and practical lessons enhanced their understanding.
This was backed up with investments in smart meters, detectors, apps and other tools to monitor energy use. After three years, 24 training programmes had been completed, three digital learning applications created and 241 people trained as energy guardians.
Thanks to these measures, the participating schools reduced their energy consumption, carbon emissions and their burden on municipal budgets.
Building better
The building sector in Europe must become more energy efficient if the continent is to meet its energy-efficiency targets. Schools are the second-biggest expense for municipalities, accounting for up to 70 % of their energy bills.
To reduce their carbon footprint and expenses, energy-efficiency measures and renewable energy sources are needed, especially in schools which were built decades ago and in regions where there has been less investment.
Learning by doing
Project partners organised study visits to share best practices already implemented in some municipalities. For example, a visit to the Frana Roša primary school in Celje, Slovenia showed what can be done to improve energy efficiency, even in communist-era constructions.
Frana Roša was already very energy conscious, having started a campaign to nurture an energy-saving culture among staff and pupils. The school's principal played an active role in this.
Energy experts demonstrated the cost savings resulting from even minor changes to heating use, the installation of smart metering, better insulation, and awareness of heating needs in used versus empty spaces.
Labs, workshops and 'energy' stickers and notices were just some of the tools used to remind students and teachers to turn off lights and reduce energy loss through, for example, open windows.
Long-term benefits
Participating schools and municipalities received support in developing their energy management plans. These define best practices, energy efficiency guidelines, funding, management and actions the energy guardians can take.
The pilot plans were used to inform national strategies in project countries which, in turn, can influence efforts to develop strategies for schools looking to enhance their green energy credentials.
The involvement of children, parents, teachers, families and officials was vital to the project's success. The methodology developed by the project encourages long-term behaviour that can be replicated in other schools.
By making young people aware of, and giving them responsibility for, using energy more efficiently, it is hoped that the project will produce results for generations to come.
Total investment and EU funding
Total investment for the project "Energy optimisation and behaviour change into schools of Central Europe" is EUR 2 581 379, with the EU's European Regional Development Fund contributing EUR 2 127 776 through the "Interreg Central Europe" Operational Programme for the 2014-2020 programming period. The investment falls under the priority "Cooperating on low-carbon strategies in Central Europe".
Draft date
10/07/2020
Related themes
Contact
Managing Authority
City of Vienna, Municipal Department for European Affairs - Unit for International Co-operation (MD27)
Schlesingerplatz 2-4, 1080 Vienna
Beneficiary
Unione dei Comuni della Bassa Romagna
Segreteria generale
Piazza dei Martiri 1
48022
, Lugo
Italia
Web