ISA²
Interoperability solutions for public administrations, businesses and citizens
Sharing statistical services and solutions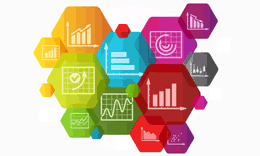 2016.06 Sharing statistical production and dissemination services and solutions in the European Statistical System
​FUNDING CONCLUDED       
When is this action of interest to you?
You are a public administrator in charge of producing and disseminating statistics.
What is this action about?
The European Statistical System (ESS) produces pan-EU statistics thanks to cooperation between EU countries and the European Union's statistical office Eurostat. However, although national statistics organisations have similar business processes to deliver statistics, the sharing of IT solutions and their interoperability is still not widely spread. The national statistical systems are difficult to adapt in response to new business needs shaped by the digital transformation. To tackle this issue, the ESS has agreed on strategic objectives – Vision 2020. This ISA2 action will build on Vision 2020 projects and propose cheaper, more effective standardised services and solutions for the production and dissemination of statistics.
What are the objectives?
The objective is to provide and share cost-saving statistics services and solutions within the European Statistical System, in particular for the production and dissemination of statistics.
The project involves:
Providing a reference architecture for statistics processes and information systems to allow for the integration of shared services and the interoperability of production systems
Developing common infrastructure to support component sharing
Building shared services based on existing components or certified open source statistical libraries
Guiding statistics organisations in aligning their architecture to benefit from sharing services
Delivering a software package for the dissemination of statistics
What are the benefits?
For the European Statistical System and Member States
Cost-effective modernisation of producing statistics
Improved statistics processes by sharing best practices
Lower cost of producing and disseminating statistics
For other European Commission services
Cost-savings and reusable services for the production and dissemination of statistics
For citizens
Easier access to EU statistical products
New high quality statistical products 
For Eurostat
Efficient dissemination of EU statistics
Improved ability to promote statistical standardisation and best practices
Increased quality of statistics
Improved interoperability of the production and dissemination of national statistics systems
What are the next steps?
In 2018, it will work on creating an inventory of software components for statistical production, start implementing shared services for the production of statistics and will produce a reusable solution for the dissemination of statistics as a downloadable package.