ISA²
Interoperability solutions for public administrations, businesses and citizens
Promoting sharing and reuse of IT solutions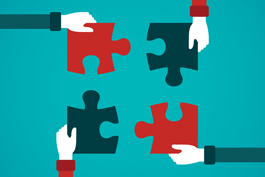 When is this action of interest to you?
You are working in a European public administration and you want to reduce the cost and shorten the time to implement public services by re-using already available solutions and learning from the best practices.
You are working in a European public administration preparing new legislation procedures, or recommendations – for example, related to the creation of interoperable services – and would like to learn from similar legislation, studies and best practices in the field developed by other EU countries.
What is this action about?
This action defines a common framework to enable the efficient and effective sharing of IT solutions in the context of providing public services in Europe.
Public services can be implemented faster and more efficiently by using already available IT solutions and common IT services, and by learning from the experiences of other administrations. In addition, using the same solutions and adapting best practices to one's needs often indirectly result in services that are more interoperable and more open.
The concept of sharing and re-use can be applied to all levels and all types of artefacts, including: technical solutions such as IT applications; semantic assets such as different taxonomies or code lists; or even frameworks, guidelines, legislation and licences such as the European Union Public Licence.
Several ISA initiatives in the area of sharing and reuse relating to open source software, semantic assets as well as assessments of standards and specifications will be embedded in the overall approach.
Europe – or for that matter, most of the world – has experienced an economic crisis. This crisis has required public administration to do the same, or even more, with much less. It is in that context that reusing already available solutions has the potential to bring much needed savings.
What were the objectives?
This action defined a framework that provides a number of recommendations to generic public administrations, as well as specific ones to central bodies, helping them to better share and reuse IT solutions.
In addition, a number of additional artefacts (see side bar) have been developed under the action, such as:
a report on policies and initiatives on sharing and reuse in EU countries
a report on the various governance and business models used in EU countries that facilitate sharing and the reuse of IT solutions
a report on the data licencing practices in Europe
a meta guideline on sharing and reuse, by reusing several other guidelines published by the Commission
What are the benefits?
As there are still major artefacts being developed, such as the Sharing and Reuse Framework, it is too early to assess the full impact of this action.
The guidelines, reports and models developed under this action are published on Joinup and have been read hundreds to thousands times by interested users.
The action has contributed to initiatives around Public Sector Information by a report on the various data licensing practices in Europe, which was very well received.
It has also contributed to better procurement practices in Europe, through the development and dissemination of several publications.
What are the next steps?
Activities around the theme of sharing and reusing IT solutions will continue in 2017 by:
Publishing the Sharing and Reuse Framework for IT solutions in line with the results of the public consultation.
Launching the Sharing and Reuse Awards, which is a contest for public administrations that co-develop and provide shared IT solutions. The award aims to facilitate future sharing and re-use by recognising best practices in Europe. The winners have be announced in March 2017.
Organising the Sharing & Reuse Conference held on 29 March 2017 in Lisbon, Portugal. The aim of the conference was to discuss and share good practices related to the sharing and re-use of IT solutions on a policy and practical level.
Releasing the Open Project Management Methodology (Open PM

²

) under this action. Open PM² is a free version of the PM² developed by the European Commission in 2007. Its purpose is to enable project teams to manage their projects effectively, and to deliver solutions and benefits to their organisations and stakeholders.
Taking over the operation of the Open Source Observatory (the OSOR community) under the Community building action.