Structure of government debt
Data extracted in June 2021
Planned update: June 2022
Share of EU government debt held by the (resident) financial corporations sector at the end of 2020 was highest in Sweden (73%), followed by Croatia and Denmark (both 67%) and Czechia (64%).
The short-term debt ratio was significant in Sweden (29.9 %), Denmark (21.6 %), Portugal (16.7 %) and Finland (15.6 %) as well as Norway (21.3 %).
The largest increases in the debt-to-GDP ratio were recorded in Greece (+25.1 pp.), Spain (+24.5 pp.), Cyprus (+24.2 pp.), Italy (+21.2 pp.), France (+18.1 pp.), Portugal (+16.8 pp.), Belgium (+16.1 pp.), Croatia (+15.9 pp.), Slovenia (+15.2 pp.) and Hungary (+15.0 pp.).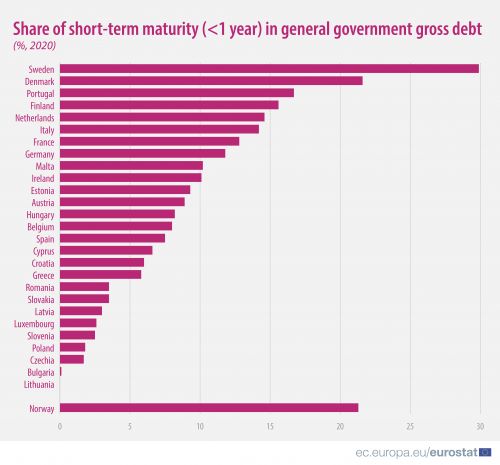 This article presents recent statistics on the structure of general government debt and its relationship to gross domestic product (GDP) in the European Union (EU). In the context of the Stability and Growth Pact's Excessive deficit procedure notification process, Eurostat publishes government debt data twice a year, in April and October, as well as quarterly government debt data transmitted in line with Regulation (EU) No 549/2013 (ESA 2010 transmission programme).
In order to analyse the debt structure in European countries, Eurostat collects additionally data in an annual survey providing information on Member States' government gross debt by sector of debt holder, by instrument, by initial and remaining maturity and by currency of issuance. The survey also collects information on (one-off and standardised) guarantees granted by the general government to non-government units as well as the market value of the Maastricht debt instruments and the apparent cost of government debt. One-off guarantees are contingent liabilities which are not included in general government gross debt.
This article examines the main results of the latest questionnaire, fully or partly completed by the EU Member States and Norway.
Annual government finance statistics (t_gov_10a)
Government deficit and debt (t_gov_10dd)
Quarterly government finance statistics (t_gov_10q)
Annual government finance statistics (gov_10a)
Government deficit and debt (gov_10dd)
Structure of government debt (gov_10dd_sgd)
Quarterly government finance statistics (gov_10q)