Overweight and obesity - BMI statistics
Data presented in this article refer to year 2019.
A fourth wave of the European health interview survey (the source of
these data) is foreseen in 2025.
Planned article update: March 2024.
The proportion of overweight adults in the EU varied in 2019 between 37 % in Italy and 58 % in Croatia for women, and between 53 % in France and 73 % in Croatia for men.
The age group 18 to 24 years presented the lowest shares of overweight population in the EU in 2019, while those aged 65 to 74 had the highest shares.
In 2019, the proportion of women in the EU considered as being overweight fell with increasing education level.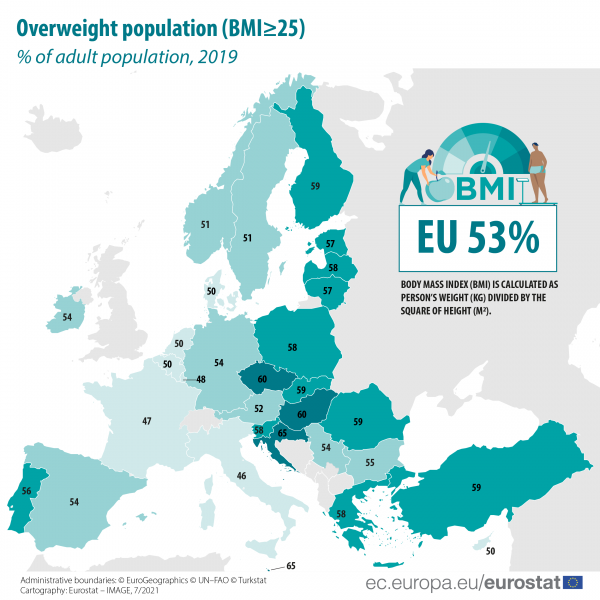 This article presents statistics on the proportion of the overweight or obese population in the European Union (EU) as well as in Norway, Serbia and Turkey. Weight problems and obesity are increasing at a rapid rate in most of the EU Member States, with estimates of 52.7 % of the adult (aged 18 and over) EU's population overweight in 2019.
Obesity is a serious public health problem as it significantly increases the risk of chronic diseases such as cardiovascular disease, type-2 diabetes, hypertension, coronary heart diseases and certain cancers. For specific individuals, obesity may further be linked to a wide range of psychological problems. For society as a whole, it has substantial direct and indirect costs that put a considerable strain on healthcare and social resources.
This article is one of a set of statistical articles concerning health determinants in the EU which forms part of an online publication on health statistics.

Online publications
Methodology
General health statistics articles
Body mass index (hlth_bmi)

Body mass index (BMI) by sex, age and educational attainment level (%) (hlth_ehis_de1)
Body mass index (BMI) by sex, age and income quintile (%) (hlth_ehis_de2)
Health problems of disabled people (sources SILC or EHIS) (hlth_dsb_hlth)

Body mass index (BMI) by level of activity limitation, sex and age (hlth_dh050)
Health (qol_hlt)

Drivers - healthy and unhealthy behaviours (qol_hlt_dr)

Body mass index (BMI) by sex, age and educational attainment level (%) (hlth_ehis_de1)
Body mass index (BMI) by sex, age and income quintile (%) (hlth_ehis_de2)