Eurocity: Bringing cultures together to forge lasting bonds
The cities of Chaves in northern Portugal and Verín in Galicia, Spain lie so close together they are already classed as a conurbation, despite being on different sides of the border. A project has used these already strong links to bring the two settlements together to form a 'Eurocity' which can offer residents a range of shared social, cultural and economic benefits.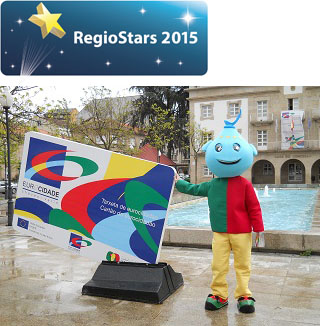 Promotional campaign for the eurocitizen card. ©Municipality of Verín
" The Eurocity of Chaves-Verín aims to build a single model of an innovative and cooperative cross-border city, which provides its citizens with common efficient services by means of joint territorial planning, the common management of urban services, and through overcoming obstacles, so that complete mobility is a reality. "
The Eurocity project sought to find ways of promoting common services and policies in areas such as culture, tourism, trade, education, research and social policy. The objective was to encourage deeper territorial cooperation and build social cohesion between the two communities while improving people's overall quality of life.
To ensure the Eurocity concept had strong foundations, the two cities drafted a Strategic Agenda, which established long-term objectives. The aim was to achieve a 'bottom-up' approach, taking into account the opinions of local people, businesses and community bodies.
Serving citizens across borders
As a way of engaging local people, the project developed the 'eurocitizens card', which allows users from both cities to access shared municipal services and facilities in areas such as sport, leisure, music and culture. The card has proved popular and currently has more than 7 000 subscribers. Publication of a monthly events agenda has also helped to foster a shared sense of belonging.
Getting young people on board was a priority for the project, which provided space in the customs house for music rehearsals and meetings. In addition, several joint initiatives were devised for children, including a summer sports programme, a road safety week and a carnival parade.
Strengthening a shared economy
Measures to boost the local economy featured steps to establish the area as a cross-border tourist destination. The basis for this work was the creation of a brand image called the 'Eurocity of water', which is built on the presence of several mineral springs in the common area as well as the Támega River linking the two municipalities.
Work with local business associations featured efforts to promote the two cities as shopping destinations. An online directory of businesses and services has also been published on the project's website. In addition, efforts were made to encourage entrepreneurship by bringing young people and successful companies together, and through the provision of training courses.
Total investment and EU funding
Total investment for the project "Eurocity of Chaves-Verín" is EUR 1 333 578, of which the EU's European Regional Development Fund is contributing EUR 1 000 184 from the Operational Programme for Cross-border Cooperation "Spain - Portugal" for the 2007 to 2013 programming period.
Draft date
12/10/2015