New heating network in Amiens, France uses renewable energy sources
A 47 km-long heating network is being connected to around 19 000 homes in the French city of Amiens through a project supported by EU funding. 'Le réseau de chaleur Amiens Energies' harnesses renewable energy from five different sources to deliver heat to about a third of the city's housing stock. The new system has been developed from two existing gas-fired heating networks and looks set to deliver an annual reduction of 28 000 tons CO2 from the heating of buildings.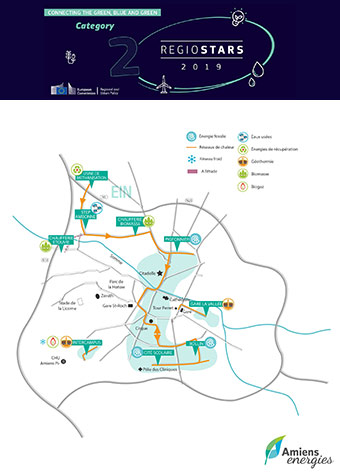 Map of Amiens, showing the city's renewable energy heating network. ©Le réseau de chaleur Amiens Energies
" The Amiens Energies heating network project creates huge environmental benefits. With this kind of partnership between public and private companies, Amiens Energies is a strong opportunity to develop our territory and contribute to the energy transition. By using local and recuperation energy sourcing, this innovative project is improving the purchasing power, local employment and sustainability of the local economy. "
The two existing heating networks based in the north and south of the city are being connected, overhauled and extended through this project. The new network can run on five renewable energy sources: geothermal based on groundwater; biomass; biogas; and two different heat recovery systems.
The two old networks date back to the 1970s and provided heating for 5 300 homes. Through its sustainable development policy, the city wants to connect more houses to the heating network while evolving towards a renewable energy mix of more than 60 %. The new network is capable of delivering 196 984 MWh of energy (hot and cold), including 125 077 MWh from the renewable energy sources.
The project is improving the city's air quality as emissions savings from operating the network are equivalent to the annual emissions of 13 500 cars. In addition, about 120 jobs are being created for the construction of the network, and around 15 permanent jobs will be required for its management and operation.
Sustainable technologies
To help deliver its 60 % renewable energy mix, six 15 MW heat pumps have been installed, which are capable of pumping 8.5 million m3 of wastewater. Meanwhile, the network's new 8 MW biomass boiler house runs on sustainably sourced wood chips (60 %) and pallet shreds (40 %). A monitoring and diagnostic system based on digital technologies has been installed, which allows engineers to assess the network in real time.
Moreover, the new power plants that generate energy for the network either produce zero emissions or are equipped with technologies to limit the output of nitrogen dioxide, dust and sulphur dioxide. In addition, the heating network's optimised energy mix allows subscribers to get the best price for their energy at any given time. Plus, open data is published which helps users understand and control their energy consumption.
Domestic improvements
The project is supported by a public-private-partnership called Semop, which is the first of kind in France and drives the city's desire to lead an innovative approach to developing sustainably fuelled heat networks. The city will redistribute the fees it collects from Semop – around EUR 340 000 per year – to individuals who wish to make thermal improvements to their homes. Each household could receive up to EUR 3 000, which can be spent on fitting insulation and other energy-saving measures.
Total investment and EU funding
Total investment for the project "Le réseau de chaleur Amiens Energies" is EUR 63 314 673, with the EU's European Regional Development Fund contributing EUR 7 000 000 through the "Regional programme Nord-Pas de Calais" Operational Programme for the 2014-2020 programming period. The investment falls under the priority "Low-carbon economy".
Social media
Related themes
Contact
Managing Authority
Conseil régional Nord Pas de Calais
Beneficiary
Amiens Energies
80 rue de la Vallée
80000
, Amiens
France
Web