Five countries combine efforts to recycle construction and demolition waste
Involving construction stakeholders from across north-west Europe, the Secondary Raw Materials for Concrete Precast Products (Seramco) project makes concrete precast products using recycled construction and demolition waste. The aim is to establish a market for the products and distribute them throughout Europe, bringing economic benefits for sustainable construction businesses and creating jobs.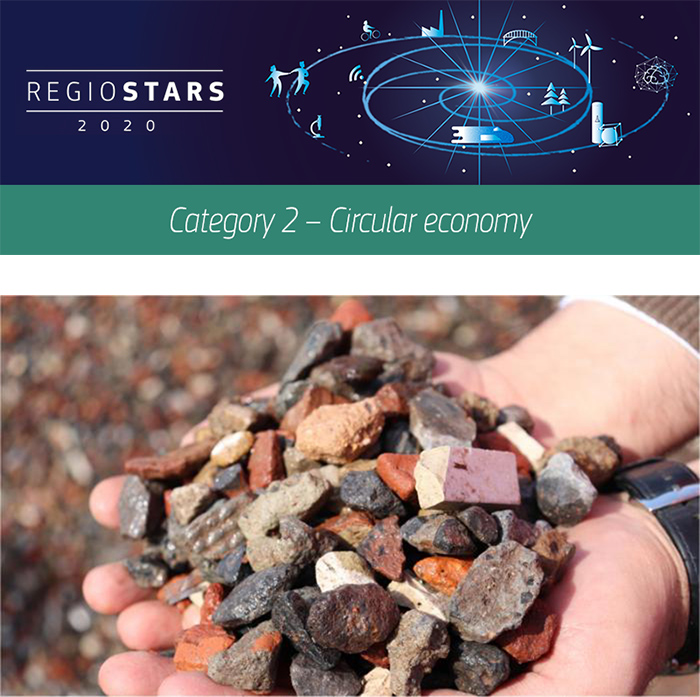 The Seramco project uses construction and demolition waste to make precast concrete products. ©Seramco
" Seramco aims to increase the use of construction and demolition waste in cement and concrete production in north-west Europe. Primary raw materials are replaced with high-quality recycled ones, which is a more sustainable practice that relieves pressure on natural resources and contributes to Europe's transition to a circular economy. "
To improve recycling of construction waste, Seramco analysed and improved sorting and treatment methods, before developing and testing concrete mixes made from recycled material. It then produced cement from recycled aggregates and used it to make concrete precast products which stand comparison with conventional products in terms of cost and quality.
As a demonstration of the products' safety and affordability, they are tested, prior to commercialisation, at three sites: a parkour park in Seraing, Belgium; a 40 m² stage in Pirmasens, Germany; and a 20 m retaining wall at a motorway rest area in eastern France.
A resource-intensive sector
Construction is the EU's most resource-intensive industrial sector, accounting for about half of all primary raw material use and a third of all waste, only 4 % of which is reused. Seramco assessed existing construction and demolition waste washing and crushing processes, including their energy efficiency. Based on this, two treatment methods were formulated for obtaining high-quality aggregate from the waste.
Four concrete mixes for structural and non-structural elements made from recycled concrete, bricks, tiles and ceramics were optimised and adapted for industrial production. Their durability, cost and ecological impact were compared with those of conventional aggregates. A new way of making cement using recycled sand of varying quality was also elaborated.
Over 1 000 tonnes of the cement were produced, while more than 10 prototype products, including 130 m² of paving stones, were created to test the new mixes. The products met all relevant strength requirements.
As part of the move towards commercialisation, Seramco analysed markets and regulatory frameworks in each participating country. Moreover, the partners meet regularly with public authorities to discuss the products' conformity with regulations.
Piloting the products
Seramco's work in the Parc des Marêts in Seraing, Belgium, entails the installation of about 100 tonnes of concrete precast products to revitalise a recreational public space. The project has made the area easily accessible for people with disabilities. In Germany, the stage at the Pirmasens campus of the Kaiserslautern University of Applied Sciences serves as a setting for musical and theatrical performances.
Project findings are disseminated among recycling, precast concrete and cement companies, industry associations, public authorities and researchers. Seramco shares its know-how with eight firms to help with recycled aggregate production and with a further 20 to aid precast concrete manufacturing.
Additional dissemination takes places via newsletters, events, training in use of Seramco's products and inclusion of knowledge from the project in university lectures.
By 2021, Seramco expects to have increased use of recycled aggregates in cement and precast concrete products by nearly 50 000 tonnes a year. Based on the business model drawn up, this figure should rise to 1 million tonnes by 2026, thus keeping an equivalent amount of waste out of landfill.
The project's final conference "Precast Concrete in the Circular Economy", will now take place on 15-16 February 2021 in Kaiserslautern, Germany.
Total investment and EU funding
Total investment for the project "Secondary Raw Materials for Concrete Precast Products" is EUR 7 276 838, with the EU's European Regional Development Fund contributing EUR 4 366 103 through the "North West Europe" Operational Programme for the 2014-2020 programming period. The investment falls under the priority "Optimising (re)use of material and natural resources".
Draft date
31/08/2020
Related themes
Contact
Managing Authority
Région Hauts-de-France
151 avenue du président Hoover 59555 Lille Cedex FRANCE
Beneficiary
University of Kaiserslautern
Paul-Ehrlich-Str. 14
67663
, Kaiserslautern
Deutschland
Web