Italian company develops recyclable labels for plastic and glass bottles
Implemented in the Italian region of Tuscany, the EcoReLabel project has developed and made ready for commercialisation ecologically sustainable plastic and paper labels that can be removed from plastic and glass bottles used in the beverage and wine industries. This allows the entire label to be recycled and the bottles to be reused. Furthermore, the project has formulated a low-energy washing process for label removal based on enzymes – molecules that speed up chemical reactions – or artificial substances that imitate the function of enzymes.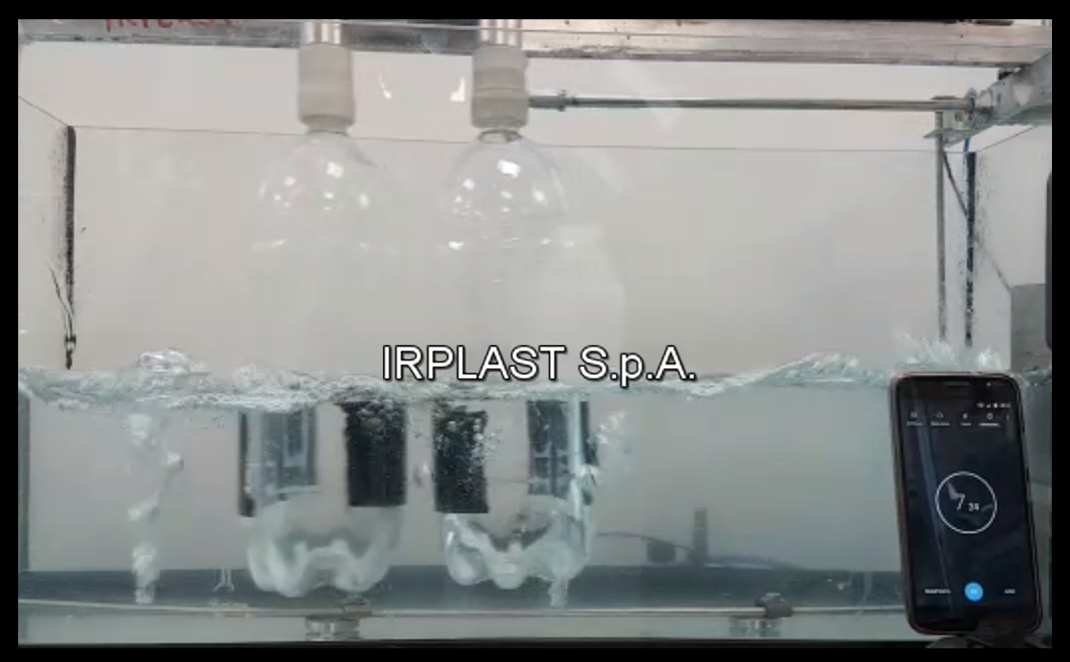 A demonstration of the EcoReLabel label removal process. ©IRPLAST S.p.A/Lorenzo Giusti (2018)
" The novelty of the project lies in the development of innovative labels that do not exist on the market and that will respond to the rising demand for packaging solutions with lower environmental impact. "
In selecting materials like film, ink and glue for the labels, the partners took account of the performance, availability, bio-based content and biodegradability, or ease of recycling, of each material. They chose components that do not stain or adversely affect the performance of washing solutions.
To aid removal of labels at low temperatures – thus saving energy and ensuring that plastic bottles can be reused rather than recycled – plastic film treatment methods were optimised. The resulting labels can be removed by alkaline cleaning agents or water containing specific enzymes.
Plastic and paper labels
EcoReLabel focused on pre-glued plastic labels and pressure-sensitive paper labels. All materials used to produce both kinds of label were subjected to thorough mechanical and chemical-physical analysis.
Development of plastic labels involved investigation of the performance of standard and bio-based materials such as plastic films, inks and pressure-sensitive adhesives. Suitable materials were chosen for the production of prototypes. Creation of paper labels entailed the elaboration of a bio-based, pressure-sensitive adhesive and in-depth analysis of the ecological and performance aspects of cellulose film.
In parallel, the raw materials, production processes, final products and by-products were evaluated through life-cycle assessment (LCA) and life-cycle costing (LCC) to ensure that the most sustainable solutions were adopted.
LCA is a method for assessing the environmental impact of a product over its life cycle. LCC is the process of estimating how much money will be spent on a product during its lifetime. The LCA showed that the new labels could cut the environmental impact of labelling by 50-60 %.
To develop the washing process for removing labels, the partners identified a mixture of enzymes suitable for degrading commercial pressure-sensitive adhesives. Research showed this could be a promising industrial removal technique, subject to the construction of the necessary facilities.
Towards a circular economy
EcoReLabel's work is in line with EU-wide efforts to encourage moves towards a circular economy in the packaging sector. One of its prototypes has been tested in industrial labelling and washing in South America. Given the relevance of environmental sustainability to all industrial sectors, the results can be transferred to a wide range of fields.
A dedicated webpage was set up to raise awareness of EcoReLabel and environmental aspects of packaging in general. The project was presented at a sustainable packaging workshop in Italy in December 2018.
In addition, posters were affixed to the entrances of the premises of the project partners. These include companies producing packaging, polymers, dyes and chemicals for plastics, and research and educational institutions specialising in polymeric materials, chemistry, biology and ecological innovations.
Total investment and EU funding
Total investment for the project "EcoReLabel – ecological, removable and recyclable labels" is EUR 3 030 000 with the EU's European Regional Development Fund contributing EUR 534 950 through the "Toscana" Operational Programme for the 2014-2020 programming period. The investment falls under the priority "Research, technological development and innovation".
Draft date
01/06/2021
Related themes
Technical information
Fund
European Regional Development Fund
Programme
Toscana - ERDF
Thematic Objective
Strengthen research, technological development & innovation
Programming period
2014-2020
Project duration
01/2016 - 08/2019
Total Investment
3 030 000 EUR
EU Investment
534 950 EUR
Contact
Managing Authority
Direzione Generale della Giunta Regionale - Regione Toscana
Via Luca Giordano 13, 50132 Firenze
Beneficiary
IRPLAST S.p.A.
via Alcide De Gasperi, 10, Z.I. Terrafino
50053
, Empoli (FI)
Italia
Web