Integrated flood services and climate change awareness for eastern Mediterranean islands
To help bridge the gap between scientific knowledge and public action regarding flooding, this Greece-Cyprus Interreg-funded project developed an online Environmental Risk Management Information Service. It provides the business, policy and scientific communities, and the general public, with tools such as risk maps, early warning systems, climate change projections, and social network facilities.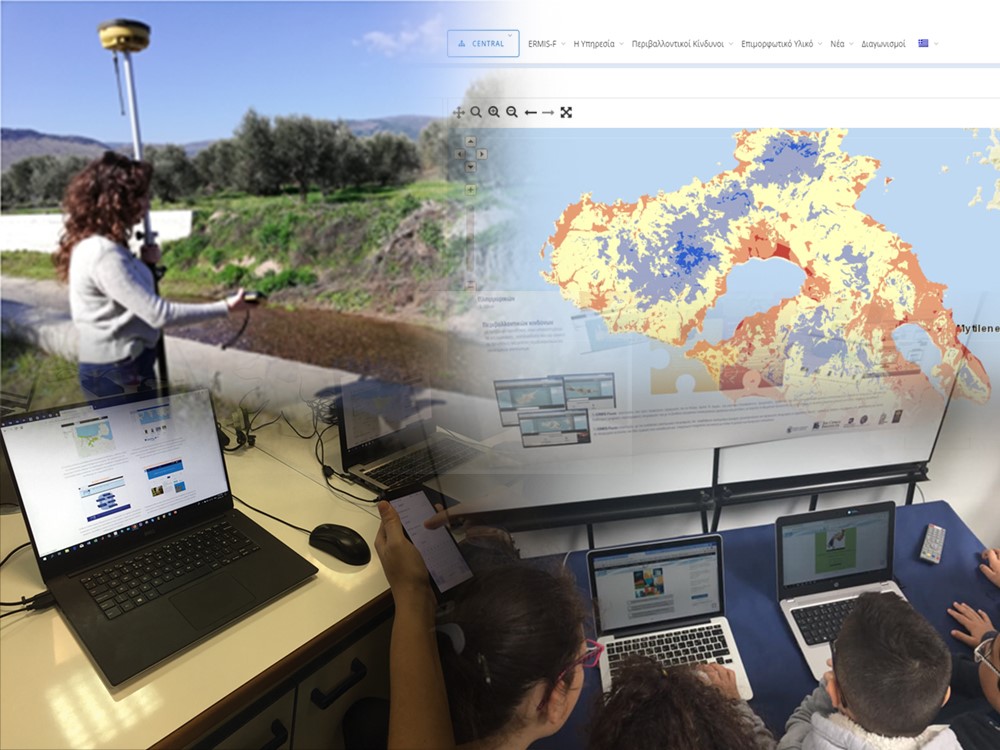 ERMIS-F: field work and snapshots. ©The Cyprus Institute/Krystallia Drystella (2020)
" The Environmental Risk Management Information Service (ERMIS-F) project focuses on the risk of floods in the particularly vulnerable eastern Mediterranean islands of the Aegean, Crete, and Cyprus. By bringing together scientists, professionals, public authorities, policy makers, environmental organisations, and the general public, and providing information, awareness, and education, we turn a common responsibility into personal and collective action. "
There is a gap between the scientific knowledge about flood risks, including that global warming increases the risk, and the actions people take. The Cyprus Institute, University of the Aegean, Polytechnic of Crete, Chania Municipality, North Aegean Water Directorate, and Lemesos Sewage Board developed https://ermis-f.eu/, an online service that turns scientific knowledge about floods into actionable policy.
Pilot early warning systems, crowdsourcing real-time pictorial information, a special-purpose social network, and flood-risk mapping tools all promote a scientifically based dialogue among all interested parties.
A multi-faceted tool
The platform is used to collect and publish environmental risk assessment information. This is presented in the form of statistical maps, real-time information – provided by early warning autonomous field systems and the general public – long-term risk assessments, and high-resolution modelling.
There is also information on regulations, prevention measures, and relevant projects the public can use to mitigate and survive environmental disasters. Another popular feature is an integrated social network that allows citizens to access scientific information.
Promoting action
By including early warning systems, crowdsourced photos, a social network specifically for flood risks, and a range of essential flood-risk maps and tools, the ERMIS-F platform uses information to guide action.
The project organised over 50 initiatives aimed at raising awareness about the risk of climate-change induced flooding. These included workshops on using the platform; flood-themed treasure hunts, fun videos, and quizzes for students of all ages; and an educational game for families.
The platform's distributed architecture means it can be easily replicated in other regions, for other environmental risks, and for private research and policy-making purposes.
Total investment and EU funding
Total investment for the project "Environmental Risk Management and Information Service - Floods ERMIS-F" is EUR 1 159 248, with the EU's European Regional Development Fund contributing EUR 985 361 through the "Interreg V-A - Greece-Cyprus" Operational Programme for the 2014-2020 programming period. The investment falls under the priority "Energy Union and Climate".
Draft date
05/07/2020
Technical information
Fund
European Regional Development Fund
Operational programme
Interreg V-A - Greece-Cyprus
Thematic Objective
Climate change adaptation & risk prevention and management
Programming period
2014-2020
Project duration
01/2017 - 06/2020
Total Investment
1 159 248 EUR
EU Investment
985 361 EUR
Contact
Managing Authority
Υπηρεσία Διαχείρισης Προγραμμάτων του στόχου Ευρωπαϊκής Εδαφικής Συνεργασίας, του Υπουργείου Οικονομίας, Υποδομών, Ναυτιλίας και Τουρισμού
Λεωφόρος Γεωργικής Σχολής 65, ΤΚ 57001 – Θεσσαλονίκη,Ελλάδα
Beneficiary
University of the Aegean
Beneficiary
Technical University of Crete - School of Environmental Engineering, Akrotiri
Beneficiary
Sewerage Board of Limassol – Amathus
Beneficiary
Municipality of Chania
Beneficiary
North Aegean Water Directorate