safEarth: Improving risk prevention from landslides and flash floods
The safEarth project tackles the common challenge of landslides and flash floods in Croatia, Bosnia and Herzegovina and Montenegro by mapping those areas where they are likely to occur, so that regional and local authorities can improve prevention systems and emergency preparedness.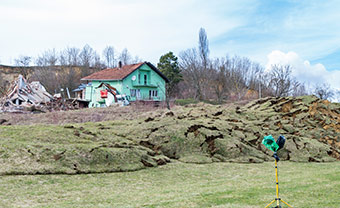 The safEarth project allows for landslides or flash floods to be mapped in real time. ©Ministry of Regional Development and EU funds of the Republic of Croatia
" Different geological and climatological settings in the partner states each result in different types of landslides. So, sharing knowledge between Croatian, Bosnian and Herzegovinian and Montenegrin partners is the only way to come up with a comprehensive overview on landslides in this part of Europe and, consequently, to effectively limit their damage. "
Led by the Croatian Geological Survey, safEarth developed an online landslide susceptibility mapping (LSM) system that allows any potential or occurring disasters to be mapped in real time.
Improving risk prevention system
The project mapped 11 145 square kilometres in the cross-border region, and marked all existing and at-risk areas. From this data, the project developed a transnational guide that has helped improve risk prevention systems. The project organised five workshops to inform both regional and local authorities and government representatives about its efforts and research.
The project set out to highlight the relevance of cross-border cooperation in landslide susceptibility mapping. The information gathered is available to the public online. The maps can be used as a point of reference for decisions about infrastructure investments and to optimise spatial planning, to prevent loss of life and better protect biodiversity and nature.
Report a landslide
To widen the scope of the project beyond its partners, a real-time interactive geographic information system was developed that can be used by anyone with an internet connection. The online portal allows users to report potential threats of landslides or floods with descriptive data and images. Since its launch, the report a landslide system has received over 230 reports of landslides. By promoting the portal during dedicated project events, it is now being used by institutions and companies outside the project and its operational area.
With funding provided under the project, an area in Žepče, in Bosnia and Herzegovina, which had been severely affected by landslides, was reconstructed. During a series of heavy landslides in 2014, large parts of a road leading to the Bosnian village of Željezno Polje were destroyed, cutting the population off from the outside world. The project facilitated reconstruction of the road leading to the village and construction of a retaining wall to prevent further damage and better protect the 5 000 residents.
Due to climate change, extreme weather occurs more frequently, leading to unstable soil and, in turn, to landslides and flash floods. The project's scope covers landslide risk zones in densely populated areas. The Croatian Geological Survey is working with the Geological Survey of Montenegro, the Faculty of Mining, Geology and Civil Engineering from Tuzla and the Development Agency Žepče, both in Bosnia and Herzegovina to raise awareness about the risks and dangers of landslides and how residents and authorities can better protect themselves.
Total investment and EU funding
Total investment for the project "safEarth – Transnational advanced management of land use risk through landslide susceptibility maps design" is EUR 974 695, with the EU's European Regional Development Fund and Instrument for Pre-Accession Assistance II contributing EUR 828 491 through the "Interreg IPA CBC Programme Croatia-Bosnia and Herzegovina-Montenegro" Operational Programme for the 2014-2020 programming period. The investment falls under the priority "Energy Union and Climate".
Draft date
26/09/2019
Related themes
Contact
Managing Authority
Ministry of Regional Development and EU Funds of the Republic of Croatia - Sector for Managing Interreg Cooperation Programmes
Beneficiary
Croatian Geological Survey
HGI-CGS Sachsova 2 P.O.Box 268
10000
, Zagreb
Croatia
Web