1 in 3 children in the EU now has access to high-quality and affordable childcare, Commission report shows
Although the EU-average target has been reached at 33% of children under 3, only 12 Member States have reached this target individually, whereas 16 Member States still have some way to go. Malta and Romania in particular have made enormous progress in their objectives, whilst other Member States have seen their target objective worsen in the past few years, like Greece, France and the United Kingdom. Denmark has more than doubled the target amount, providing childcare to 70% of toddlers. Childcare participation rates for children under 3 are particularly low, that is less than 10% in Slovakia, Czech republic and Poland and less than 20% in Greece, Bulgaria, Lithuania, Hungary, Croatia and Romania.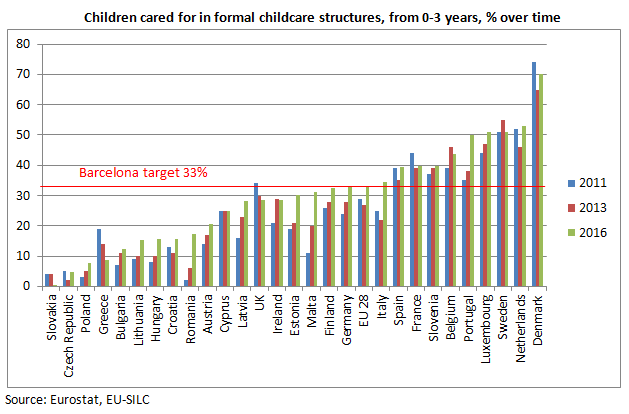 12 Member States have also reached the target amount of providing 90% of children from age 3 to school age high quality and affordable childcare. Belgium, Sweden, Denmark and Spain have the most quality child care available for this age range, at over 95% of all children in the country. Romania has made a significant effort to increase the participation rate since 2011, going from 41% to 61% of children able to receive child care, as has Poland, who increased child care availability by 16%.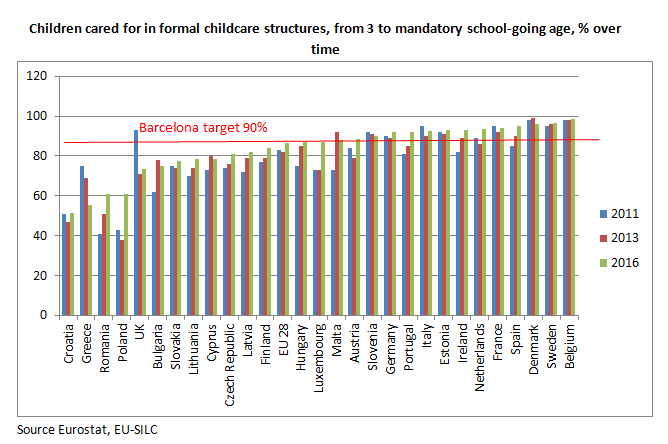 Childcare facilities are vital for working women. In some Member States, 25% of women are inactive because they cannot find, or cannot afford child care. The European Social Fund and the European Regional Development Fund have been instrumental in providing funds to create jobs for women and help mothers reintegrate in the labour market, most especially in Estonia (with the creation of 1 200 childcare places) and the Czech Republic (with the creation of 20 000 childcare places).
Reasons for not using formal childcare services for children under the mandatory school-going age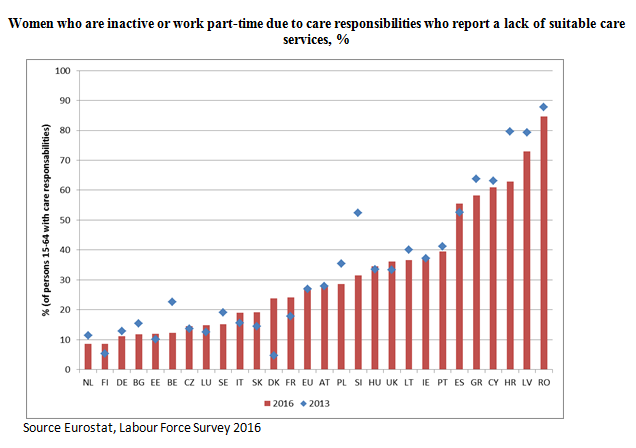 For more information: