ISA²
Interoperability solutions for public administrations, businesses and citizens
EIRA and EICart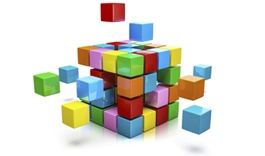 European Interoperability Reference Architecture and European Interoperability Cartography
When is this solution for you?
You work in a public administration. A cross-border public service is about to be developed. You would like to keep costs down and reuse solutions that have already been developed.
What can we offer you?
The ISA² programme of the European Commission is currently developing the European Interoperability Reference Architecture (EIRA) for classifying and organising building blocks relevant to interoperability, which are used in the delivery of digital public services. The goal is to facilitate interoperability and reuse when developing public services.
At the same time, ISA² is developing the European Interoperability Cartography (EICart) of solutions. Now available on Joinup, the collaborative platform of ISA², the cartography will be used for discovering existing solutions which can be reused by public administrations at any level. This will accelerate the delivery of public services in a cost-effective manner.
In July 2017, a new version EIRA 2.0.0 has been released. It went through major upgrades related to the release of the new European Interoperability Framework and an upgrade to ArchiMate® v3.
Is this solution open source?:
Any questions?
Comments on the work products? Contact the EIRA team.
You can also contact the Interoperability Unit of DG Informatics (please use the subject line 'European Interoperability Reference Architecture').
More detailed information
Who is already using this solution?
Pilots/Workshops in European Institutions: European Commission, Council of the EU, Committees
Pilots/Workshops in Member States: EE, NL, DK (2), ES, CZ, BE, LUX
In EE EIRA was used to model EESTI (High level model of all the public services).
In DK was used to model e-Prescription (Patient treatment Public Service) and in September it will be used to compare reference architectures.
Key facts and figures
EIRA/CarTool downloads: +1600