Western Balkans Digital Summit
On April 4-5, 2019, Serbia will be hosting the second Western Balkans Digital Summit (#DSWB) in Belgrade. The Summit will bring together representatives of governments, businesses, regional organizations, CSOs, academic community and the youth, with the aim of setting up a digital platform for the exchange of ideas and proposals.
The summit is the largest digital event in the region will take place in Belgrade. The second Western Balkans Digital Summit will bring together more than 3,000 participants to take regional digital cooperation to the next level. Senior representatives from governments, international institutions, businesses, community organisations, academia as well as individuals will have the opportunity to discuss and propose innovative policy approaches, showcase cutting-edge technologies, exchange ideas and discover latest digital trends.
This year Digital Summit will take place in Palace of Serbia, Belgrade on 3 stages.
DON'T MISS!
/isa2/file/baldacciemanuele-croppedjpg_enbaldacciemanuele-cropped.jpg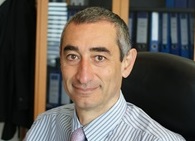 4 April 2019, 15:00 - 15:15, Summit stage 
Presentation: Interoperability solutions for public administration, businesses and citizens – Benefits from joining EU program (ISA²) – Emanuele Baldacci
During the event, visit also the ​ISA² stand and learn about our interoperability solutions!

Disclaimer: The Communication team of the ISA² Programme has made every attempt to ensure the accuracy and reliability of the information provided on this website. However, the information is provided "as is" without warranty of any kind. The European Commission  does not accept any responsibility or liability for the accuracy, content, completeness, legality, or reliability of the information contained on this website.
Thursday, 4 April, 2019
-
Friday, 5 April, 2019 - 13:45 - 13:45