ISA²
Interoperability solutions for public administrations, businesses and citizens
A tool for Europe-wide online consultations and surveys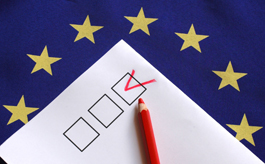 When is this action of interest to you?
You would like to create and conduct multilingual online surveys with easy results analysis. With the user-friendly EUSurvey software (formerly IPM), which supports all steps of the survey process, you can collect any information you need. This open source, free-of-charge, web-based application makes it easier both for respondents to answer the consultations and for survey managers to analyse the results.
What is this action about?
EUSurvey deployed by the European Commission's Informatics Directorate-General (DG DIGIT) is widely used by the European institutions and in Member States for consulting citizens and businesses and collecting key information needed for the European decision-making process.
The tool enables surveys to be created and answers to be collected via a web-based user interface. It is an open source, multilingual application that is widely accessible and provides support for either identification or anonymity, depending on the survey requirements. The application features all the steps involved in a survey life cycle, such as design, testing, translation, launch, collection of replies and analysis of results. It handles different types of single- or multiple-response questions and free text fields. Results can be displayed as histograms, percentages or in full detail and can be exported to Excel files.
The EUSurvey open source software can be downloaded free of charge on Joinup under the European Union Public Licence (EUPL). It can be installed anywhere as a standalone application.
The tool is used by the European Parliament the European Council and the Court of Auditors. It is one of the most popular downloads from the JOINUP software repository.
What are the objectives?
Using the internet to allow both Member State administrations and the EU institutions to better understand the needs of citizens and businesses in a variety of policy sectors.
Making it quicker and easier both for respondents to participate in Europe-wide opinion polls and for policy makers to analyse the results.
Sustaining the service availability of IPM, guaranteeing reliability and efficiency, and providing support to end-users.
What are the benefits?
Readily available service to institutions for creating surveys and managing and collecting answers in policymaking or other contexts.
Helping respondents to answer surveys within the EU policy context or for other purposes. An OSS version can also be deployed on their workstations.
What are the next steps?
In 2017, EUSurvey has been added to the Better Regulation portal to support the portal's objective of becoming the one-stop-shop for all Commission consultations of citizens and other stakeholders.
Case study – What do our users say?
This is a wonderful tool. We have created more than 120 forms since 2005 and the service accompanying this tool is of a very high standard in terms of support, development and user-oriented service. We use it most of the time to enable participants to register for and evaluate our events. The results of the surveys can be exported to Excel files, which is very helpful. More and more colleagues at our Directorate-General are using this tool because of its ease of use (only a small amount of training is required) and very fast set-up. The versions have constantly improved over time and it would be wonderful if that continues. Thanks a lot for this very useful application.
Tram Phuoc, Directorate-General for Regional Policy, European Commission, phuoc.trami@ec.europa.eu.