ISA²
Interoperability solutions for public administrations, businesses and citizens
Reducing the administrative burden on businesses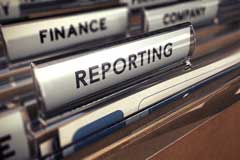 2016.11 Automatic Business Reporting          
FUNDING CONCLUDED
When is this action of interest to you?
You run a small or medium-sized enterprise and you have to invest a considerable amount of time and resources on reporting to public authorities.
To reinforce your competitiveness, you would like to establish an easy digital way to communicate your data to public authorities.
What is this action about?
Reporting to public authorities is a significant burden for businesses, especially for small or medium-sized enterprises, as it often requires providing the same data repeatedly to various levels of public administration. The way to improve the situation is through automatic business reporting. This concept involves a central repository storing standardised data from individual companies. Public institutions would have access to the data and can reuse them instead of requiring information from businesses again. The approach can facilitate the way companies do accounting, and will help to strengthen Europe's Digital Single Market.
What are the objectives?
The ISA² action will investigate the potential of automating data exchange between companies and public authorities in the European Union.
What are the benefits?
For small and medium-sized enterprises:
Lower administrative burden
Lower cost of reporting to public authorities
Greater digitisation of individual companies
Strengthened competitiveness and growth
Easier business-to-business relations
For the EU economy
Strengthened competitiveness and growth
Improved Digital Single Market