ISA²
Interoperability solutions for public administrations, businesses and citizens
Fostering national interoperability frameworks across Europe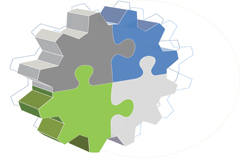 2016.21 National Interoperability Framework Observatory (NIFO)                                 
When is this action of interest to you?
You work in public administration and you are in charge of drafting or reviewing your country's National Interoperability Framework.
You are responsible for an interoperability initiative.
You wish to learn more about the state of play of interoperability and digital public services in Europe.
What is this action about?
The National Interoperability Framework Observatory (NIFO) provides information on interoperability activities in Europe. It analyses the National Interoperability Frameworks (NIFs) of the EU Member States and associated countries, as well as the alignment of these frameworks with the European Interoperability Framework (EIF). 
The NIFO community offers several resources and tools. Country factsheets give an overview of the most recent progress in interoperability and eGovernment made by European countries. You can also compare country alignments with the EIF and find best practices. In addition, you can discover the annual report State of Play on Interoperability in Europe and find news and events.
What are the objectives?
The main objective is to provide public administrations with guidance and support for the creation and further development of national interoperability frameworks and their alignment with the EIF. The action is also aimed at:
Making NIFO an authoritative source of information on interoperability in Europe
Providing insight into countries' approaches to interoperability and maintaining a comprehensive snapshot of the eGovernment activities
Facilitating the sharing of best practices
What are the benefits?
Up-to-date information on interoperability and eGovernment activities presented in one spot
Better understanding of the situation on interoperability in Europe and the position of individual countries within the continent, which can help national officials in policymaking, and businesses when building interoperability and eGovernment solutions
Promoting interoperability by presenting its results and offering a place to share best practices
What are the next steps?
Now when the revised EIF is in place, NIFO will start to monitor its implementation in the Member States and associated countries. The Observatory will also establish a new mechanism for collecting and analysing data, and for delivering information.