Glossary:Group of Twenty (G20)
The Group of Twenty (G20) brings together the world's major advanced and emerging economies, comprising the European Union (EU) and 19 country members.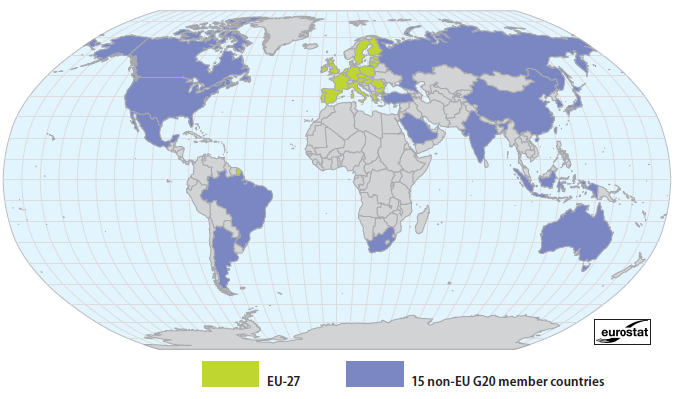 The country members include
Germany
France
Italy
the United Kingdom
15 countries from the rest of the world:
Argentina
Australia
Brazil
Canada
China
India
Indonesia
Japan
Mexico
Russia
Saudi Arabia
South Africa
South Korea
Turkey
the United States
The G20 members covered 60.8 % of the world's land area, generated 85.2 % of global gross domestic product (GDP), and were home to 64.3 % of the world's population in 2013.
In September 1999, the finance ministers and central bank governors of the Group of Seven (or G7) countries announced their intention to 'broaden the dialogue on key economic and financial policy issues'. The establishment of the G20 recognised the considerable changes in the international economic landscape, such as the growing importance of emerging economies, or the increasing integration of the global economy and financial markets. In November 2008, during the financial and economic crisis the leaders of the G20 members convened for the first time, in Washington (United States). Between November 2008 and June 2012, the G20 held seven Leaders' Summits to seek agreements on global economic matters.
Further information
Related concepts
Statistical data