Welcome To Statistics Explained
Statistics Explained, your guide to European statistics. Statistics Explained is an official Eurostat website presenting statistical topics in an easily understandable way. Together, the articles make up an encyclopedia of European statistics for everyone, completed by a statistical glossary clarifying all terms used and by numerous links to further information and the latest data and metadata, a portal for occasional and regular users.
To find the information you need, please select a theme from the menu below or use the coloured boxes on the right. The search function (alt-f) can also be used.
Looking for an article on a specific theme
Ireland had the youngest population in the EU with a median age of 36 years in 2013 (EU-28 average 42.2 years).
Read more...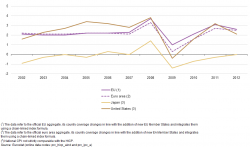 An increase in the general level of prices of goods and services in an economy is called
inflation
; it is usually measured by
consumer price indices
or retail price indices. Within the
European Union (EU)
, a specific consumer price index for the purpose of tracing price developments has been developed — it is called the
harmonised index of consumer prices (HICP)
. If there is inflation within an economy, then the purchasing power of money falls as consumers are no longer able to purchase the same amount of goods and services (with the same amount of money). By contrast, if prices fall, then consumers should be able to purchase more goods and services; this is often referred to as deflation. When there is no change in prices (or relatively low rates of inflation) this may be referred to as a period of price stability.
Purchasing power parities estimate price level differences between countries and these can be used to calculate price level indices, which may in turn be used as a starting point for analysing price convergence between countries or regions.
Main statistical findings
Inflation: price changes over time
Compared with historical trends, consumer price indices rose at a relatively modest pace during the last two decades. The inflation rate of the EU (an evolving aggregate reflecting EU membership) decreased during the 1990s, reaching 1.2 % by 1999, after which the pace of price increases settled within the range of 2.0 % to 2.3 % per annum during the period 2000 to 2007.
More ...