Welcome To Statistics Explained
Statistics Explained, your guide to European statistics. Statistics Explained is an official Eurostat website presenting statistical topics in an easily understandable way. Together, the articles make up an encyclopedia of European statistics for everyone, completed by a statistical glossary clarifying all terms used and by numerous links to further information and the latest data and metadata, a portal for occasional and regular users.
To find the information you need, please select a theme from the menu below or use the coloured boxes on the right. The search function (alt-f) can also be used.
Looking for an article on a specific theme
In 2014, tax revenue in the EU-28 stood at 40.0 % of GDP. The ratio of tax revenue to GDP was highest in Denmark (50.8 %), Belgium and France (both at 47.9 %), while the lowest ratios were recorded in Romania (27.7 % of GDP), Bulgaria (27.8 % ) and Lithuania (28.0 % ).
Read more...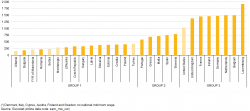 This article illustrates how
minimum wage
levels vary considerably across the
European Union (EU)
Member States; it also provides a comparison with the situation in the
candidate countries
and the United States.
Minimum wage statistics, as published by Eurostat, refer to national minimum wages. The national minimum wage usually applies to all employees, or at least to a large majority of employees in a country. It is enforced by law, often after consultation with social partners, or directly by a national intersectoral agreement.
Minimum wages are generally presented as monthly wage rates for gross earnings, that is, before the deduction of income tax and social security contributions payable by the employee; these deductions vary from country to country.
National minimum wages are published by Eurostat bi-annually. They reflect the situation on 1 January and 1 July of each year. As a consequence, modifications to minimum wages introduced between these two dates are only shown for the following bi-annual release of data.
More ...