Welcome To Statistics Explained
Statistics Explained, your guide to European statistics. Statistics Explained is an official Eurostat website presenting statistical topics in an easily understandable way. Together, the articles make up an encyclopedia of European statistics for everyone, completed by a statistical glossary clarifying all terms used and by numerous links to further information and the latest data and metadata, a portal for occasional and regular users.
To find the information you need, please select a theme from the menu below or use the coloured boxes on the right. The search function (alt-f) can also be used.
Looking for an article on a specific theme
In 2013, in the EU-28, women were paid, on average, 16.4 % less than men. The smallest differences in average pay between the sexes were found in Slovenia, Malta, Poland, Italy, Croatia, Luxembourg, Romania and Belgium (less than 10.0 % difference), while the biggest gender pay gaps were identified in Estonia (29.9 %), Austria (23.0 %), the Czech Republic (22.1 %) and Germany (21.6 %).
Read more...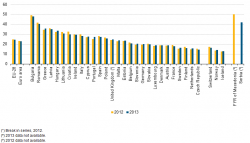 One of the five headline targets of the
Europe 2020 headline indicators
is to reduce poverty by lifting at least 20 million people out of the
risk of poverty or social exclusion
by 2020. This article presents geographical and temporal comparisons of the monetary and non-monetary elements of the indicator that describes poverty and social exclusion in the
European Union (EU)
using the most recent data (2012 and 2013) from the
EU statistics on income and living conditions (EU-SILC)
. Comparisons over the most recent years enable, inter alia, analysis of the impact of the economic crisis and the austerity measures taken to overcome the crisis on the Europe 2020 headline target.
Main statistical findings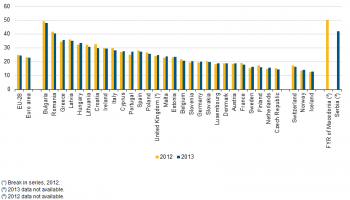 In 2013, 122.6 million people, or 24.5 % (Figure 1) of the population in the EU-28 were at risk of poverty or social exclusion (AROPE), compared with 24.8 % in 2012.
More ...