Welcome To Statistics Explained
Statistics Explained, your guide to European statistics. Statistics Explained is an official Eurostat website presenting statistical topics in an easily understandable way. Together, the articles make up an encyclopedia of European statistics for everyone, completed by a statistical glossary clarifying all terms used and by numerous links to further information and the latest data and metadata, a portal for occasional and regular users.
To find the information you need, please select a theme from the menu below or use the coloured boxes on the right. The search function (alt-f) can also be used.
Looking for an article on a specific theme
On average, a girl born in the EU-28 in 2012 could expect to live 83.1 years, while the corresponding life expectancy at birth for a newly-born boy was 5.6 years lower, at 77.5 years.
Read more...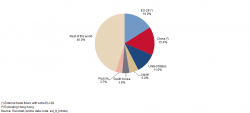 This article discusses the development of the
European Union's (EU)
international trade in goods. It considers the EU's share in world
import
and
export
markets,
intra-EU
trade, the EU's main trading partners, and the EU's most widely traded product categories.
The EU-28 accounts for around one sixth of the world's trade in goods. The value of international trade in goods significantly exceeds that of services (by about three times), reflecting the nature of some services which makes them harder to move across borders.
Main statistical findings
Main global players for international trade
The EU-28, China and the United States have been the three largest global players for international trade since 2004 when China passed Japan — see Figures 1–3 and Table 1.
In relation to trade balances, China and Russia have had the biggest annual trade surpluses since 2005, while the United States had the largest annual deficit (see also Table 1).
More ...