Welcome To Statistics Explained
Statistics Explained, your guide to European statistics. Statistics Explained is an official Eurostat website presenting statistical topics in an easily understandable way. Together, the articles make up an encyclopedia of European statistics for everyone, completed by a statistical glossary clarifying all terms used and by numerous links to further information and the latest data and metadata, a portal for occasional and regular users.
To find the information you need, please select a theme from the menu below or use the coloured boxes on the right. The search function (alt-f) can also be used.
Looking for an article on a specific theme
In 2014, the top four most popular tourism destinations in the EU were Spain (260 million nights spent in tourist accommodation establishments by people coming from abroad), Italy (187 million nights), France (131 million nights) and the United Kingdom (105 million nights).
Read more...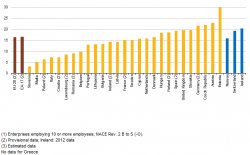 This article shows how gender inequalities in terms of pay vary widely among the Member States of the
European Union (EU)
and among groups of
employees
.
The unadjusted gender pay pap (GPG) is an important indicator used within the European employment strategy (EES) to monitor imbalances in wages between men and women. It is defined as the difference between the average gross hourly earnings of men and women expressed as a percentage of the average gross hourly earnings of men.
Main statistical findings
Gender pay gap levels
The gender pay gap varies significantly across EU Member States
For the economy as a whole[1], in 2013, women's gross hourly earnings were on average 16.4 % below those of men in the European Union (EU-28) and 16.6 % in the euro area (EA-17). Across Member States, the gender pay gap varied by 26.7 percentage points, ranging from 3.2 % in Slovenia to 29.9 % in Estonia (Figure 1).
More ...