Welcome To Statistics Explained
Statistics Explained, your guide to European statistics. Statistics Explained is an official Eurostat website presenting statistical topics in an easily understandable way. Together, the articles make up an encyclopedia of European statistics for everyone, completed by a statistical glossary clarifying all terms used and by numerous links to further information and the latest data and metadata, a portal for occasional and regular users.
To find the information you need, please select a theme from the menu below or use the coloured boxes on the right. The search function (alt-f) can also be used.
Looking for an article on a specific theme
In 2013, the share of employees working part-time was highest in the Netherlands (52.4 % of employees), followed by Germany (27.6 %) and Austria (26.5 %), while the lowest shares were recorded in Romania (0.7 %), Bulgaria (2.2 %) and Slovakia (5.1 %).
Read more...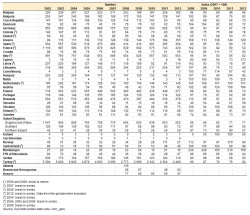 This article presents recent statistics on crime and criminal justice in the
European Union (EU)
. The statistics currently available reflect the diversity of policing and legal systems within the EU: as such, comparisons of crime statistics between EU Member States should focus on trends over time, rather than directly comparing levels between countries for a specific year, given that the data can be affected by a range of factors, including different levels of criminalisation, the efficiency of criminal justice systems, and police recording practices. Furthermore, not all crimes are recorded by the police.
Main statistical findings
Crimes recorded by the police
The crime statistics presented in this article cover offences recorded by police in EU Member States and some other European countries. These data do not purport to describe all crime in Europe: some crime goes unreported and changes in rates of particular offences may be affected by new policing strategies or methodological changes.
More ...