Welcome To Statistics Explained
Statistics Explained, your guide to European statistics. Statistics Explained is an official Eurostat website presenting statistical topics in an easily understandable way. Together, the articles make up an encyclopedia of European statistics for everyone, completed by a statistical glossary clarifying all terms used and by numerous links to further information and the latest data and metadata, a portal for occasional and regular users.
To find the information you need, please select a theme from the menu below or use the coloured boxes on the right. The search function (alt-f) can also be used.
Looking for an article on a specific theme
In 2013, the share of employees working part-time was highest in the Netherlands (52.4 % of employees), followed by Germany (27.6 %) and Austria (26.5 %), while the lowest shares were recorded in Romania (0.7 %), Bulgaria (2.2 %) and Slovakia (5.1 %).
Read more...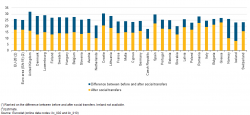 This article analyses recent statistics on monetary poverty and income inequalities in the
European Union (EU)
. Comparisons of standards of living between countries are frequently based on gross domestic product (
GDP
)
per capita
, which presents in monetary terms how rich one country is compared with another. However, this headline indicator says very little about the distribution of income within a country and also fails to provide information in relation to non-monetary factors that may play a significant role in determining the quality of life of a particular population. On the one hand, inequalities in income distribution may create incentives for people to improve their situation through work,
innovation
or acquiring new skills. On the other hand, such income inequalities are often viewed as being linked to crime, poverty and social exclusion.
Main statistical findings
At-risk-of-poverty rate and threshold
In 2012, 17.0 % of the EU-28 population was assessed to be at-risk-of-poverty after social transfers (see Figure 1). This share, calculated as a weighted average of national results, conceals considerable variations across the EU Member States. In five Member States, namely Greece (23.1 %), Romania (22.6 %), Spain (22.2 %), Bulgaria (21.2 %) and Croatia (20.5 %), one fifth or more of the population was viewed as being at-risk-of-poverty. The lowest proportions of persons at-risk-of-poverty were observed in the Netherlands (10.1 %) and the Czech Republic (9.6 %). Norway (10.1 %) and Iceland (7.9 %) also reported relatively low shares of their respective populations as being at-risk-of-poverty.
More ...