Welcome To Statistics Explained
Statistics Explained, your guide to European statistics. Statistics Explained is an official Eurostat website presenting statistical topics in an easily understandable way. Together, the articles make up an encyclopedia of European statistics for everyone, completed by a statistical glossary clarifying all terms used and by numerous links to further information and the latest data and metadata, a portal for occasional and regular users.
To find the information you need, please select a theme from the menu below or use the coloured boxes on the right. The search function (alt-f) can also be used.
Looking for an article on a specific theme
Ireland had the youngest population in the EU with a median age of 36 years in 2013 (EU-28 average 42.2 years).
Read more...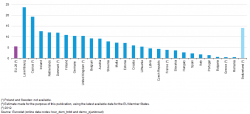 This article provides information on recent statistics in relation to
tourism
in the
European Union (EU)
. Tourism plays an important role in the EU because of its economic and employment potential, as well as its social and environmental implications.
Tourism statistics
are not only used to monitor the EU's tourism policies but also its regional and
sustainable development
policies.
Main statistical findings
Tourism — demand and supply
Residents (aged 15 and above) from within the EU-28 [1] made 1.1 billion tourism trips in 2013, for personal or business purposes. Short trips (of one to three nights) accounted for more than half (57.5 %) of the total number of trips made (see Table 1), while three quarters (75.3 %) of all trips made were to domestic destinations, with the remainder abroad.
In some EU Member States, over half of the total number of tourism trips made in 2013 were to destinations abroad; this was the case for Luxembourg, Belgium, Malta and Slovenia (as well as Switzerland). However, less than 10 % of the trips taken by residents of Romania, Spain, Greece (data are for 2012) and Portugal were abroad. These figures appear to be influenced by both the size of the Member States and their geographical location (smaller and more northerly countries tended to report a higher propensity for their residents to travel abroad).
More ...
↑

EU-28 aggregates for the number of trips and the number of nights spent by EU residents were made for the purpose of this publication and do not include data for Poland or Sweden.