Welcome To Statistics Explained
Statistics Explained, your guide to European statistics. Statistics Explained is an official Eurostat website presenting statistical topics in an easily understandable way. Together, the articles make up an encyclopedia of European statistics for everyone, completed by a statistical glossary clarifying all terms used and by numerous links to further information and the latest data and metadata, a portal for occasional and regular users.
To find the information you need, please select a theme from the menu below or use the coloured boxes on the right. The search function (alt-f) can also be used.
Looking for an article on a specific theme
In 2014, almost half (47 %) of the EU-28 population used the internet for interacting with public authorities. The highest proportions of regional populations using the internet to interact with public authorities were found in the Danish capital region of Hovedstaden (89 %) and the Finnish capital region of Helsinki-Uusimaa (86 %).
Read more...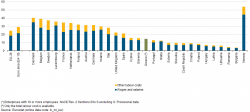 This article compares and contrasts figures on wages and
labour costs
(employers' expenditure on personnel) in the
European Union (EU)
Member States and in EU
candidate
and
European Free Trade Association (EFTA)
countries.
Labour plays a major role in the functioning of an economy. From the point of view of businesses, it represents a cost (labour costs) that includes not only the wages and salaries paid to employees but also non-wage costs, mainly social contributions payable by the employer. Thus, it is a key determinant of business competitiveness, although this is also influenced by the cost of capital (for example interests on loans and dividends on equity) and non-price elements such as innovation and the brand / products positioning on the market.
As far as employees are concerned, the compensation received for their work, more commonly called wages or earnings, generally represents their main source of income and therefore has a major impact on their ability to spend or save. Whereas gross wages / earnings include the social contributions payable by the employee, net earnings are calculated after deduction of these contributions and any amounts which are due to government, such as income taxes. As the amount of taxes generally depends on the situation of the household in terms of income and composition, net earnings are calculated for several typical household situations.
The diagram above summarises the relation between net earnings, gross earnings / wages and labour costs.
Main statistical findings
Labour costs
The average hourly labour cost in the EU-28 was estimated at EUR 24.60 in 2014 and at EUR 29.20 in the euro area (EA-18). However, this average masks significant differences between EU Member States, with hourly labour costs ranging between EUR 3.80 and EUR 40.30 (Figure 1).
More ...