Welcome To Statistics Explained
Statistics Explained, your guide to European statistics. Statistics Explained is an official Eurostat website presenting statistical topics in an easily understandable way. Together, the articles make up an encyclopedia of European statistics for everyone, completed by a statistical glossary clarifying all terms used and by numerous links to further information and the latest data and metadata, a portal for occasional and regular users.
To find the information you need, please select a theme from the menu below or use the coloured boxes on the right. The search function (alt-f) can also be used.
Looking for an article on a specific theme
In 2013, the highest crude marriage rates among the EU Member States were recorded in Lithuania (6.9 marriages per 1 000 persons), Cyprus (6.4) and Malta (6.1), and the lowest in Bulgaria and Slovenia (both 3.0 marriages per 1 000 persons), Portugal (3.1), Italy and Luxembourg (both 3.2).
Read more...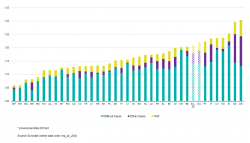 This article highlights the evolution of electricity and natural gas prices both for industrial and
household
 consumers within the
European Union (EU)
, but includes also price data from Norway, Liechtenstein, Iceland, former Yugoslav Republic of Macedonia (FYROM), Albania, Bosnia and Herzegovina, Montenegro, Serbia, Turkey and Kosovo (under UN Security Council Resolution 1244).  
The price of energy in the EU depends on a range of different supply and demand conditions, including the geopolitical situation, import diversification, network costs, environmental protection costs, severe weather conditions, or levels of excise and taxation. Note that prices presented in this article include taxes, levies and VAT for household consumers but exclude refundable taxes and levies and VAT for industrial/business users. An overview of the average prices in euro per kilowatt hour of natural gas and electricity for the last 3 years (second semester for each year) is given in Table 1. As Latvia (LV) entered the euro area (EA) as of 1st January 2014, comparisons of 2013 and 2014 gas and electricity prices for Latvia are presented but not discussed in this article.
More ...