Welcome To Statistics Explained
Statistics Explained, your guide to European statistics. Statistics Explained is an official Eurostat website presenting statistical topics in an easily understandable way. Together, the articles make up an encyclopedia of European statistics for everyone, completed by a statistical glossary clarifying all terms used and by numerous links to further information and the latest data and metadata, a portal for occasional and regular users.
To find the information you need, please select a theme from the menu below or use the coloured boxes on the right. The search function (alt-f) can also be used.
Looking for an article on a specific theme
In 2013, in the EU-28, women were paid, on average, 16.4 % less than men. The smallest differences in average pay between the sexes were found in Slovenia, Malta, Poland, Italy, Croatia, Luxembourg, Romania and Belgium (less than 10.0 % difference), while the biggest gender pay gaps were identified in Estonia (29.9 %), Austria (23.0 %), the Czech Republic (22.1 %) and Germany (21.6 %).
Read more...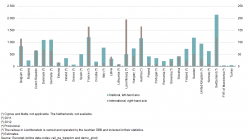 This article provides details relating to recent trends for passenger transport statistics within the
European Union (EU)
. It presents information on a range of passenger
transport modes
, such as road,
rail
, air and maritime transport. Among these, the principal mode of passenger transport is that of the
passenger car
, fuelled by a desire to have greater mobility and flexibility. The high reliance on the use of the car as a means of passenger transport across the EU has contributed to an increased level of congestion and pollution in many urban areas and on many major transport arteries.
Main statistical findings
Passenger cars accounted for 83.3 % of inland passenger transport in the EU-28 in 2012, with motor coaches, buses and trolley buses (9.2 %) and trains (7.4 %) both accounting for less than a tenth of all traffic (as measured by the number of inland passenger-kilometres (pkm) travelled by each mode) — see Table 1.
Between 2002 and 2012 there was a marked increase in the relative importance of the use of passenger cars among many of the Member States that joined the EU in 2004 or 2007, in particular in Bulgaria, Estonia, Slovakia and Lithuania; there was also a substantial increase in the use of passenger cars in Turkey. By contrast, the relative importance of cars as a mode of inland passenger transport fell in eight of the EU-15 Member States. The most sizeable reductions in the relative importance of passenger cars between 2002 and 2012 were recorded in Italy (the share of cars in total inland passenger transport fell 4.4 percentage points), Luxembourg (-2.7 percentage points) and the United Kingdom (-2.4 points), while the relative importance of the car also fell in three more of the largest EU Member States — Germany, Spain and France. The former Yugoslav Republic of Macedonia (-3.5 points) and Switzerland (-2.4 points) also recorded a contraction in the relative importance of passenger cars for inland passenger transport.
More ...