Welcome To Statistics Explained
Statistics Explained, your guide to European statistics. Statistics Explained is an official Eurostat website presenting statistical topics in an easily understandable way. Together, the articles make up an encyclopedia of European statistics for everyone, completed by a statistical glossary clarifying all terms used and by numerous links to further information and the latest data and metadata, a portal for occasional and regular users.
To find the information you need, please select a theme from the menu below or use the coloured boxes on the right. The search function (alt-f) can also be used.
Looking for an article on a specific theme
In 2014, tax revenue in the EU-28 stood at 40.0 % of GDP. The ratio of tax revenue to GDP was highest in Denmark (50.8 %), Belgium and France (both at 47.9 %), while the lowest ratios were recorded in Romania (27.7 % of GDP), Bulgaria (27.8 % ) and Lithuania (28.0 % ).
Read more...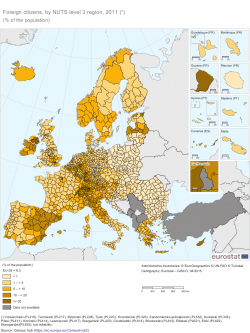 This article is part of a
set of statistical articles
based on the
Eurostat regional yearbook
publication. It describes regional demographic patterns across the
European Union (EU)
. The content of this article is based on data from a
population and housing census
conducted in 2011, rather than regional demography statistics (which have been the source of information traditionally used in the Eurostat regional yearbook)
The census is a very detailed source of data and includes information for some variables down to the level of municipalities; for the purpose of this article the data has been aggregated in order to be able to present data at NUTS level 2 or level 3 so as to provide coherent information in the form of maps across the whole of the EU.
Main statistical findings
This article, based on data from a population and housing census conducted in 2011, looks at a range of demographic issues, focusing on: the movement of individuals both into and within the EU; single-person households; and the formation of different types of family units.
More ...