Welcome To Statistics Explained
Statistics Explained, your guide to European statistics. Statistics Explained is an official Eurostat website presenting statistical topics in an easily understandable way. Together, the articles make up an encyclopedia of European statistics for everyone, completed by a statistical glossary clarifying all terms used and by numerous links to further information and the latest data and metadata, a portal for occasional and regular users.
To find the information you need, please select a theme from the menu below or use the coloured boxes on the right. The search function (alt-f) can also be used.
Looking for an article on a specific theme
Almost half (49 %) of all enterprises in the EU-28 carried out innovation activities during the period 2010-12.
Read more...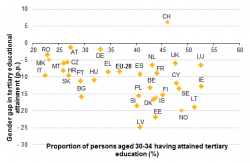 This article presents gender statistics for the
European Union (EU)
, a selection of indicators from fields such as
education
,
labour market
,
earnings
and health, which are particularly important for measuring differences in the situation of women and men (i.e.
gender gaps
). Gender statistics constitute an area that cuts across traditional fields of statistics to identify, produce and disseminate data reflecting the realities of the lives of women and men, and policy issues relating to gender equality
[1]
.
The indicators show gender gaps, together with levels achieved for the population as a whole, at EU level and across Member States (e.g. the gender employment gap with the employment rate). This approach shows gender gaps in access to resources and opportunities in the broader context of the actual resources and opportunities available. The article includes links to other articles and publications that provide more detailed analysis of gender gaps.
Main statistical findings
Education
One of the prominent indicators in education statistics is the proportion of persons who have attained tertiary education (i.e. who graduated from universities or other higher education institutions). This indicator belongs to the set of headline indicators used to monitor the Europe 2020 strategy for smart, sustainable and inclusive growth. In particular, one of EU-level headline targets of the strategy is to increase, by 2020, the share of the population aged 30–34 having completed tertiary education to at least 40%[2].
More ...
↑

Developing Gender Statistics: A Practical Tool, UNECE, 2010

↑

The EU-level targets have been translated into national targets in each EU country, reflecting different situations and circumstances