Welcome To Statistics Explained
Statistics Explained, your guide to European statistics. Statistics Explained is an official Eurostat website presenting statistical topics in an easily understandable way. Together, the articles make up an encyclopedia of European statistics for everyone, completed by a statistical glossary clarifying all terms used and by numerous links to further information and the latest data and metadata, a portal for occasional and regular users.
To find the information you need, please select a theme from the menu below or use the coloured boxes on the right. The search function (alt-f) can also be used.
Looking for an article on a specific theme
On average, a girl born in the EU-28 in 2012 could expect to live 83.1 years, while the corresponding life expectancy at birth for a newly-born boy was 5.6 years lower, at 77.5 years.
Read more...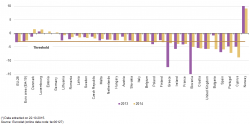 This article examines how key government finance indicators have developed in the
European Union (EU)
and the
euro area
. Specifically, it considers public (
general government
)
deficits
,
general government gross debt
, the
revenue
and
expenditure
of general government, as well as
taxes
and
social contributions
, which are the main sources of government revenue.
These statistics are crucial indicators for determining the health of a Member State's economy. Under the terms of the EU's Stability and Growth Pact (SGP), EU Member States pledged to keep their deficits and debt below certain limits: a Member State's government deficit may not exceed -3 % of its gross domestic product (GDP), while its debt may not exceed 60 % of GDP. If a Member State does not respect these limits, the so-called excessive deficit procedure is triggered. This entails several steps — including the possibility of sanctions — to encourage the Member State concerned to take appropriate measures to rectify the situation. The same deficit and debt limits are also criteria for economic and monetary union (EMU) and hence for joining the euro. Furthermore, the latest revision of the integrated economic and employment guidelines (revised as part of the Europe 2020 strategy for smart, sustainable and inclusive growth) includes a guideline to ensure the quality and the sustainability of public finances.
Main statistical findings
In 2014, the government deficit (net borrowing of the consolidated general government sector, as a share of GDP) of both the EU-28 and the euro area (EA-19) decreased compared with 2013, while general government debt increased (both relative to GDP and in absolute terms).
More ...
↑

The winter season runs from November to April of the following year. For example, the 2014/2015 winter season ran from November 2014 to April 2015.