Welcome To Statistics Explained
Statistics Explained, your guide to European statistics. Statistics Explained is an official Eurostat website presenting statistical topics in an easily understandable way. Together, the articles make up an encyclopedia of European statistics for everyone, completed by a statistical glossary clarifying all terms used and by numerous links to further information and the latest data and metadata, a portal for occasional and regular users.
To find the information you need, please select a theme from the menu below or use the coloured boxes on the right. The search function (alt-f) can also be used.
Looking for an article on a specific theme
In 2013, the highest fertility rates were reported by France (1.99 live births per woman) and Ireland (1.96). In contrast, the lowest fertility rates were recorded in Poland (1.29), Spain (1.27) and Portugal (1.21).
Read more...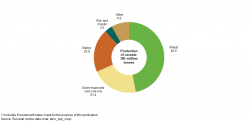 There is a wide diversity of natural environments, climates, economic conditions and farming practices across Europe. They are reflected in the broad array of food and drink products that are made available for human consumption and
animal feed
, as well as a range of inputs for non-food processes. Indeed, agricultural products contribute to the cultural identity of Europe's people and regions.
Main statistical findings
Crops
In 2013, the EU-28 produced 306 million tonnes of cereals (including rice). This was the highest level of production since a peak in production in 2008. The EU-28's production of cereals in 2013 was 20.9 million tonnes higher than in 2012 (+7.3 %).
The EU-28 produced 109.1 million tonnes of sugar beet in 2013, which was 5.7 million tonnes less than in 2012. The production of the other main root crop in the EU-28 — potatoes — was 53.9 million tonnes.
Oilseeds production has followed an upward pattern in recent years mainly due to the increased use of oilseeds for bioenergy production. Rape and turnip rape, and sunflower seeds are the main types of oilseeds produced in the EU-28. In 2013, 21.0 million tonnes of rape and turnip rape were produced, a much larger volume than in 2012 (+9.2 %). By comparison, an estimated 9.2 million tonnes of sunflower seeds were produced across the EU-28 in 2013.
More ...
↑

Data on packaging waste statistics is only available for EU-28 in 2012, in previous years data for Croatia was not included.