Welcome To Statistics Explained
Statistics Explained, your guide to European statistics. Statistics Explained is an official Eurostat website presenting statistical topics in an easily understandable way. Together, the articles make up an encyclopedia of European statistics for everyone, completed by a statistical glossary clarifying all terms used and by numerous links to further information and the latest data and metadata, a portal for occasional and regular users.
To find the information you need, please select a theme from the menu below or use the coloured boxes on the right. The search function (alt-f) can also be used.
Looking for an article on a specific theme
In 2013, the highest crude marriage rates among the EU Member States were recorded in Lithuania (6.9 marriages per 1 000 persons), Cyprus (6.4) and Malta (6.1), and the lowest in Bulgaria and Slovenia (both 3.0 marriages per 1 000 persons), Portugal (3.1), Italy and Luxembourg (both 3.2).
Read more...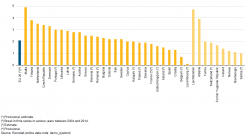 This article looks at the impact of demographic ageing within the
European Union (EU)
, which is likely to be of major significance in the coming decades. Consistently low
birth rates
and higher
life expectancy
will transform the shape of the
EU-28's
age pyramid
; probably the most important change will be the marked transition towards a much older population structure and this development is already becoming apparent in several EU Member States.
As a result, the proportion of people of working age in the EU-28 is shrinking while the relative number of those retired is expanding. The share of older persons in the total population will increase significantly in the coming decades, as a greater proportion of the post-war baby-boom generation reaches retirement. This will, in turn, lead to an increased burden on those of working age to provide for the social expenditure required by the ageing population for a range of related services.
Main statistical findings
Population structure
The population of the EU-28 on 1 January 2014 was estimated at 506.8 million. Young people (0 to 14 years old) made up 15.6 % of the EU-28's population (see Table 1), while persons considered to be of working age (15 to 64 years old) accounted for 65.8 % of the population. Older persons (aged 65 or over) had a 18.5 % share (an increase of 0.3 % compared with the previous year). Across the EU Member States, the highest share of young people in the total population in 2014 was observed in Ireland (22.0 %), while the lowest share was recorded in Germany (13.1 %). Regarding the share of persons aged 65 or older in the total population, Italy (21.4 %) and Germany (20.8 %), while Ireland had the lowest proportion (12.6 %).
More ...