Welcome To Statistics Explained
Statistics Explained, your guide to European statistics. Statistics Explained is an official Eurostat website presenting statistical topics in an easily understandable way. Together, the articles make up an encyclopedia of European statistics for everyone, completed by a statistical glossary clarifying all terms used and by numerous links to further information and the latest data and metadata, a portal for occasional and regular users.
To find the information you need, please select a theme from the menu below or use the coloured boxes on the right. The search function (alt-f) can also be used.
Looking for an article on a specific theme
In 2013, in the EU-28, women were paid, on average, 16.4 % less than men. The smallest differences in average pay between the sexes were found in Slovenia, Malta, Poland, Italy, Croatia, Luxembourg, Romania and Belgium (less than 10.0 % difference), while the biggest gender pay gaps were identified in Estonia (29.9 %), Austria (23.0 %), the Czech Republic (22.1 %) and Germany (21.6 %).
Read more...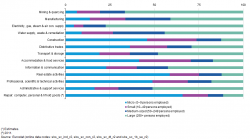 This article presents structural business statistics (SBS); these data describe the structure, main characteristics and performance of economic activities across the European Union (EU). While the statistics presented in this article are generally analysed at the level of NACE sections readers should note that structural business statistics are available at a much more detailed level (several hundred sectors).
Structural business statistics can provide answers to questions on the wealth creation (value added), investment and labour input of different economic activities. The data can be used to analyse structural shifts, for example between industry and services, country specialisations in particular activities, sectoral productivity and profitability, as well as a range of other topics. Because they are available broken down by enterprise size class, structural business statistics also permit a detailed analysis of small and medium-sized enterprises (SMEs), which is of particular use to EU policymakers and analysts wishing to focus on entrepreneurship and the role of SMEs. Furthermore, structural business statistics provide useful background information on which to base an interpretation of short-term statistics and the business cycle.
Main statistical findings
Sectoral analysis
Services activities accounted for the two largest shares of the enterprise population within the EU-28's non-financial business economy (industry, construction, distributive trades and non-financial services) when analysed at the NACE Rev. 2 section level: slightly fewer than 3 in every 10 (27.9 %) of the 22.4 million enterprises in the EU's non-financial business economy were classified to distributive trades (motor trades, wholesale trade and retail trade), while just over one in six (17.5 %) were in professional, scientific or technical activities — see Figure 1. Many of these business services have benefitted from the outsourcing phenomenon, which may explain, in part, the structural shift towards services.
More ...