Welcome To Statistics Explained
Statistics Explained, your guide to European statistics. Statistics Explained is an official Eurostat website presenting statistical topics in an easily understandable way. Together, the articles make up an encyclopedia of European statistics for everyone, completed by a statistical glossary clarifying all terms used and by numerous links to further information and the latest data and metadata, a portal for occasional and regular users.
To find the information you need, please select a theme from the menu below or use the coloured boxes on the right. The search function (alt-f) can also be used.
Looking for an article on a specific theme
In 2013, in the EU-28, women were paid, on average, 16.4 % less than men. The smallest differences in average pay between the sexes were found in Slovenia, Malta, Poland, Italy, Croatia, Luxembourg, Romania and Belgium (less than 10.0 % difference), while the biggest gender pay gaps were identified in Estonia (29.9 %), Austria (23.0 %), the Czech Republic (22.1 %) and Germany (21.6 %).
Read more...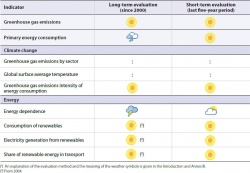 This article provides an overview of statistical data on
sustainable development
in the area of climate change and energy. It is based on the set of
sustainable development indicators
the
European Union (EU)
agreed upon for monitoring its
sustainable development strategy
.
This article is part of a set of statistical articles for monitoring sustainable development, which are based on the Eurostat publication 'Sustainable development in the European Union - 2015 monitoring report of the EU sustainable development strategy'. The report is published every two years and provides an overview of progress towards the goals and objectives set in the EU sustainable development strategy.
Table 1 summarises the state of affairs in the area of climate change and energy. Quantitative rules, applied consistently across indicators and visualised through weather symbols, provide a relative assessment of whether Europe is moving in the right direction and at a sufficient pace, given the objectives and targets defined in the strategy.
More ...