Welcome To Statistics Explained
Statistics Explained, your guide to European statistics. Statistics Explained is an official Eurostat website presenting statistical topics in an easily understandable way. Together, the articles make up an encyclopedia of European statistics for everyone, completed by a statistical glossary clarifying all terms used and by numerous links to further information and the latest data and metadata, a portal for occasional and regular users.
To find the information you need, please select a theme from the menu below or use the coloured boxes on the right. The search function (alt-f) can also be used.
Looking for an article on a specific theme
In 2012, the highest number of patent applications relative to the population was reported by Sweden (290 per million inhabitants), Germany (278) and Finland (271).
Read more...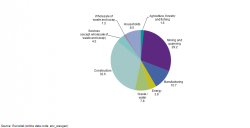 This article gives an overview on the development of
waste
generation and treatment in the
European Union (EU)
and several non-member countries; it draws exclusively on data collected within the framework of
Regulation 2150/2002
of the
European Parliament
and
Council
on waste statistics.
Waste, defined by Directive 2008/98/EC Article 3(1) as 'any substance or object which the holder discards or intends or is required to discard', potentially represents an enormous loss of resources in the form of both materials and energy; in addition, the management and disposal of waste can have serious environmental impacts. Landfills, for example, take up land space and may cause air, water and soil pollution, while incineration may result in emissions of air pollutants.
EU waste management policies therefore aim to reduce the environmental and health impacts of waste and to improve the EU's resource efficiency. The long-term aim of these policies is to reduce the amount of waste generated and when waste generation is unavoidable to promote it as a resource and achieve higher levels of recycling and the safe disposal of waste.
Main statistical findings
Total waste generation
In 2012, the total waste generated in the EU-28 by all economic activities and households amounted to 2 515 million tonnes; this was slightly higher than in 2010 and 2008 (2 460 million tonnes and 2 427 million tonnes) but lower than in 2004(2 565 million tonnes); the relatively low figures for 2008 and 2010 may, at least in part, reflect the downturn in economic activity as a result of the financial and economic crisis. As shown in Table 1, there were considerable variations across EU-28 Member States in 2012, both in the amount of waste generated and in the activities that mostly contributed to waste generation.
More ...