Welcome To Statistics Explained
Statistics Explained, your guide to European statistics. Statistics Explained is an official Eurostat website presenting statistical topics in an easily understandable way. Together, the articles make up an encyclopedia of European statistics for everyone, completed by a statistical glossary clarifying all terms used and by numerous links to further information and the latest data and metadata, a portal for occasional and regular users.
To find the information you need, please select a theme from the menu below or use the coloured boxes on the right. The search function (alt-f) can also be used.
Looking for an article on a specific theme
Almost half (49 %) of all enterprises in the EU-28 carried out innovation activities during the period 2010-12.
Read more...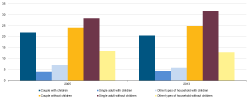 This article is part of a
set of statistical articles
based on the
Eurostat
flagship publication
'Being young in Europe today'
(which can be consulted in order to get a layouted pdf version). It presents the situation of children and young people in families and society across the
European Union (EU)
. Family structures in the EU Member States vary, reflecting cultural and normative differences across the EU. The general postponement of material and tenure independence by young people indicates a delayed transition to adulthood. This article also depicts the subjective wellbeing of young people and households with children as well as the social and political participation of young people in EU society.
The vast majority of the data used in this article is derived from Eurostat's population statistics, and more specifically from a set of demography indicators, the EU labour force survey (LFS) and EU statistics on income and living conditions (EU-SILC). However, in order to provide a global view of the main issues such as family composition, other data sources, for example, data from the United Nations were also used.
Main statistical findings
Family composition and household structure
The share of households with children is decreasing in the EU
Less than one third (30.7 %) of all households in the EU-28 had children in 2013 according to data from the EU labour force survey. Couples with children represented one in five (20.5 %) EU households, while single adults with children accounted for 4.3 % of the total number of households. Other types of households with children, for example, households where grandparents, parents and their children lived together, made up 5.8 % of all households.
Looking at developments since 2005, the share of EU-28 households with children decreased by more than 2 percentage points in only eight years (from 32.9 % in 2005 to 30.7 % in 2013), couples with children becoming relatively less frequent. The share of single adults with children was, nevertheless, higher in 2013 than in 2005 (rising from 4.0 % in 2005 to 4.3 % in 2013). Over the same period, the proportion of couples without children and the proportion of single adults without children rose from 24.0 % to 24.8 % and from 28.3 % to 31.7 % respectively.
More ...