Welcome To Statistics Explained
Statistics Explained, your guide to European statistics. Statistics Explained is an official Eurostat website presenting statistical topics in an easily understandable way. Together, the articles make up an encyclopedia of European statistics for everyone, completed by a statistical glossary clarifying all terms used and by numerous links to further information and the latest data and metadata, a portal for occasional and regular users.
To find the information you need, please select a theme from the menu below or use the coloured boxes on the right. The search function (alt-f) can also be used.
Looking for an article on a specific theme
For medium size household consumers, electricity prices during the second semester of 2014 were the highest in the EU in Denmark (EUR 0.304 per kWh), Germany (EUR 0.297per kWh) and Ireland (EUR 0.254 per kWh), while the lowest were found in Bulgaria (EUR 0.090 per kWh), Hungary (EUR 0.115 per kWh) and Malta (EUR 0.125 per kWh).
Read more...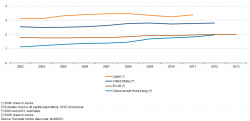 This article presents data on
research and development (R & D)
expenditures within the
European Union (EU)
, according to the sector of performance and the source of funds. The data are obtained through statistical surveys which are regularly conducted at national level covering R & D performing entities in the private and public sectors.
One of the key objectives of the EU during the last decade has been to encourage increasing levels of investment, in order to provide a stimulus to the EU's competitiveness. The Lisbon strategy set the EU an objective of devoting 3 % of its gross domestic product (GDP) to R & D activities by 2010. The target was not reached — and subsequently the 3 % target was maintained, forming one of five key targets within the Europe 2020 strategy adopted in 2010.
Main statistical findings
Gross domestic expenditure on R & D (GERD) stood at EUR 272 billion in the EU-28 in 2013, which was a 0.7 % increase on the year before, and 43.8 % higher than 10 years earlier (in 2003) — note that these rates of change are in current prices and so reflect price changes as well as real changes in the level of expenditure. In 2012, the level of expenditure on R & D in the EU-28 was equivalent to 76.4 % of that recorded by the United States, while it was 2.1 times as high as in China; in 2011, the EU-28's R & D expenditure was 1.8 times as high as in Japan, and 8.0 times as high as in South Korea.).
More ...
↑

The winter season runs from November to April of the following year. For example, the 2014/2015 winter season ran from November 2014 to April 2015.