Welcome To Statistics Explained
Statistics Explained, your guide to European statistics. Statistics Explained is an official Eurostat website presenting statistical topics in an easily understandable way. Together, the articles make up an encyclopedia of European statistics for everyone, completed by a statistical glossary clarifying all terms used and by numerous links to further information and the latest data and metadata, a portal for occasional and regular users.
To find the information you need, please select a theme from the menu below or use the coloured boxes on the right. The search function (alt-f) can also be used.
Looking for an article on a specific theme
In 2013, the highest crude marriage rates among the EU Member States were recorded in Lithuania (6.9 marriages per 1 000 persons), Cyprus (6.4) and Malta (6.1), and the lowest in Bulgaria and Slovenia (both 3.0 marriages per 1 000 persons), Portugal (3.1), Italy and Luxembourg (both 3.2).
Read more...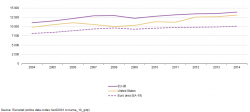 National accounts
are the source for a multitude of well-known
economic indicators
which are presented in this article.
Gross domestic product (GDP)
is the most frequently used measure for the overall size of an economy, while derived indicators such as GDP
per capita
— for example, in euro or adjusted for differences in price levels — are widely used for a comparison of living standards, or to monitor the process of convergence across the
European Union (EU)
.
Moreover, the development of specific GDP components and related indicators, such as those for economic output, imports and exports, domestic (private and public) consumption or investments, as well as data on the distribution of income and savings, can give valuable insights into the main drivers of economic activity and thus be the basis for the design, monitoring and evaluation of specific EU policies.
Main statistical findings
Developments in GDP
Growth in the EU-28's GDP (in current prices) slowed substantially in 2008 and GDP contracted considerably in 2009 as a result of the global financial and economic crisis. There was a recovery in the level of EU-28 GDP in 2010 and this development continued (albeit at a progressively slower pace) in 2011–13, before growth accelerated again in 2014, as current price GDP increased by 3.0 %. By 2014, GDP in the EU-28 had reached EUR 13.9 trillion (EUR 13 900 billion), some 6.2 % more than in the United States (see Figure 1).
More ...