Welcome To Statistics Explained
Statistics Explained, your guide to European statistics. Statistics Explained is an official Eurostat website presenting statistical topics in an easily understandable way. Together, the articles make up an encyclopedia of European statistics for everyone, completed by a statistical glossary clarifying all terms used and by numerous links to further information and the latest data and metadata, a portal for occasional and regular users.
To find the information you need, please select a theme from the menu below or use the coloured boxes on the right. The search function (alt-f) can also be used.
Looking for an article on a specific theme
In 2013, the expected number of healthy life years at birth was higher for women than for men in 16 of the 28 EU Member States, with the difference exceeding 3 years in Estonia, Poland and Bulgaria and ranging up to 5 years in Lithuania.
Read more...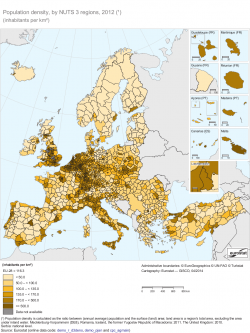 This article is part of a
set of statistical articles
based on the
Eurostat
Regional Yearbook publication. It describes regional demographic patterns across the
European Union (EU)
. Statistics on regional demography are one of the few areas where detailed
NUTS
 3 information is collected and published for each of the EU Member States. At the time of writing, the latest information is available for vital demographic events (
births
and
deaths
) and a range of demographic indicators generally through to the end of 2012, although earlier reference periods have been used for some countries (principally Ireland, Romania and the United Kingdom — see the footnotes under each map or figure for more information).
Demographic changes in the European Union (EU) are likely be of considerable importance in the coming decades as the vast majority of models concerning future population trends suggest that the EU's population will continue to age, due to consistently low fertility levels and extended longevity. Although migration plays an important role in the population dynamics of European countries, migration alone will almost certainly not reverse the ongoing trend of population ageing experienced in many parts of the EU. The social and economic consequences associated with population ageing are likely to have profound implications across Europe, both nationally and regionally. For example, low fertility rates will lead to a reduction in the number of students in education, there will be fewer working-age persons to support the remainder of the population, and a higher proportion of elderly persons (some of whom will require additional infrastructure, healthcare services and adapted housing). These structural demographic changes could impact on the capacity of governments to raise tax revenue, balance their own finances, or provide adequate pensions and healthcare services.
Main statistical findings
There were 505.7 million inhabitants living in the EU-28 at the start of 2013; there were almost 100 million additional inhabitants when compared with aggregated 1960 population figures for the EU-28 Member States. Between the start of 2012 and the start of 2013, the EU-28's population increased by 1.1 million (or 0.2 %).
More ...