Welcome To Statistics Explained
Statistics Explained, your guide to European statistics. Statistics Explained is an official Eurostat website presenting statistical topics in an easily understandable way. Together, the articles make up an encyclopedia of European statistics for everyone, completed by a statistical glossary clarifying all terms used and by numerous links to further information and the latest data and metadata, a portal for occasional and regular users.
To find the information you need, please select a theme from the menu below or use the coloured boxes on the right. The search function (alt-f) can also be used.
Looking for an article on a specific theme
In 2013, in the EU-28, women were paid, on average, 16.4 % less than men. The smallest differences in average pay between the sexes were found in Slovenia, Malta, Poland, Italy, Croatia, Luxembourg, Romania and Belgium (less than 10.0 % difference), while the biggest gender pay gaps were identified in Estonia (29.9 %), Austria (23.0 %), the Czech Republic (22.1 %) and Germany (21.6 %).
Read more...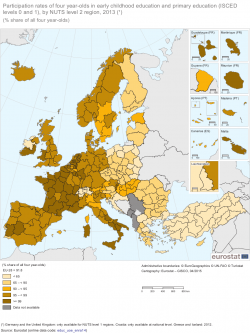 This article is part of a
set of statistical articles
based on the
Eurostat
regional yearbook publication.
Education
,
vocational training
and more generally
lifelong learning
play a vital role in the economic and social strategies of the
European Union (EU)
.
Eurostat compiles and publishes education and training statistics for EU Member States and their regions; in addition, a subset of information is available for EFTA and candidate countries. This article presents data for participation rates among four year-olds and vocational education programmes, the proportion of early leavers from education and training, and the share of persons aged 30–34 with tertiary educational attainment. These statistics are generally presented at a regional level by NUTS level 2 region, although data on participation are only available at the national level for Croatia and by NUTS level 1 region for Germany and the United Kingdom.
Main statistical findings
In 2012, figures for the EU-28 indicate that there were approximately 109 million children, pupils and students enrolled across the whole of the education system, from pre-primary education through to postgraduate studies.
Participation of four year-olds in education
Early childhood education plays an essential role in tackling inequalities and raising proficiency in basic competences. Policymakers argue that a higher proportion of young children should be encouraged to attend pre-school education rather than informal, non-professional care. The education and training 2020 (ET 2020) strategic framework has set a headline target, whereby at least 95 % of four year-old children should participate in early childhood education.
More ...