Welcome To Statistics Explained
Statistics Explained, your guide to European statistics. Statistics Explained is an official Eurostat website presenting statistical topics in an easily understandable way. Together, the articles make up an encyclopedia of European statistics for everyone, completed by a statistical glossary clarifying all terms used and by numerous links to further information and the latest data and metadata, a portal for occasional and regular users.
To find the information you need, please select a theme from the menu below or use the coloured boxes on the right. The search function (alt-f) can also be used.
Looking for an article on a specific theme
For medium size household consumers, electricity prices during the second semester of 2014 were the highest in the EU in Denmark (EUR 0.304 per kWh), Germany (EUR 0.297per kWh) and Ireland (EUR 0.254 per kWh), while the lowest were found in Bulgaria (EUR 0.090 per kWh), Hungary (EUR 0.115 per kWh) and Malta (EUR 0.125 per kWh).
Read more...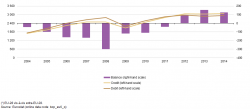 The
balance of payments
records all economic transactions between
resident
and non-resident entities during a given period. This article presents data on the
current
and
financial accounts
of the balance of payments for the
European Union (EU)
and its Member States. For the first time, data are presented in regard to the new compilation standard of the IMF's sixth Balance of payments manual (BPM6).
The current account balance determines the exposure of an economy to the rest of the world, whereas the capital and financial account explains how it is financed. An article on foreign direct investment provides more information on one component of the financial account, while an article on international trade in services focuses on one component of the current account.
Main statistical findings
Current account
The current account surplus of the EU-28 was EUR 126.5 billion in 2014 (see Figure 1), corresponding to 0.9 % of gross domestic product (GDP). This can be contrasted with data for 2013, when the current account surplus was EUR 155.5 billion. The latest developments for the EU-28's current account showed a slight discontinuation of the pattern established in 2008: while the current account deficit peaked in 2008 at 2.3 % of GDP, it gradually reduced and in 2012 turned into a surplus equivalent to 0.7 % of GDP; the surplus was equivalent to 1.2 % of GDP in 2013 and 0.9 % in 2014. The current account surplus for 2014 comprised a deficit for secondary income (-0.6 % of GDP) with surpluses in the current accounts for goods (0.3 % of GDP), services (1.1 %) and primary income (0.1 %) — see Table 2.
More ...
↑

The winter season runs from November to April of the following year. For example, the 2014/2015 winter season ran from November 2014 to April 2015.