The infographic below highlights a few of the tax reforms introduced in the EU Member States and the challenges ahead:

Data taken from: Tax Reforms in EU Member States 2014
Improving the design of their tax systems is a way for EU Member States to improve their public finances, to support growth and job creation, to strengthen economic stability and to increase fairness.
This report on Tax Reforms in EU Member States:
presents an overview of the reforms recently introduced by Member States in the main areas of tax policy and

provides up-to-date analysis of the main challenges in each area
It also includes an indicator-based assessment, which gives an initial indication of Member States' performance in each area.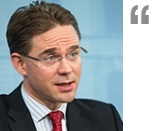 Without real reforms, effectively implemented, we will not have sustainable growth and job creation. No country is immune from the need to reform.
- VP Katainen, Eurogroup meeting in Milan, September 2014
For more publications on taxation and public finances: