The euro area's trade in goods balance with the rest of the world has been improving since 2011.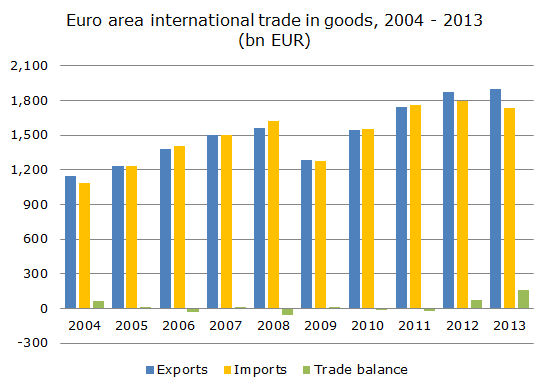 Source: Eurostat
Euro area trade surplus hits €16.8 bn in June
According to initial data released by Eurostat this month, the euro area's trade surplus for June 2014 reached €16.8 billion, €1.1 billion higher than a year ago and up €1.4 billion from May 2014.
Germany posted the biggest surplus (€84 bn between Jan-May 2014) followed by the Netherlands (+€25.2 bn), Ireland and Italy (both +€14.1 bn). France registered the largest deficit (-€30.4 bn) followed by Spain (-€10.1 bn) and Greece (-€8.8 bn).
For more details on this topic: