Trade policy is a crucial element of the EU's overarching 'Europe 2020 strategy for smart, sustainable and inclusive growth,' and is one of the main pillars of the EU's relations with the rest of the world.
The EU is the largest trading power in the world but emerging economies are capturing an increasing share of the global market.
Relative market shares in % of world total, 1999-2013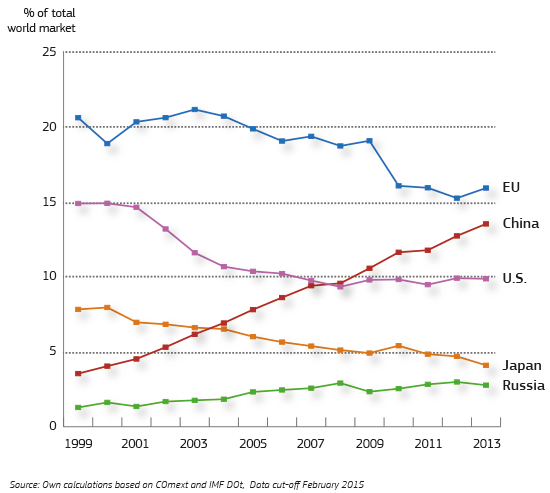 The EU is highly integrated in both regional and global value chains. Although a high proportion of the value of EU exports is created in the EU (86 % in 2009), this has been decreasing as the EU has become more integrated with the global economy. Additionally, the EU Member States' economies remain among the most open in the world.
Openness to trade ((exports + imports)/2 as share of GDP))
* the outstanding degree of openness to trade for Luxemburg is driven by high exports of financial services
Data sources:
A common trade policy
EU Member States have agreed to follow a common policy on international trade and investment. This common policy enables them to speak with one voice in trade negotiations, maximising their influence.
The Commission represents all EU Member States at the World Trade Organisation (WTO) and in bilateral negotiations.
In 2013 the EU started negotiating free trade agreements with two strategic partners: the US (the so called Transatlantic Trade and Investment Partnership (TTIP) and with Japan. The aim is to go beyond the classic approach of simply removing tariffs and to open markets for investment, services and public procurement as well. To achieve this, much of the focus of the talks is on aligning rules and technical product standards, which currently form the most significant barrier to trade between advanced economies.
The role of the Commission's Directorate-General for Economic and Financial Affairs in the development of EU trade policy is to provide economic analysis and policy advice and to ensure that the EU's trade policy is coherent with its other economic policies.